'RHONJ' Newcomer Jackie Goldschneider Makes Her Mark By Seriously Pissing Off Teresa Giudice
Well, that's one way to start the season off!
Genny Glassman December 3, 2018 4:44pm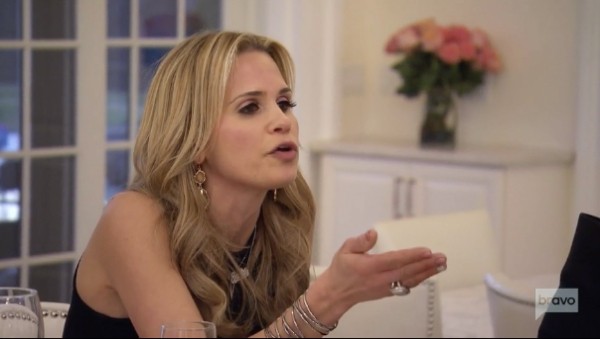 Things are getting dirty in Jersey! The new season is off to a bang after Page Six reported that new cast member Jackie Goldschneider threw some serious shade at Teresa Giudice after Teresa went in on her sister-in-law Melissa Gorga in an upcoming episode.
According to the report, Jackie will attempt to shut things down on the next episode of Real Housewives of New Jersey during an exchange at Jennifer Aydin's house. The video shows Melissa defending herself after Teresa tells her that she should be encouraging her husband Joe to spend more time with Teresa and Joe's sick father, Giacinto Gorga.
"I don't wanna be told how to convey something to my husband," Melissa strikes back. "My marriage is strong. It's good for a f******g reason. We talk. And that's it! Nobody tells me how to speak to my husband. Not my sister-in-law. Not my mother. No one!"
But Teresa doesn't take the slight easily. "You should have made him understand that he's —" she started, before getting cut off by Jackie.
"Do you really think that Melissa could control her husband's emotions?" Jackie asked her. "I'm sorry. With all due respect, do you really feel like your husband would be in jail right now if you could control what he did?"
Teresa's husband, Joe Giudice is currently serving a 41-month prison sentence at FCI in Fort Dix, New Jersey. On October 10th, the Giudice's suffered another blow, when the judge overseeing Joe's case decided that after his sentence was served, he will be deported back to Italy, where he is technically still holds citizenship.
"Why are you bringing up my husband and where he is?" Teresa shot back at Jennifer.
"Well why are you bringing up Melissa's husband?" Jennifer retorted.
Of course this whole thing escalates into shouts as Teresa tries to explain that Melissa should have encouraged Joe Gorga to visit his father more and Jennifer digs herself deeper and deeper into the drama.
The fight will be revealed in full on Wednesday at 9 pm on Bravo!
Do you think that Jennifer was right to bring up Joe Giudice? Sound off in the comments!
---