Inside Teresa Giudice's $22,077 Annual Beauty Routine!
It's jerseylicious!
Lara Sophia November 16, 2018 8:42am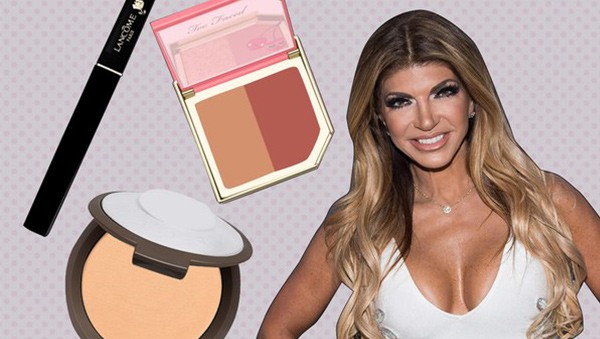 Teresa Giudice lives her life in the spotlight between events, appearances, and the Real Housewives of New Jersey so it's safe to say she always has to look her best.
And it turns out the Real Housewives of New Jersey spares no expense when it comes to looking her best! We're talking glam squad, hair, designer clothes, botox, facials, and so much more!
Recently, Teresa revealed just how much she spends every year to look as good as she does! A hint: it doesn't come cheap.
While Teresa isn't spending $40k a month like Erika Girardi she's still spending a pretty penny every year to look her best.
According to Teresa, she spends roughly $22,077 a year to get her glam on.
So, what Teresa spend her money on?
Well, she spends $2,000 on false eyelashes and eye makeup, $2,400 on facials and $12,000 on her haircare bills.
However, the spending doesn't end there.
Teresa also drops $600 on Botox injections every three to five months, $199 on monthly Hydrafacials, $89 a month on tanning sessions.
"I don't usually like to talk about it, but why not? It came out for a reason, so why not use it, right," Teresa tells Glamour about her Botox injections.
Adding, "I love the way I look so much better now compared to when I first started doing the show. I feel great."
The mother-of-four recently started getting eyelash extensions which have to be refilled every two weeks for $65 after dropping $155 for the initial application.
On top of ALL of that, Teresa also spends a ton on high-end makeup and skincare.
Let's breakdown Teresa's favorite products and must have treatments!
Daily skin care routine: $232
"I'm religious about making sure I always moisturize and wear eye cream. I think it's important to switch them up and not always use the same thing, because I feel like my skin gets used to it. I also make sure to take off my makeup every night," Teresa explains, adding "I think skin care is really important, but to tell you the truth, drugstore stuff is good too. It doesn't always have to be luxury."
In-office skin treatments: approximately $4,800 a year
"I love to get Hydrafacials ($199). They're amazing. I just got one about a month ago, and I'm going next week to Jane Ruffo at Omni Aesthetics in Oakland, New Jersey. I try to do it once a month at least, and I make sure to take care of my skin in between. And, yeah, I get Botox. I go to Dr. DiBernardo (about $600 every three to five months) in Montclair, New Jersey. I don't usually like to talk about it, but why not? It came out for a reason, so why not use it, right? I love the way I look so much better now compared to when I first started doing the show. I feel great," Teresa reveals.
Shower and perfume musts: $332
Teresa says, "In the shower, I love to exfoliate my body. I use St. Ives. Then I use the Mugler Angel body wash and love to put on Sol De Janerio's Brazilian Bum Bum Cream when I'm out of the shower. It's especially good for the summer. Otherwise, I also like Mugler's Angel body lotion. You know how every perfume smells different on everyone? It goes good with my skin. I used to use the perfume too but the whole world is starting to use it now, so I'm trying to switch it up."
Adding, "I have a lot of perfumes. I just bought Tom Ford Black Orchid, and I wear Thierry Mugler Womanity all the time."
Go-to face makeup: roughly $1,090
"If you see my vanity, I have so much makeup. Like, you don't even know, I have so much makeup. Everyone who comes over is like, "You think you have enough makeup?!" You know what I do? I always buy two of everything, so if I'm traveling I have an extra set. I keep one at home and one in my bag if I'm going out. And when I'm filming, I just put on whatever's in front of me. I don't have any set products I have to wear," Teresa explains.
Shop all of Teresa's go-to makeup products below!
Eye makeup and lashes: approximately $2,066 a year
"Too Faced makes great eyeshadow palettes, and I love Huda Beauty's palettes too. The colors are gorgeous. And for mascara, I've been obsessed with Lancôme's Définicils for forever," Teresa says.
"I also get lash extensions," Teresa confesses. "I see Taylor at Spa Blu in Totowa, New Jersey. It's a fairly new thing for me, but now that I've been getting them regularly—about every two weeks ($155, then $65 for refills)—I have to say I love it. I don't need to wear as much makeup with them."
Maintaining my lipstick obsession: $332
"I have so many lipsticks. Like, so many," Teresa reveals. "One of my favorites is the Stila Color Balm in Olivia. You know what I love about it? It's the perfect nude color, and it tastes minty. I also just bought the Tom Ford Blush Nude lipstick. I can't stop wearing it. Laura Mercier's gloss in Rose Gold Accent and my makeup artist Priscilla DiStasio's lipstick, Priscilla x Rincon lip color in Pure, are a few of my other go-tos."
"I'm also a lip liner girl. I love to outline my lips. I feel like it just makes them look bigger. MAC Subculture is a good lip liner, and so is Nice N Spicy, because I like a good nude shade. I also love NYX Mauve. And believe it or not, I love this lip liner from Milani—called Spice—it's my favorite. Every time I go to CVS I buy every one that they have on the shelf."
Intensive hair routine: approximately $12,124
"I use the Global Keratin shampoo and conditioner because I get Keratin treatments every three months ($450 per treatment). It keeps my hair smooth and shiny, and it replenishes the keratin in my hair with each shampoo. It's also good for color protection," Teresa admits.
"I can at least do my own makeup now, but I can't do my own hair. I wish I could—it's so hard," Teresa confesses. "So it's always professionally styled. My hairstylist, Lucia Casazza, uses the R+Co High Dive moisture cream on me, which she says locks in moisture and shine, and she cocktails it with its Tinsel Smoothing Oil. Then after she styles it, she uses the Trophy Spray for shine and texture."
Continuing, "Lucia does my color too. She does a glaze and/or a single process ($500) every two months to keep it fresh, and she'll do my roots every four months ($1,200). She does balayage highlights, which are hand-painted, and she always gives me an Olaplex treatment too. I wash my hair, believe it or not, once a week. It depends if I have events, but I'll usually run to the salon, Hair and Makeup Lounge in Wayne, New Jersey. I go to Jennifer Piña ($75) or Lucia will come to me ($125)."
Body care treatments: $1,101
"I get a lot of spray tans, but right now I'm not feeling that great, so sometimes I go tanning ($89 per month). I know it's not good, but I hate the winter and when I competed in a fitness competition, which you'll see on the show this season, my body needed to be tan. I also hate the smell of the spray tan, and when you get them, it feels so cold! But I do get them. I just like the way I look when I'm tan. I've also been using this temporary self-tanning cream called Loving Tan Bronze Shimmer Luminous Cream. I put it on before an event; it looks so good on. I'm telling you that tanning cream is the bomb. And it doesn't smell bad," Teresa explains.
"I got laser hair removal underneath my arms and my legs a while ago, but I still have to shave them. I really want to go get my butt area waxed. What is that called? A Brazilian. I did it once years ago when I was pregnant with Gia. Oh my God, it was so painful. I don't know what I was thinking, there was so much pain. But I haven't done it in a long time, so I want to try it again."
Whew! That's a lot of beauty maintenance but I love it!
Thoughts on Teresa's beauty routine?! Sound off below!
---