How Producers Trick the Real Housewives to Get the Most Drama
This is satan's work
Lara Sophia March 19, 2019 9:05am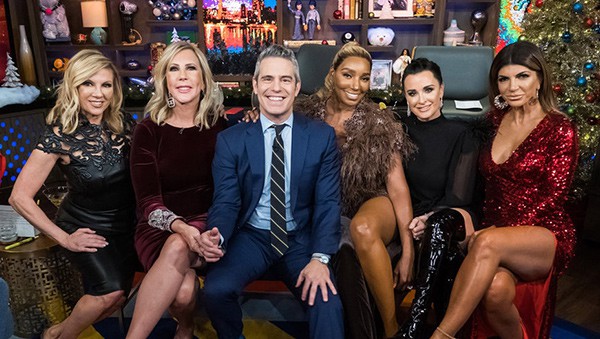 If you've ever watched the Real Housewives you know, there's no shortage of drama. There's never been a season that hasn't involved broken glass, ended friendships, and shocking revelations.
The drama is that good. And frankly, we can't get enough!
But with so much drama season after season, many fans wonder: How much of it is real?
While some believe the drama on the Real Housewives is all scripted – it really isn't. Instead, producers utilize a few tricks of the trade to maximize drama.
How do the producers keep the drama up?
Giving each of the Housewives a different call time is one of the many tricks of the trade producers use to maximize drama.  This will naturally create drama because one or more of the Housewives will always seem late which will mostly like piss someone off. On the Real Housewives of Beverly Hills, Teddi Mellencamp and Dorit Kemsley got into a HUGE squabble over when they were supposed to meet for drinks.  Teddi insisted Dorit was 45 minutes late, while Dorit swore she was only 20 minutes late.
While this may have been a simple miscommunication, it also could have been the producers scheming behind the scenes.
Anonymous texts
More often than not Housewives will suddenly become super pissed off at one or more of their co-stars over after hearing that said person(s) was talking smack about them. Sometimes the Housewives will claim they heard the info from a friend, another co-star, or a gossip blog but more often than not the producers will text the Housewives little tidbits to get them riled up. Producers will also pull Housewives aside during filming and say remember when she said such and such about you. Oh, so sneaky!
I've been to quite a few Real Housewives filming events and believe those producers are in the know of EVERYTHING. And they control it like a symphony.
Seating order for the housewives
When it comes to producing Real Housewives drama, no detail is too small, and that includes where the Housewives sit at dinner parties and events. Everything is planned out. So if you've ever wondered why mortal enemies like Bethenny Frankel and Ramona Singer would sit next to each other at dinner, it's probably because a producer told them to. Producers create seating charts for every event – no matter how big or small to ensure they get the most drama.
A former reality TV producer opened up to Business Insider and explained how they make it work.
"You'll say, 'When you walk up, you're going to sit next to him and sit across from her,' in some cases," the producer said. "Sometimes the whole cast knows where they're sitting, and sometimes they don't know. Sometimes just a few know."
Do producers plan the storylines?
This is the question that is on the mind of every Real Housewives fan. Producers don't script out the drama, but they guide it in a particular direction. Let's be real; they have to create a cohesive show that flows from start to finish. So, at times they do have to guide the drama in one way or another.
Another producer revealed that they often try to set up a storyline before filming even begins.
"I'll put it into their heads, so they think about it organically," the producer said. "I'll trick them. Basically, I'll sort of give them story beats a couple of days in advance or remind them what's happening in real life and what we want to see in a subtle way, so they don't know I'm doing it."
It will often start by producers planting things in the star's heads to get them riled up and ready to rumble.
"You simply prompt them, and you say, 'Hey, so-and-so, I know you feel this way, tell him about that.'"
"In a weird way, you're doing on-camera therapy, but all you're actually doing is bringing out the tension that exists between these two people and letting them talk it out. I know this sounds bizarre, but I have seen relationships actually improve because of the intervention of the show in people's lives."
---