#2 Housewives Psychics, Medium Mbele from RHOA
If you aren't listening to our podcast, what are you even doing?
Troy Turner April 13, 2018 8:00am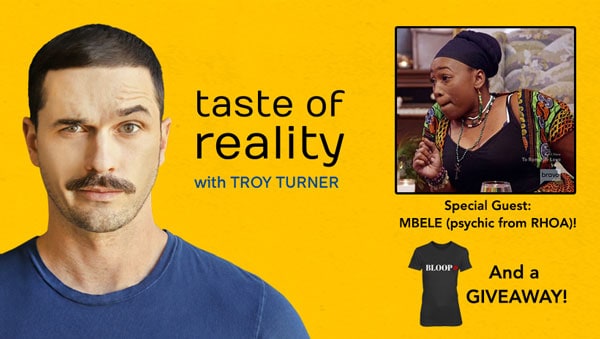 Podcast: Play in new window | Download
Subscribe: Apple Podcasts | Google Podcasts | Stitcher | Email | RSS | More
In episode #2, Troy runs through the reality TV news, gives a rundown of the top psychic moments in Real Housewives history and has an EXCLUSIVE interview with medium Mbele Kongo Princess from Real Housewives of Atlanta! She spills all the tea on her fight with Kim Zolciak, Sheree's future, and the readings you didn't see! Then, she gives Troy the reading of a lifetime! Find out what she thinks about getting her own peach! OH! And listen to find out how to win the weekly giveaway!
Sound off in our Facebook Group and follow us:
Web: https://tasteofreality.com
FB Group: https://facebook.com/groups/2002217393430171
Facebook: https://facebook.com/tastereality
Instagram: https://instagram.com/tasteof_reality
Twitter: https://twitter.com/TasteOf_Reality
---