Heather Dubrow's Closet is So Big it Has its Own Youtube Channel
You won't be able to guess how many pairs of shoes this reality star has.
Genny Glassman March 23, 2018 11:32am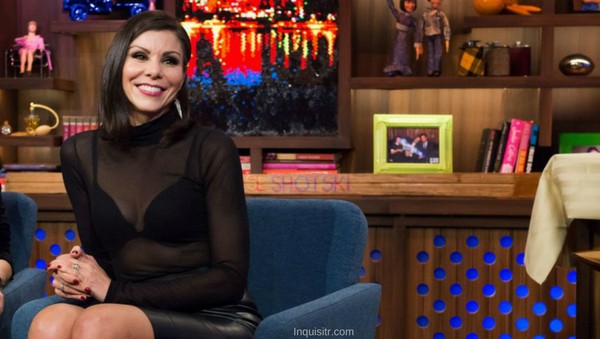 Though she may no longer be a Real Housewife of Orange County, we're still pretty obsessed with Heather Dubrow.  Heather recently spoke with INSIDER for their video series, "Bonkers Closets," where the 49-year-old gave us a peak into her amazing 500 square feet closet that includes, wait for it…a champagne doorbell.
You may have first heard about this mythic closet when Dubrow was profiled by the Los Angeles Times's Hot Property section., While most of us can barely fit our all of our clothes in our closets, Dubrow has made her's a place to socialize with friends  or spend quality time leaning to play the ukulele with her daughter.
Truly, her closet has become her oasis. "It's the one place in the house that I can literally drown the world out," she tells the LA Times. "There are no windows, so it's incredibly private."
In her latest interview with INSIDER, the former RHOC star got to show off the space in more detail. Including her collection of over 50 Chanel bags, astounding amount of jeans (she says she's "too old" to wear shredded jeans anymore), and over 200 designer shoes.
"There's a little quirky thing about me," Dubrow says in the video, as she pulls out a white Chanel leather jacket with pearl detail, "sometimes I buy things and never where them."
"Isn't this jacket awesome? I love it!" She squeals, "[but]It's never leaving this closet!"
Then she moves on to her collection of $400 Hermés scarves. "This one was my grandmother's," she says, as she pulls out the infamous Hermés zodiac print. "I always, always, always have a scarf." Dubrow moves on to other  favorite pieces in her wardrobe including her first Chanel purchase, a belt, which she bought the money she made as an actress at 16, her collection of Valentino Rockstuds (which can range from $995 – $1745 per pair), and her brooches, pointing out a very special brooch that was handmade by her daughter, Katarina.
But let's get to the real fun part: her champagne door bell. Dubrow, speaking of the origin of her brilliant creation, tells the viewer that, "So many people would send me those Instagram pictures, 'Press for Champagne' and I thought it was cool, but I thought, Well what does it matter if no one is coming with the champagne?" 
"So what I did was [I] had this made and it rings in the kitchen." Genius.
The interview also mentions Heather's Youtube series, "Heather's Closet," which has over 50, 000 subscribers and racks up views in the tens of thousands. The pivot to Youtube has really worked for the star, where she can not only share memorable pieces from her  wardrobe, she can give advice, try out beauty products, and interview guests like celebrity florist Jeff Leatham and Daisy Fuentes (remember her?).
All in all, Heather seems to have done something very difficult for a reality star who has left the limelight– she's managed to maintain a following.
Check out Heather's amazing closet and let us know if you're impressed by the "Queen of Chanel's" amazing space!
---