LHHNY: Hard Knock Life
Keep my name out your mouth.
Lisa Evans August 22, 2019 8:56am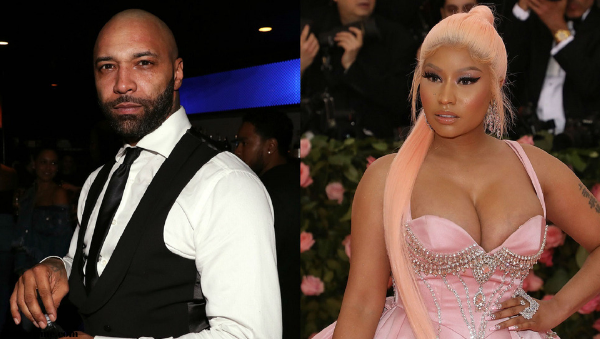 Squash the Beef
Joe Budden is having a rough couple of weeks.  No forget that, a rough couple of months.  While most of his life is coming up roses when it comes to women, Joe cannot catch a break.  Most likely because he hasn't learned to shut his mouth but hey who am I to speak, right?
Joe spent the first half of his week sparring with Nicki Minaj then somehow making up with her.  All of this of course happened between their respective radio shows and podcasts.
Nicki Minaj invited Joe to be the special guest on her "Queen Radio" show, however that chat went left real quick.
When Joe arrived and the interview began his direct quote was, "Joe is here to make peace with the Barbz,"
Almost immediately, Minaj was gunning for him.  She legit put her foot on his neck and refused to let up.
Nicki spent much of her time telling everyone how unbothered she is by Cardi B and every other artist that is seeking to knock her off her pedestal.
And once Joe, a recovering addict accused her of rapping about drugs however refusing to admit that she possibly pops pills, it was on and popping.  Pun intended.
Handle: @theshaderoom
Nicki had Joe's mic cut off and it looked like these two were never going to be able to end their beef.
Oh but just wait, a few hours later Minaj taped a segment on the Joe Budden Podcast where the two made up. Can we say publicity stunt?
In all honesty, I'm all for squashing Hip Hop beefs.  In this case I'm just over the shenanigans.
Stay tuned because on to the next one.
No One Wins
People, let me tell you a little well-known fact.  When it's time to film for any of the LHH franchises all the dirty laundry starts to air.  Clearly, Love & Hip Hop New York is about to film because Joe Budden has been on one the last few weeks.
A few months ago, we learned that he and Cyn Santana have decided to go their separate ways for reasons we may never actually know.  Someone possibly might have cheated, however we'll have to watch that play out over the season.
Now the former couple are at war over custody of their one-year old son, Lexington.
Budden claims that Santana is making it difficult for him to spend time with his son which I have to say is a little interesting since 80 percent of his Instagram stories are of young Lex.
Budden posted the following cryptic tweet:
I miss my son so much…. gotta go thru it tho… again.

— Joe Budden (@JoeBudden) August 13, 2019
And while Budden has an 18 year old son off to college soon, most fans are speculating that he is speaking on his son with Santana.
And this wouldn't be a new experience for Joe as he was not heavily involved in raising his first-born son.
As fans rallied around Joe and went on the attack towards Cyn, she came out guns blazing and shut those who came for her down.
Lol y'all think I give a damn about what complete strangers with ZERO information have to say about me as it pertains to my son? Y'all don't know a SINGLE thing about anything. I've kept it like that on purpose sis. Y'all stay blessed and protected tho 💙✨ https://t.co/fFeSksYg9N

— Cyn Santana (@Cyn_Santana) August 14, 2019
And without actually directing her tweet towards her ex, she let people know that she is as over it as the rest of us.
Girl. Tactics. Tactics. It's all a scam and quite boring and repetitive at this point. Gonna just ignore the ignorant and continue to live my life peacefully like I have been 🙏🏽💙✨ https://t.co/ZhwlfABBSr

— Cyn Santana (@Cyn_Santana) August 15, 2019
Again, stay tuned my friends because we all know how the tables can turn.
Are you tuned into Queen Radio?  Will Joe Budden and Nicki Minaj stay cool?  What is going to happen next for the dueling New York exes? Let me know in the comments below.
---