Gretchen Rossi Agrees to Testify Against Shannon Beador & Tamra Judge in Jim Bellino Lawsuit
It's Gretchen vs. Tamra & Shannon!
Genny Glassman September 27, 2018 4:00pm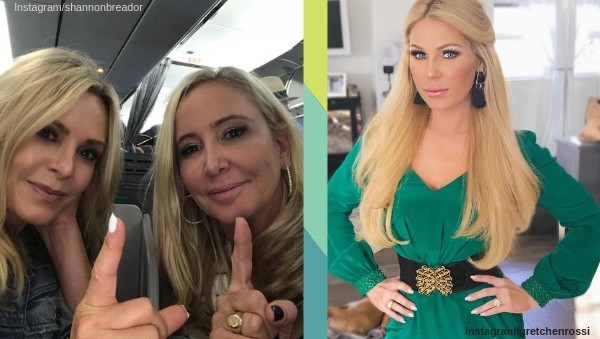 If you thought you saw the last of Gretchen Rossi and Slade Smiley, guess again. The couple is back and about to square off against Real Housewives of Orange County stars Shannon Beador and Tamra Judge in a defamation lawsuit lobbied against them by former house-husband Jim Bellino.
According a new report by The Blast, Jim has filed new documents against Shannon and Tamra in an ongoing lawsuit against the two, after the ladies allegedly accused Jim and Alexis of faking their divorce, claimed that Jim's trampoline business had paralyzed customers, and the two allegedly claimed that Jim is going to jail.
In a separate report made by Us Weekly, Jim filed the paperwork on September 25th. Court documents stated that Slade promised that he and Gretchen would testify on his behalf and allegedly had evidence that would "provide testimony regarding the anger, hostility and ill-will that Defendants (Shannon and Tamra) harbor with respect to Bellino."
The documents also allegedly state that Slade had evidence that "the Defendants have a pattern of making up stories to create notoriety for themselves in the media."
This latest development follows a tumultuous summer for Tamra and Shannon. In June, Jim took action against the reality stars by allegedly sending the RHOC ladies a cease and desist letter, in which he claimed that the two had made "morally corrupt" comments about his recent split with soon-to-be-ex wife Alexis. In July, Jim followed up with a $1 million lawsuit and in this latest court document, Jim claims that Tamra has targeting him for years by calling him a "faux Christian" and saying that he was a cocaine dealer.
Jim is asking the court to allow Gretchen and Slade to be deposed as witnesses in his case and is asking that the case is allowed to continue, but as of yet the judge has made no ruling.
Do you think Jim has a case? Let us know in the comments!
---