RHOC Alum Gretchen Rossi Talks Postpartum Depression
"I broke down" said the former Real Housewife after the birth of her daughter.
Ashley Hoover Baker September 26, 2019 8:07am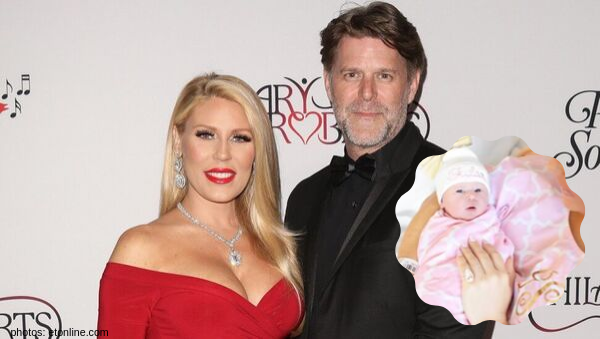 Real Housewives of Orange County alum, Gretchen Rossi, talks about her battle with postpartum depression. The first time mother said, "I broke down" after her daughter's birth. Gretchen appeared on Thursday's episode of The Doctors and explained that she was going through "a difficult period where, I realize now, I was depressed, and I had a lot of anxiety."
"I make a joke that I'm gonna write a book called It's All a Lie," Gretchen told The Doctors. "Legitimately, I had no idea what I was in for. I just thought, 'This is gonna be great.'" The first-time mom continued, "You see Instagram, you see social media, you see the media making it look like it's so perfect, and you just sit there and breastfeed your child and you look magically into their eyes. It was nothing like that."
"I really wasn't connecting with [Skylar] at the very beginning," she explained on the daytime show. "Then I came to realize [when] I went to my pediatrician's appointment and I was crying and broke down in that appointment, and my pediatrician said, 'You know, Gretchen, I think maybe you need to think about the fact that you might have some serious postpartum.'"
"I was really struggling, and I was having an internal conflict with the fact that I had this beautiful, amazing miracle baby — literally, she was a miracle for us [referring to her fiance, Slade Smiley] — and I just was having a hard time compartmentalizing how to manage my life now with this new baby," explained the former RHOC star.
As a non-Gretchen fan, this was a turning point for me. I felt like she was honest and vulnerable in this interview, unlike the Gretchen we usually get. Never forget, Gretchen captioned the first pic of her and her newborn baby, "This was right out of surgery and the very first time I got to hold my baby girl 👼🏻 This was the most amazing exhilarating feeling, and a moment that will be forever engrained in my mind. ❤️" 
Nobody looks like that post-surgery. Girl, please.
Five days ago was the first time Gretchen posted an honest (in my opinion) picture of mom life on Instagram. No styling, no hair and makeup, just a mother with her beautiful baby. She captioned the post, "#MomLife with a New Baby 😜 ✅House is a mess ✅Exhausted from no sleep ✅Delirious ✅No Makeup ✅Hair in a bun ✅Sweatpants ✅Laundry is piling up ✅ Barely surviving ✅Can't remember what day it is ✅Can barely remember my own name 🤣😂🤣😂🤣😂🤣 Who's been here before, and who's with me right now? 🙋🏼‍♀️"
Respect.
I think it's fair to say that many of us get caught up in how other's lives appear on social media. I appreciate Gretchen opening up and being honest about her struggles with her mental health after pregnancy. I talk about my own mental health struggles on my podcast, On This Day Entertainment.
In this episode, I celebrate the life of DJ, electronic musician, and songwriter Avicci. Unfortunately, Avicci lost his battle with depression and took his life on April 20, 2018. In case you need someone to talk to, the Suicide Prevention hotline is 1-800-273-HELP. That's 1-800-273-8255. Remember, you are not alone.
Do you think that Gretchen sharing her struggles so openly will help other mothers going through similar struggles? Sound off in the comments!
---