#24 Grant Rutter from Grant's Rants Talks Vanderpump Rules and Reality News!
If you're not listening to our podcast... you're Jim Marchese-level douchey!
Troy Turner December 11, 2018 10:46pm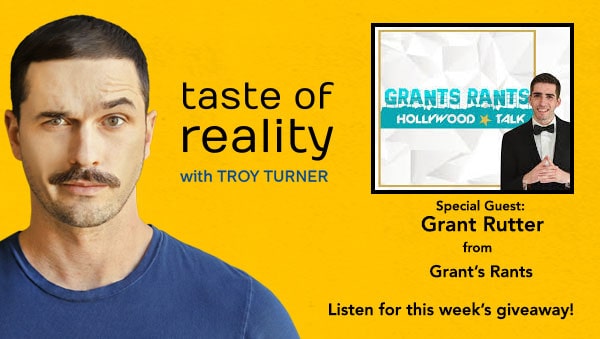 Podcast: Play in new window | Download
Subscribe: Apple Podcasts | Google Podcasts | Stitcher | Email | RSS | More
In episode 24, Troy and Grant Rutter from Grant's Rants Hollywood Talk give a Rants-style breakdown of the latest reality TV news and gossip, then talk Season 7 of Vanderpump Rules, including Jax and Brittany's engagement, Kristen Doute's super-sleuthing, and James Kennedy's cheating on Raquel. Listen in for all to score some sweet reality TV gear from the store when you listen for the giveaway!
Sound off in our Facebook Group and follow us:
Visit the Website: https://tasteofreality.com
Shop the Store: https://redbubble.com/people/tastereality
Join the FB Group: https://facebook.com/groups/2002217393430171
Like on Facebook: https://facebook.com/tastereality
Follow on Instagram: https://instagram.com/tasteof_reality
Follow on Twitter: https://twitter.com/TasteOf_Reality
Follow Grant's Rants:
Listen on iTunes: itunes.apple.com/us/podcast/grants-rants-hollywood-talk/id1033690074?mt=2
Instagram: https://instagram.com/itsgrantsrants
Facebook: https://facebook.com/grantsrantspodcast
Twitter: https://twitter.com/itsgrantsrants
Grant's Rants Episode with Troy: https://tasteofreality.com/grants-rants-podcast-troy-turner
---