Get Glamified Like the Real Housewives of New Jersey
Tan, Shop, Glam!
Lara Sophia February 12, 2019 9:59am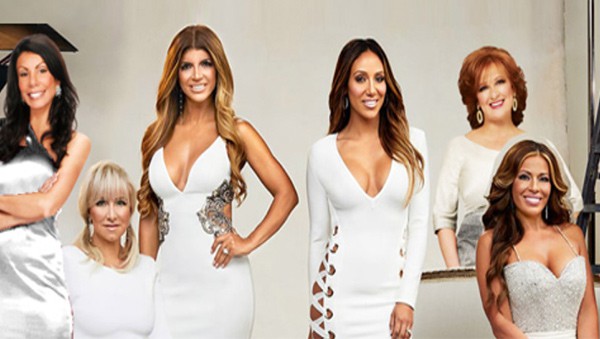 You've heard of GTL – Gym, Tan, Laundry but the Real Housewives of New Jersey do it a little differently. Instead of getting their GTL on the RHONJ are all about the TSG – Tan, Shop, Glam. It's a winning combination that keep's the ladies of the Garden State looking their best at all times.
With that said let's breakdown the best places in North Jersey to get beautified and glamified a la the Real Housewives of New Jersey. All of these places have been featured on the Bravo show, so they most certainly have the RHONJ seal of approval.
Here's the ultimate guide to getting your Tan, Shop, Glam on like the Real Housewives of New Jersey.
~Tan~
Tanning is very Jersey and is a pivotal part of every Jersey girl, and guys look. These days most Jersians are skipping the tan beds in favor of spray tans, but some still love to head to the tanning salon to stay bronzed all year long. Have you seen Teresa Giudice lately? She's bronzed and sizzled city! Clearly, she's still getting her sizzle tan on!
Just as the Housewives of New Jersey do, look to Sizzle Tans for sunless tanning options! Both our VersaSpa spray booth and our Fantasy Tan custom airbrushing will leave you with the perfect tan you are looking to achieve. Help Sizzle Tans 'bring the heat to Jersey', and experience the difference in tanning that Sizzle Tans has to offer.
As Seen on RHONJ S5/E10: Ain't no photoshop or airbrushing here. Bada bing bada boom!" – Joe Gorga Joe shows off his sizzlin' bod for the tan shop's new billboard. "Any excuse to take his shirt off." -Melissa
Beach Bum Tanning features the best selection of modern indoor tanning equipment on the market today.
As Seen on RHONJ S9/E12: Teresa and Frankie get tans for their fitness competition.
~Shop~
Did someone say shopping? The RHONJ are obsessed with fashion and love to shop till they drop! Putting together the perfect outfit is critical for the ladies as they must always look fashionable and on point. The Jersey Housewives are constantly on the hunt for hottest looks and latest trends, and they know exactly where to go to get them. And while they could all easily cross the bridge into New York City more often than not, they prefer to shop at a bevy of "tiny little boutiques" in NJ like Posche By Kim D and ENVY by MG.
RHONJ star Melissa Gorga's eye for fashion and style is indeed reflected in the boutique, as she handpicks pieces from an array of emerging designers to prestigious fashion-forward brands. With that in mind, you will be sure to find something for almost everyone.
As Seen on RHONJ S8/E3: Margaret stops by Melissa's retail store to see if she can help her break into the fashion world. Danielle stops by and drops the news that Siggy is mad at all of them for calling her "Soggy Flicker" after she whined about cake-gate. "It comes off a little dramatic." -Melissa
Fabulous Women's Clothing Boutique! A mix of Affordable Fashion & Luxury Designer Lines. Shop Posche by Kim D for all the latest trends!
As Seen on RHONJ S7/E13: The notorious Kim D invites some of the ladies to a fashion show and drops a bombshell. She reveals a rumor that Joe Giudice cheated on Teresa while she was in prison! "If I were her I wouldn't be married to him." -Kim D
Robin's Closet Boutique brings the flavor of New York City to New Jersey in a shopping experience not to miss.
As Seen on RHONJ S5/E6: Jacqueline and Kathy are getting some shop-therapy when Teresa calls Kathy to invite her to the retreat she's put together. On speaker, she tells Kathy it's a healing retreat to fix the mess that Jacqueline made between Teresa and her brother. Oh no she di'nt! Jacqueline snatches the phone out of Kathy's hands, and the two start playing insult ping-pong which leads to a screaming match. "La, la, la, la, I can't hear you, la, la, la." -Jacqueline
With it's New York City boutique feel, in the suburbs of New Jersey, Zabayon offers a mixture of the season's best designers in women's fashion. The boutique carries unique clothing, shoes, handbags, and accessories. Zabayon's stylists give a one on one shopping experience in creating your own, personal style.
As Seen on RHONJ S6/E3: The twins tell Melissa about Amber's husband not wanting to be seen with Teresa or Joe because of their criminal activity. As a mortgage fraud investigator, his reasoning might be right, but he should know better than to mess with an Italian family! "He better know his role and respect." -Melissa In return, Melissa tells the twins that Amber called Nicole a homewrecker which sends Nicole into a ricotta-fueled rage. She's so angry that she drags her twin Teresa out of the store so they can take care of business. "Get your things. We're going to her house." -Nicole Lucky for Amber, the airheads run out of gas on the way! "Just put $5 in." -Nicole
~Glam~
For the Jersey Housewives getting glam isn't just throwing on some makeup calling it a day. Nope for the Real Housewives of New Jersey glam means – hair, nails, and makeup. It's like a car wash, but instead of your car, it's you getting the works. Every little part of you is getting buffed, shined, polished, and blown out, so you emerge looking shiny, fresh, and new.
And after years of getting glamified on the regular, the Real Housewives of NJ have found the best of the best in the Garden State (and NY) so trust us you're in good hands if you head to any of these salons, makeup artists, or nail salons.
PRIV is a mobile and web platform that delivers beauty and wellness professionals to your location. Choose a professional based on your availability and view their bios, portfolios and user ratings.
As Seen on RHONJ S8/E9: Margaret brings in the specialists to give her elderly mom a makeup and hair makeover for her first date in a while! "We gotta find you someone with one foot on the banana peel with a big willy!" -Margaret
Paradise Nails specializes in prettying up your fingers and toes. Nail technicians pamper each extremity during manicures and pedicures, rendering hands and feet not only shaped, cleaned, and polished, but feeling as loose and relaxed as a sock puppet that narrowly escaped the washing machine. In addition to standard mani-pedis, they also offer gel no-chip treatments and stock a wide array of polishes.
As Seen on RHONJ S5/E4: Teresa and her mother-in-law get together for a lil mani/pedi action. Teresa needs advice on what she should do about the feud between her brother Joe and his wife Melissa, and who better to ask than an explosive Italian woman?! When Teresa tells her about Melissa's book on keeping a sexy marriage, Ma responds "…oh God, How? How do you do that? Women who dress like Melissa are called prostitutes in Italy." Sage advice from the wiser and older.
Our talented staff ranges in experience from seasoned professionals to young up-and-coming stylists, allowing Bollo to offer their signature style.
As Seen on RHONJ S6/E13: Teresa squeezes in some time with daughter Gia before she goes behind bars! She tries to talk birds-n-bees, but the hormonal teenager isn't having it. "OMG do you have to tell the whole world?!" -Gia
At Americana, we nurture your body, mind, and soul. Our team of professional stylists, colorists, nail technicians, makeup artists, and estheticians are dedicated to enhancing your appearance on the outside while providing an environment for you to relax and re-energize on the inside.
As Seen on RHONJ S5/E3: For Gia's birthday, Teresa takes the girls to get glamified at the salon. She tries to micromanage Gia's haircut, but Gia shuts it down! "It's my decision so zip it and be quiet." -Gia. Gia's further annoyed by her mom's antics when she's asked about uncle Joe and aunt Melissa with whom Teresa is still fighting. In other news, scientists may have found a link between bad attitudes and genetics…
RHONJ and Manzo'd With Children star Lauren Manzo's salon and beauty bar – voted the best salon in New Jersey!
You don't know style until you've met the "Moxie Twins." Say hello to Jamie and Jenn, identical twin hairstylists who truly know how to get glam. Currently, the twins' salon is located in Ridgewood, NJ. They offer professional haircuts, styling, and coloring, hair and eyelash extensions, and Motives make-up and custom blend foundation consultations. Both are La Bella hair and eyelash extension certified and Brazilian keratin treatment certified. Also, Jenn is a Wella trained and certified colorist. Jamie is a Motives make-up custom blend foundation specialist. Today, Jenn and Jamie are well-known throughout the tri-state area and beyond for their tremendous talent, vibrant energy, and unwavering zest for life. Their work speaks for itself.
As Seen on RHONJ S5/E17: After intense fighting and therapy sessions all season, the families FINALLY seem to be getting along, so everyone shows up for Teresa's Milani Hair Care product launch. But what party would be complete without the drama, so Penny and Kim D are there to stir it ALL up again!
Our highly qualified nail technicians welcome you to the warm and comfortable atmosphere of our Luxurious Nail Salon, where we specialize in LCN nails, manicures, pedicures, make-up, and waxing. All of our treatments are customized to your specific needs and concerns. We look forward to meeting you.
As Seen on RHONJ S5/E12: Melissa joins her friends at the spa for some mani/pedi therapy. On today's agenda: Jan da man. Apparently, she's been selling stories to US Weekly about Melissa cheating on husband Joe and giving some guy a phat BJ in a parked car outside the bar one night. "Do I look like a parking lot kind of girl?" -Melissa
Julius Michael is a trailblazer in the beauty industry, setting the bar high for new trends. Celebrities rely on Julius to help them create their glamorous style. Julius is known for his mastery of color, highlights, and Balayage. He is also sought after for his original, virtually undetectable, permanent or clip-on hair extensions. Julius's signature looks can be seen on television and at red carpet events from coast to coast and internationally. Julius is passionate about his work and makes every one of his clients feel like a friend during an appointment and be a star as they walk out the door, loving the way they look.
Priscilla DiStasio is a professional and celebrity makeup artist with over 10 years of experience in the beauty and makeup industry. First starting her professional career years ago as a MAC certified makeup artist, Priscilla has climbed her way to the top, and since then has built a reputation that holds up a well-known name to many of today's top celebrities. She is best known for her consistent work as the main makeup artist for The Real Housewives of New Jersey's, Teresa Giudice.
Judi Gabbay is a celebrity makeup artist based in New York.  Her work has been featured in Seventeen Magazine, Vogue Italia, Marie Claire, Nylon and more. She has learned tricks of the Hollywood trade from top artists such as Mario Dedivanovic, Scott Barnes, Samuel Rauda, and Patrick Ta.
For more ways on how to get the full RHONJ experience check out TOR's RHONJ Tour!
---