From The Hills to Hummingbird Meals: An Appreciation Post for Spencer Pratt's Snapchat
Who needs meditation to relax when you can just watch Spencer Pratt's Snapchat stories?
Emily Bertha March 21, 2018 8:49am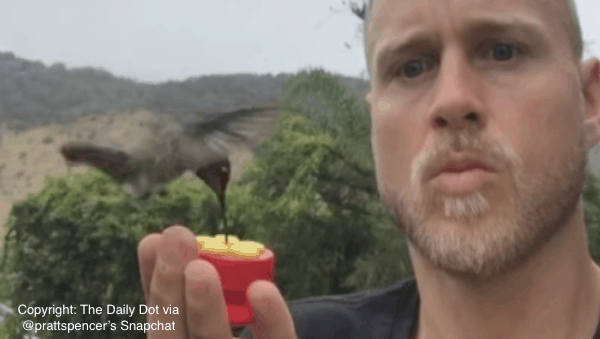 Spencer Pratt is perhaps best known for dating Heidi Montag and subsequently being cast on one of the OG's of reality shows, The Hills. Since then, Pratt has come a long way from being known as one of reality television's biggest villains.
These days, Spencer is all about exuding positive energy, being a good father, and trying to #MakeSpeidiFamousAgain. And of course, he puts it all on social media (my personal favorite being his Snapchat).  Spencer is like that friend who seems to document his entire day everyday. Part of you is jealous and annoyed because you're not a wealthy white guy who can spend all day snapchatting, but most of you is just happily entertained and well, relaxed.
Here are some of the best things Spencer graces phone screens with almost daily:
Leggy
Spencer makes nectar to feed the hummingbirds in his backyard, one of them a one legged beauty he calls Leggy. If watching adorable, tiny birds being fed doesn't slightly warm your heart, then I sort of get it because all that humming can be annoying. Still, watching these magnificent little creatures eating everyday can be quite soothing. 
Crystals
Oh, the Pratt Daddy crystals. First of all, any C list celebrity who still refers to himself in third person earns some respect in my book. The mix of irony and ego is so satisfying. Spencer often showcases his newest crystal additions to fans on Snapchat. While I personally think crystals contain the same power and energy as my pet rock from 3rd grade (none), they are mesmerizing and calming to look at.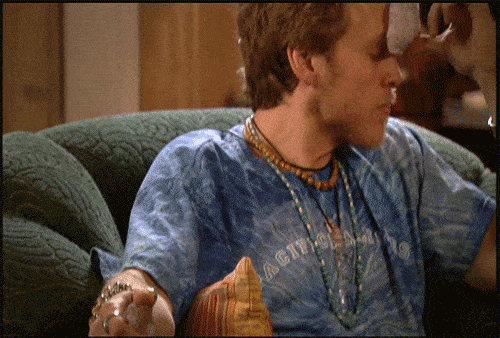 Burritos and Babies
There's just something about seeing a baby holding a burrito half its size that makes you smile and forget that your ex just changed his Hulu password to spite you. Spencer often dances with his burritos before letting his adorable son Gunner hold it for a bit. And to think all I was given mushed up carrots as a baby… Check out Heidi and Spencer's favorite Mexican food hot spot, Don Antonio's!
Celebrity magazine critiques
I mean, someone give this man his own talkshow on E! or something already. Spencer regularly goes through celebrity magazines and provides amusing and shockingly accurate commentary on celebrity fashion fails. Not really sure who made him the fashion police when he owns one too many tie dyed shirts but hey, I appreciate the British accent he adopts for Prince Harry.
Taylor Swift
I admire a man who doesn't hide his adoration for this princess of pop. Spencer regularly blasts Tswift while doing everything from eating cake to playing with his baby. Is there really anything better a dad can gift his son besides catchy pop tunes (I mean aside from love, attention, a pony, etc etc)?
Be sure to check out Spencer's Snapchat stories for yourself @prattspencer!
Have a favorite Pratt Daddy Snapchat moment? Let us know!
---