Forgotten Moments from The Real Housewives of Atlanta
Who Remembers That ICONIC Alter Ego Photo Shoot?!
Jaimee Palkovicz April 19, 2018 5:00pm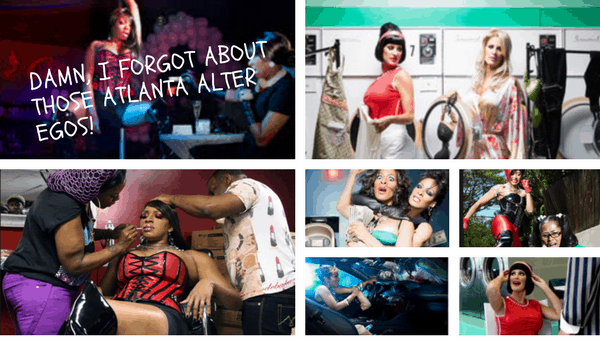 In the midst of The Real Housewives of Atlanta reunion, I've been binging old seasons and noticed all these things I totally forgot happened. We all remember the iconic lines and moments.  Such as, "close your legs to married men," thank you Big Poppa", and of course, "Who gonna check me boo." But, what about those little moments that we forget,  but are also pretty iconic. I found a few gems within the first two seasons that are too good, that I had to remind you of them; so you never forget them again.
Before Kim was the Kim that we know today, Kim Zolciak-Bierman decided that she was going to go to Empire Beauty School in order to learn more about Wigs (research for her Wig line). I'm sure you all forgot, me included. But, thank goodness for reruns and Hulu, where this lives FOREVER! Honestly, I don't remember if Kim ever started her wig line.
Another thing I still don't understand about Kim: Kim starts the franchise off getting "boxes of clothes" sent to her by Dior. DIOR PEOPLE! Why is Dior sending Kim Zolciak boxes of clothes (even in the second season why she's no longer with her cash cow Big Poppa?) What is she doing that is making her able to afford a $3500 bag?! She is show saying in the second season that she'll work 3 jobs to afford Dior; but other than the show, there are no other jobs! To this day, she still continues to get boxes of clothes from stores and designers (as seen on her Snapchat).
Kandi Burruss came onto the scene in Season 2, and was engaged to AJ.  AJ shortly passed away after the second season aired. Not shocking, is that Kandi's mother, Mama Joyce, was not supportive of the relationship, and which was cause for a lot of drama. Clearly, nothing has changed when it comes to Mama Joyce and the men in Kandi's life.
Lisa Wu had a jewelry line called Lisa Wu Hartwell Luxury Jewelry. After tons of Googling, and research, it seems that the jewelry line is no more. The only trace are old articles about the line from 2008. Along with her jewelry line, she had a clothing line called Closet Freak, which is no where to be found as well.
Last but certainly not least, how could I forget (but I did) about that Alter Ego Photoshoot in Season 2. The pictures are insane in the best way possible, and the drama leading up to it was intense. If you haven't watched it a while, I suggest you go watch now. Run, don't walk!
If you haven't done so, give the first two seasons a re-watch. They're pretty amazing and some of the best seasons of the whole franchise.
What are some of your favorite RHOA moments from the early seasons? Let us know in the comments below!
---