'Flipping Out' Might Be Heading Towards Canceling in Light of Jenni Pulos' Claims of "Abuse"
Flipping Over and Out
Genny Glassman September 9, 2018 7:01pm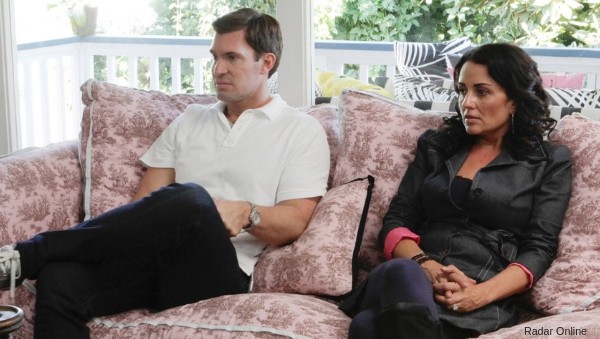 Things have gone from bad to worse between Jenni Pulos and Jeff Lewis. Yesterday it was revealed that the two have ended their famous friendship and their partnership on the Bravo hit, Flipping Out.  But today new details are being leaked about the split and the rift might end the series for good.
In a new interview on his SiriusXM show, Jeff Lewis Live this morning, Lewis was candid about new accusations that Pulos has made against him to Flipping Out's production company Authentic Entertainment. "I just lost my job. I'm pretty sure of that," he said of her claims of "abuse and victimization."
"Her making this claim, it put my entire career in jeopardy. My family, my livelihood, everything," he added.
Supposedly the alleged "abuse" arose after their extremely heated argument that took place while shooting the first episode on the upcoming season of the show, as reported by People Magazine. 
"This fight was no different than any other fight in the 11 years on Flipping Out. This was no different than me yelling at a contractor for being late or someone causing me 5,000 of repairs," Lewis explained.
He went on to say that Authentic Entertainment performed a investigation into the claims, but cleared him of all charges. On Monday, he said however, Pulos decided to stick to her guns. Lewis claimed that Pulos"doubled down" and reported him for "wrongfully terminating her off her own show" and "allegations of a hostile working environment."
He also confessed that he and Pulos haven't spoken in three months and that he was the one who suggested that Pulos move on from their real estate company.
"I did it because I thought it really was the best for both of us," he admitted. "All of this was very civil, I thought." But apparently Lewis misjudged what Pulos' real feelings were. "This fight, I never thought in a million years that would ever break us up."
And now Lewis is saying that if he and Pulos are really through, then there probably won't be any future seasons of their show together. "I'm pretty sure they're not going to keep picking up Flipping Out if she's not on the show. And she's not on the show."
Would you be sad to see Flipping Out come to an end? Let us know in the comments!
---