#FashionFriday: Get Kristin Cavallari's Very Cavallari Style!
It's anything but common!
Lara Sophia July 27, 2018 1:06pm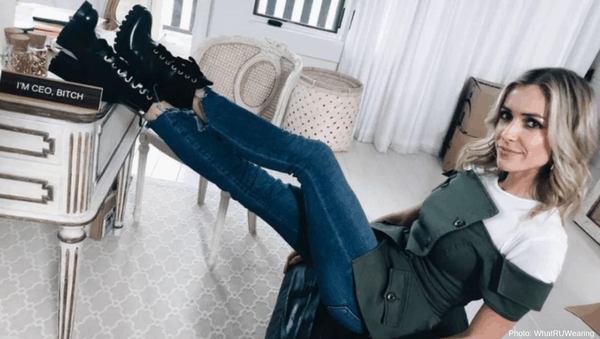 Kristin Cavallari's style has evolved since she first emerged on the reality TV scene back in 2004. From beach babe to country girl chic Kristin's style has gone through many ups and downs over the years. As the reality TV star turned boss babe evolved so did her fashion. Now at the age of 31, she's cemented her style and built a thriving brand around her lifestyle.
While now Kristin is considered a fashionista by most she admits that back in her Laguna Beach days she "didn't care" about fashion at all.
"On 'Laguna Beach' — I mean I was 17 — so I didn't care [laughs]. I didn't even know what fashion was. I just wore what everyone in Laguna Beach was wearing and what I liked. I mean I wore jeans first with Ugg boots, and I thought that was the coolest thing ever," Kristin tells Fashionista.com
However, that all changed in recent years. The Very Cavallari star says she developed her style a few years ago and never looked back. Interestingly enough, the more Kristin discovered who she was, the easier it was for her to develop her style.
"I'd say [I found my personal style] in the last couple years. It wasn't like this 'ah ha' moment. I mean I've worked with many, many stylists over the years and because I wasn't really sure of my own personal style, like in my early 20s, I was just trying to bend to whatever my stylist was kind of putting me in. Whereas now, I feel like I really have a grasp of who I am and what I'm drawn to, so I'm more likely to say 'no' to things that maybe I wouldn't have before because I was just figuring out my style. So now my stylist [Dani Michelle, who also styles Kourtney Kardashian] that I've been working with for the past year, really gets me. "
Initially, Kristen stepped up her fashion game after becoming a red carpet correspondent for award shows on E! saying, "[The experience] made me step up my game. If I'm gonna be out there commenting on fashion, I gotta know my s**t, so it's really made me put more thought into it and care more, to be totally honest."
As for her personal style, Kristin admits she loves basics that she can throw on and go. Kristin's style was the driving force behind her brand, Uncommon James, which she says is "a line that's easy for the modern woman."
"The perfect outfit for me is: jeans, a great pair of booties, some sort of a basic, like a tank top or a tee, a really cool blazer, and a hat. I'm all about basics and I really think that accessories can make or break an outfit," Kristin explains. "The whole point of Uncommon James is to have a line that's easy for the modern woman. I want you to throw these pieces on and never take them off. I want you to mix and match them with what you already have or within each of the collections. That's really how my style is. I want to throw things on and go."
Kristin may love fashion more these days but confesses that she's still not a huge fan of designer stuff.
"But I really don't have a lot of designer stuff. That's probably a misconception about me, but I just don't care enough. This is so horrible, but I just don't. I'm not buying, like, Chloé shirts and sweaters and I kind of think it's silly, to be completely honest. I'm more about spending money on, okay, a great pair of shoes. I'll shell out some money on a purse. I bought a little baby Céline that has yellow on the sides. That's kind of like a risky move for me — buying anything with yellow — and so that was a big splurge for me not too long ago and I've only used it one time, which really sucks. There's not like one item that I've splurged a lot on. It's more like I'll get a lot of items, so it'll be like one big overall splurge," the Very Cavallari star confesses.
So, how can you get Kristin's style?
Well here are a few must-haves to achieve Kristin's Very Cavallari style!
Basics
Boots, Boots, and more Boots

Touches of Glam

Throw On and Go Pieces

Tiny Treasures
Follow us on Instagram for more reality TV coverage and fun!
---