Fashion Fridays: Where Did These 'Fashions' Go?
Oh where, oh where, did they go?
Jaimee Palkovicz April 20, 2018 11:10am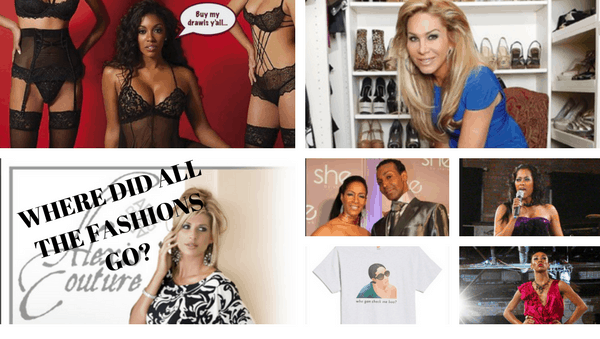 Over the many years, franchises, and seasons, we have seen Housewives curate fashion companies. There have been many that have succeeded; Lizzie Rovsek's Sun Kitten Swimwear, Lisa Rinna and her dusters, Kyle by Alene Too, and even the shockingly Sonja Morgan New York. But, there have also been a BUNCH that has carried a storyline, and then once the spotlight dimmed, fell short. Well, I'm here to remind you of the fashion houses that we lost, once the Housewife left.
Closet Freak by Lisa Wu Hartwell
Former RHOA cast member Lisa Wu Hartwell started her line Closet Freak shortly after Sheree Whitfield started She by Sheree and had her fashion show with no fashions. In an interview with Essence Magazine, Lisa says she got the name when someone on the show called her a closet freak. When googled, nothing but old articles come up about Closet Freak, so I think it's safe to say, that the line is no longer.
Alexis Couture by Alexis Bellino
Who can forget Alexis Bellino's iconic photoshoot in the St. Regis when the smoke machine made the fire alarm go off! Or the time she took control with her design and cut the sleeves off that hand beaded dress. Alexis tried really hard to make her line work, and unfortunately, once she left RHOC, the brand fell hard. Looking back, I give her props for trying. She even tried really hard to push her denim blingged hats. But it seems that nowadays (on Insta), that she's happier than ever regardless of what happened to Alexis Couture.
She by Sheree (Kinda)
Any time Andy Cohen is with Sheree, there is no doubt he'll ask her if she's wearing She by Sheree, and the answer is always NO. Although she claimed on the reunion that She by Sheree is doing 'joggers' that will come out sometime in September-Sping-Summer. When you google She by Sheree, there is one item that WAS for sale, but is now sold out. It was sold at Nordstrom, and it was a Haines t-shirt that was screen printed was "Who gonna check me boo?".
Naked Lingerie by Porsha Williams
After RHOA star Porsha Williams ended her marriage with Cordell, her good girl vibes went right out the window, and her sexy really came out! She started a lingerie line called Naked Lingerie, but haven't heard much about it since. The site is no longer up, so I'm guessing there is no more Naked Lingerie. But don't fear, Porsha's Go Naked Hair is still up on the web and ready for purchase!
Shoes by Adrienne Maloof
Although RHOBH star Lisa Vanderpump called her shoe the 'Maloof Hoof' and that name seemed to stick, the company, however, didn't. Just like Adrienne Maloof's pieces of tinsel in her hair went out of style, so did her shoes. The only place you can find leftover inventory of Adrienne Maloof's heels now is on Amazon.
When these "lines" were hot and up and running, did you purchase any? If you what was your experience? Let us know in the comments below!
---