Fashion Fridays: Pump Rules Cast Gives Preview of What to Expect This Summer
#FashionFridays by Taste of Reality
Jaimee Palkovicz March 2, 2018 10:00am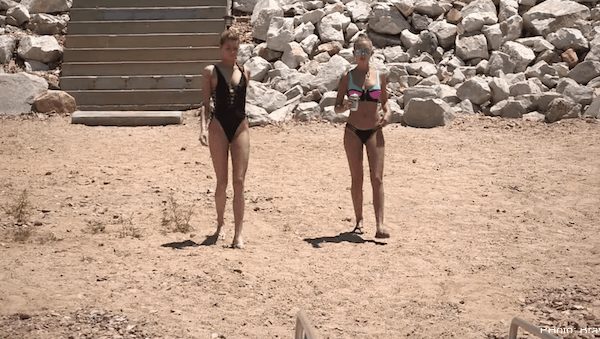 This week on Vanderpump Rules not only did we have to awkwardly watch Scheana Marie rave about Rahbbbbb (Rob Parks Valletta), we also got a full preview on what's in store for this summer in regards to bathing suit trends! Although summer is still a few months away, there is no time like to present to start shopping  for what should be your #1 summer must have – bathing suits!
While most of the Vanderpump Rules crew was at Rob's cabin in Big Bear, we got to witness first hand what to expect to see this summer when it comes to bathing suits, or in Lala Kent's case, lack there of. If you thought a one piece was boring, this episode is sure to prove you other wise. These girls proved that  one pieces are in style, if not more than ever. Oh and that when the suns out, there buns will be out as well!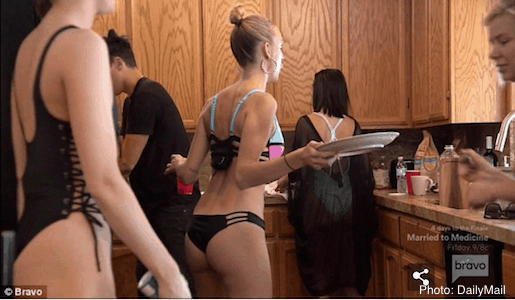 Now, I'm not sure if the bare chested look will be in around your area, so I am going  to preface this by saying, I am not telling you to go topless this season. But hey, who am I to tell you to put your tits away, who am I? Katie Maloney-Schwartz? First, let's get this out of the way; asses are in this season, well technically they are out to play, but you know what I mean! Tiny bathing suit bottoms are in, and I don't think they're going away anytime soon. Gone are the days of a full bottomed bathing suit. Ass cheeks are making a comeback, so get used to it.
Let's start with the one pieces since that tends to be what most of the girls were wearing. Graphic T bathing suits, like the one Scheana was wearing, with witty sayings are super cute and super in this season. Most of these swim suits are paired with high legs cuts and low dipped backs. This swimsuit style is perfect for when you're doing water activities and you want to feel covered, or if  you're just watching your boyfriend be a real man and hang a TV in 7 minutes.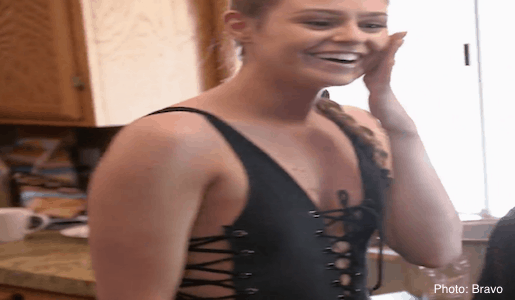 Another sexy variation of a one piece that's in this season is Raquel's black lace up one piece. The way the black suit is laced up is a sexy way to rock a one piece. I'm not sure I would pick that one piece to tan in, but I would for sure wear it for a day of waterskiing or partying on the lake.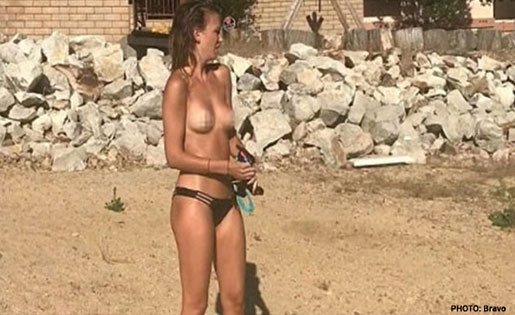 Lala's bathing suit has been in for years, but girl, it's not going out of style anytime soon! These color block bikinis are the best way to show off that summer glow. Nothing makes you look tanner than a neon color block bikini. This bathing suit style should definitely be a staple in your closet; and if you wish to pull a Lala, a-la no top, then DO YOU BOO, DO YOU!
Which bathing suit style will you be rocking this summer? Who's bathing suit did you like the best? Let us know below in the comments!
---