EXCLUSIVE: Shahs Of Sunset's Ali Ashouri
Ali spilled the tea on 'naked Jenga gate,' the bathhouse rumors, and the abortion accusation.
Ashley Hoover Baker March 16, 2020 4:00pm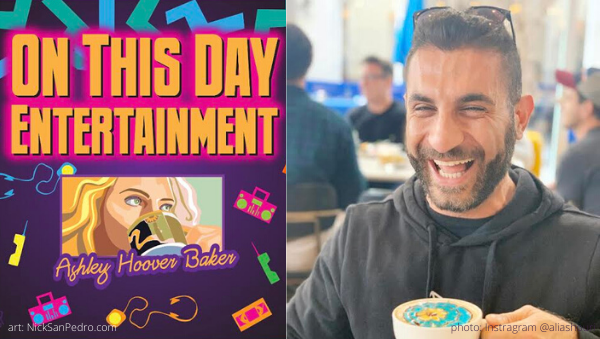 EXCLUSIVE: A one-on-one interview with Shahs Of Sunset's Ali Ashouri and Ashley Hoover Baker from the TasteOfReality.com team. Ali spilled the tea on 'naked Jenga gate,' the bathhouse rumors, and the abortion accusation.
Ali reached out to Taste of Reality to give his side to the happenings from this season of Shahs. I spoke with him on Saturday evening, the day after the episode 'Pool Party Massacre' aired. Here are some highlights; however, I recommend you listen to the podcast for his full story. Thanks to all of the social media followers for the questions!
Adam Neely's text messages to Ali:
What began as innocent exchange of text messages and memes evolved into something that Ali wasn't expecting. "Do you want this d!ck in your pooper? Do you want this d!ck in your face? Do you want to swallow this? Do you want this tonight?" This is harassment that Ali referred to on the hit Bravo show.  He explained that there were times he would respond with a simple 'lol' and others where he wouldn't even not respond.
Ali clarified that the messages were from 2018, and that the stack of 'receipts' he brought to the televised lunch that Destiney Rose organized for Ali and Reza Farahan were not only between Adam and Ali. Ali, in fact, had three stapled 'packets' of printed out text messages. One packet consisted of messages between Adam and Ali, another packet was printed text messages between Adam and some of Ali's friends, and the last were texts discussing Adam 'cruising' at the gym and getting followed into steam rooms. "
Do Reza and Adam have an open marriage?
"From what I have observed, it's not just black and white, husband and husband relationship. I think there is other stuff going on, I just don't know specifically."
Ali continued to elaborate, "I know strip Jenga happened, they're denying it, but it happened. It's a fact.  I have text messages from the people that were there." I later learned that Ali was not actually present at 'naked Jenga night' at the Farahan's when I asked about the logistics of the Jenga game. (Listen to the podcast to get the deets- you need to hear Ali's response for yourself.)
"Why would you have strip Jenga and hide it from your husband if it's an open marriage?" questioned Ali.
Ali's response to Reza accusing Mercedes 'MJ' Javid's uterus exploding due to her having ten abortions:
"It's just so appalling and disgusting and so vile for somebody to speak of someone's choices regarding abortions and making it such a personal attack to a best friend that's been in your life for so long."
Ali mentioned that he is a pharmacist. His professional expertise indicates that there is no correlation between women who've had abortions and have had their uterus explode. "It's just ridiculous, It's so disgusting. It just shows what kind of person Reza is."
Why did Ali feel the need to bring up the Strip Jenga party in the first place?
"Adam and Reza have been slut shaming me for months before the lunch that happened with me and Destiney." Ali continued, "They were saying, 'You're a whore.' We were in Vegas and I hooked up with some guy. I sent pictures of the guy I hooked up with to Golnesa ['GG' Gharachedaghi] and Golnessa took those pictures and sent them to Adam."
Ali explained, "It's retaliation. Why are you talking about me and my life and I can't talk about yours."
Is Adam happy in his marriage to Reza?
Yeah, I actually think he's unhappy. I think they're both unhappy in their marriage. It's just very obvious that Adam's a completely different person when Reza's not around. He's more devious, has a different sense of humor. When Reza's around, he's quiet, he doesn't say anything, he's kind of like a mouse in the corner."
Ali asked, "Does Reza know how you talk to people, how every conversation turns into sex? All roads with Adam turn to sex, and turns to something sexual like sucking some d!ck or @ss or [email protected] or something."
Destiney's role in the drama:
"Destiney has been trying to save herself from the moment this all transpired and basically shift the blame tried to shift the blame to MJ and make her be the mastermind, which is not true."
Ali continued, "She's a very emotional person and she cries a lot. I think a lot of those tears are fake tears because she's a very good actress."
Who do you blame for the demise of Reza and MJ's friendship?
"It's absolutely Reza's handling of the situation. He could have handled the situation better. I'm the only one that went to the hospital and visited MJ, and Shervin [Roohparvar] too. We're the only two that visited her in the hospital.
Is Ali still friends with anyone from the show?
The only person that Ali keeps contact with from Shahs is MJ. They are working on strengthening their strained relationship. He detailed their troubles in the podcast, so make sure you listen! As far as the rest of the cast, Ali communicates with no one.
Ali spilled even more tea with me on the On This Day Entertainment podcast.  You can listen to the full interview here!
Would you like to see Ali at the Shahs reunion?
---