Erika Jayne's Fashion Flop At WWHL in LA
Why Erika, WHYYYYYY?
Jaimee Palkovicz April 15, 2018 9:17am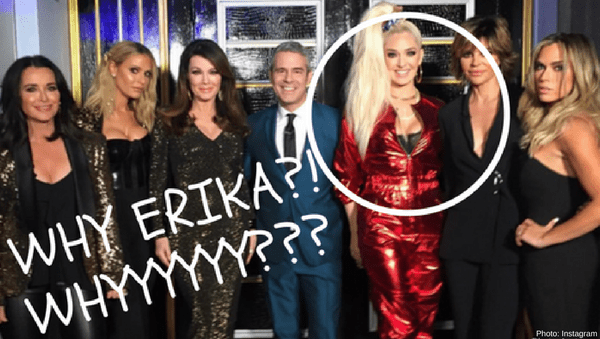 Ok, so let's break down the most HORRENDOUS outfit of the week. I love Erika Jayne as much as the next Bravo-obsessed person.  I love her sass and her no f***s attitude, but I just can't get behind her wardrobe/fashion choices this season of The Real Housewives of Beverly Hills. At first, I thought ok, maybe she's just trying a new look here and there. But her outfit on Watch What Happens Live in LA this past week is what put the nail in the Erika Jayne wardrobe coffin for me!
I can't reiterate it enough, that with the money she has, and claims about dollars spent on clothes and being "fabulous" her outfits should not be… this. I understand taking a risk and making fashion bold moves, but I'm just not sure what she or her stylist were thinking with this outfit.
Ok, so maybe the outfit was a tribute to Andy for his love of a jumpsuit and a high pony, but COME ON, it could have been so much better. Let's say she kept the high pony, fine – but with her body and financial backing, she could have picked a much better jumpsuit. Something flattering and sexy – maybe mix that Girardi and Jayne a bit. Sexy and classy. But why a scrunchy on WWHL? Why Erika, why?! I understand that she wants to stand out, but she can easily do so, without looking like a 15-year-old school girl with a weird metallic obsession.
As for the other ladies, they all looked flawless! Their outfits are age appropriate, stunning, and flattering. Good for them for knowing what looks good, and flaunting it.
I dug up some of my favorite Erika looks in the past, to maybe remind her, what a good outfit can do for her and her already all around beauty. Come on girl – we know you have style in you!
What is your take on Erika's outfit for WWHL in LA? Are you on board with her looks this season? Or is it a hard no for you? Let us know in the comments below!
---