Your First Look At the Erika Jayne x Too Faced Cosmetics Collaboration
Everyone needs a little Erika Jayne in their lives!
Lara Sophia February 5, 2019 10:18am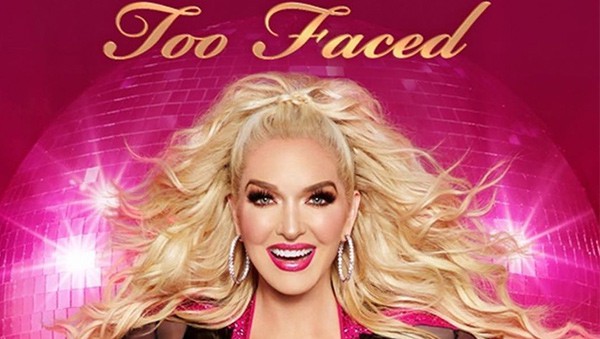 If you've ever wanted to look like Erika Jayne now's your chance!
This February the Real Housewives of Beverly Hills star is launching her much-anticipated collaboration with Too Faced Cosmetics.
The Erika Jayne x Too Faced collab is a sparkly and bold collection of beauty products. The collaboration consists of an eye shadow palette, $45; two lip kits, $29; a highlighter, $30; Too Faced's Lip Injection (Erika style), $28, and a kissable body shimmer, $36.
Recently on Instagram Erika revealed the cheeky names of some of her products. So what names can you expect? Well, there's the DSL (D$%k Sucking Lips) Lip Kit, the Painkiller Pink Lip Injection, So Rodeo Eyeshadow, the How Many F–ks Do I Give Highlighter, the Lap of Luxury and Sextravagant Eyeshadows just to name a few.
As for the risqué product names Too Faced co-creator Jerrod Blandino admits the collection is "not for the faint of heart."
"We scandalized a few people so we ended up having to put warning labels on everything, which I think is hysterical," Blandino said. "It made me even happier when people were like, 'We can't sell that.' People get scared. There's a tongue-in-cheek sense of humor, here. If you don't get it, move on."
This collab has been two years in the making. In fact, Erika tested out the products during season 8 of RHOBH and throughout her 2018 tour to ensure that the products worked for both facets of her life.
Erika is infamous for her very different personas and it turns out that her collaboration with Too Faced embodies both aesthetics: Erika Girardi the Beverly Hills Housewife and Erika Jayne the pop star.
"Everyday, I'm definitely softer, a little sweeter, a little more toned down, and then obviously when you're on stage, everything is on steroids," Erika told WWD of her collab. "That's what this collection offers. You can be two people at once."
While Erika's lifestyle and looks are very polarizing there's something for everyone in this collection. Or as Blandino puts it: "We all have a little Erika Jayne in us." And that's what exactly what Erika wanted with her collaboration.
"[Erika] said, 'I want a palette that I can go from living my normal life, housewife, into the stage presence superstar that I have to transition into.' She wanted to make sure she allowed for that transition," Blandino explained.
The full collection will be available on Too Faced's web site starting Feb. 12 and will launch at Sephora on Feb. 17.
Tell us – What do you think about Erika's collaboration with Too Faced?
---