They're Engaged! Ashley I. and Jared Haibon Get Engaged Filming Bachelor in Paradise!
Talk about a whirlwind relationship!
Genny Glassman June 18, 2018 3:23pm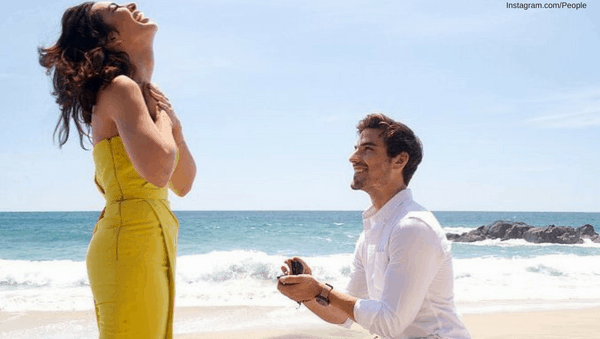 We guess when it's right, it's right. Though the two only started dating in May, The Bachelor's Jared Haibon proposed to fellow alum, Ashley Iaconetti, while shooting the upcoming season of Bachelor in Paradise. And if the proposal is any indication, we might just have another televised wedding on our hands!
The couple announced their relationship only a month ago, releasing a 44-minute long video called, The Story of Us, which took fans on their journey from friends to lovers.
While most new couples take their time getting to know each other, Iaconetti and Haibon have been close friends for the past three years. Haibon even telling People Magazine last month that, "As soon as we started dating, we both knew that this isn't just for us to date as boyfriend/girlfriend — this was more so we were going to date because we see a potential life partner in each other."
"We've talked about it but we're just dating right now, we're enjoying that. We literally just announced our relationship. The thing is, we've been so close for the past three years, I just know her inside and out. I know everything about Ashley.
And we guess the feeling was mutual! The two got engaged on Sunday, while on location in Mexico filming for the upcoming BIP season.
While the details of the engagement seem to be hush-hush until the premiere of BIP, Ashley shared on Twitter today that the news was so fresh, that she hadn't even told her grandmother yet!
I didn't even tell my grandma yet…💍

— Ashley Iaconetti (@ashleyiaco) June 18, 2018
The two are so ready for matrimony that in an interview earlier this month, they explained that they've already taken to calling each other "husband" and "wife."
"I think we just both see each other as lifelong partners, so it's not scary, for me personally, to call her my future wife," Haibon explained to People.
The two have certainly been affectionate on social media, sharing pictures of each other and their love all over the internet. And while my crusty heart might not necessarily believe in love in an age of social media (think of all the sponsorship deals!), if there are two crazy kids who might just make it down the aisle, it will probably be Ashley and Jared.
Do you think Ashley and Jared are moving too fast? Let us know in the comments!
---