Emily Simpson & Lizzie Rovsek Collaborate on "The Housewife" Swimsuit!
Hot Housewife Summer!
Lara Sophia August 13, 2019 9:00am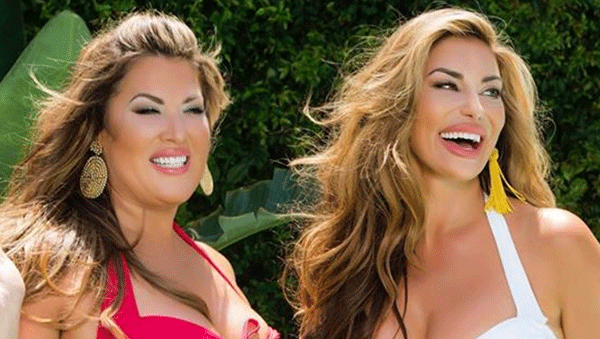 Past and present Real Housewives of Orange County stars are joining forces!
Former RHOC star Lizzie Rovsek is teaming up with current RHOC star Emily Simpson for her Sun Kitten Swimwear brand.
The Housewives are relaunching Sun Kitten's best-selling swimsuit – "The Housewife."
"The Housewife" one-piece is perfect for all women, but especially for those with curves. According to Emily, "The Housewife" makes ladies feel "classy and chic but also sexy and glamourous." Plus, it fits all sizes from 4 to 22.
"Get ready ladies, we are bringing back our BEST SELLING one-piece, The Housewife! @rhoc_emilysimpson , my beautiful friend, who is loved for her curves, collaborated with me to design a swimsuit that all women are going to L-O-V-E!" Lizzie announced in a post on Instagram.
She continued, "The Housewife is designed for REAL women with REAL curves, a sexy suit for the voluptuous woman. This one-piece boasts a built-in bra that accommodates up to a 50 bust size. That's not all, the suit has adjustable ties at the hips and bust so you DECIDE how much coverage you want. Some women prefer a high cut leg and some don't find that flattering and prefer a lower cut. You decide how much cleavage you want too! The built-in bra is equipped with sturdy boning within the garment, enforced elastic shelf bra and a comfortable halter tie at the neck. The garment is double lined and really pulls you in and gives you the support we all want at the waist. Suit sizes range from size 4 to size 22. If you want the perfect hourglass figure this is your suit!"
Pre-Order "The Housewife" swimsuit HERE! Also, check out The Emily Wrap Dress!
Tell us – What do you think about this RHOC collab?
---