Drag Race UK Spin Off Features The Vivienne And Baga Chipz Parodying Trump And Thatcher
RuPaul's infamous 'snatch game' prompted a new show for the booming franchise.
Ashley Hoover Baker December 12, 2019 1:19pm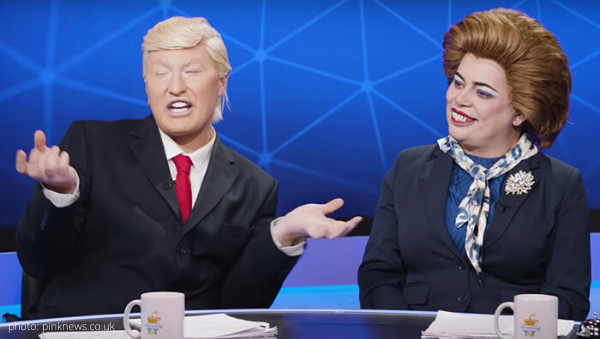 The RuPaul's Drag Race UK spin off in the works that features The Vivienne and Baga Chipz's parody of Donald Trump and Margaret Thatcher, as RuPaul's infamous 'Snatch Game' prompted another new show for the booming franchise.
The Snatch Game is a favorite recurring challenge among many Drag Race 'stans.' Dragtestants are tasked to do a celebrity impression in the auditions to even appear on the show, in addition to around the middle of each season. For the first time, the Snatch Game is getting a spin-off.
In season one of the UK's Drag Race, the champion, The Vivienne, and finalist, Baga Chipz, made standout appearances in popular game. Portraying Donald Trump and Margaret Thatcher, the queens stole the show, with equally impressive impersonations, delectable humor, and flawless comedic timing. The Vivienne's Trump impression will go down in Drag Race herstory, literally….
According to Out.com, "Launching Thursday, December 12, Vivienne and Chipz will reprise those roles for a spinoff show. Titled Morning T&T, the show is styled like a morning news broadcast. There hasn't been much of any information announced about the series, except the tagline: "All tea, no quid pro quo." Reports state the show will be a spoof of Good Morning, Britain and Good Morning America.
Pinknews.co.uk reported, "It's Donald Trump and Maggie Thatcher having this weird on-screen romance, reading ridiculous news stories, some true and some false." The Vivienne explained, "This is the pinnacle of morning television ladies and gentleman," in the trailer as Trump.
In case you missed it, judge Michelle Visage critiqued, "The Vivienne's performance one of the best in the game show's history." The Vivienne told Pink News she wanted "to make a bloody idiot of him."
The Vivienne added that Morning T&T promises "a lot of fake news" and described it as "ridiculous." Sign me up!
Though there have been no guest appearances announced, the pair have a solid friendship. Their  back and forth banter is all the audience will need! Morning T&T will stream on WOW Presents Plus. Click here to watch a preview of Morning T&T. 
If you're like me and can't get enough of RuPaul and her girls, you should check out the Alright Mary podcast. The hosts hilariously break down the latest on RPDR and its spin offs and what's happening in the world of drag. Click here to listen to Colin and Johnny recap the Snatch Game from RPDR UK.
Are you planning to tune in to the latest spin off of RPDR? Sound off below!
---