Tressed to Impress: Dorit Kemsley's Most Showstopping Hairstyles
There's an excess of everything, except moderation!
Lara Sophia August 10, 2018 10:13am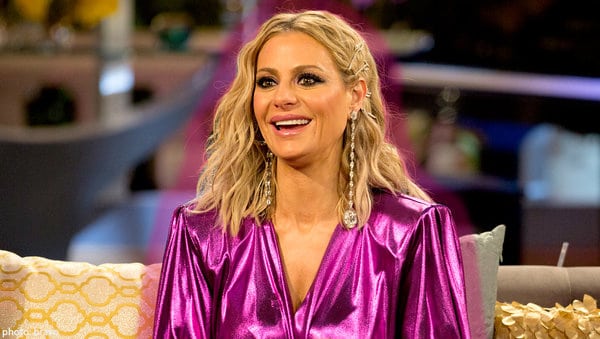 Dorit Kemsley is one of the those Real Housewives that's always changing up her look.
The Real Housewives of Beverly Hills star seems to have a new do and look every day, if not week.
If you've ever wanted the scoop on Dorit's showstopping strands well then you're in luck!
Dorit's celeb hairstylist Justine Marjan is dishing about her most to-die-for hairstyles to OK! Magazine and we're bringing you all the details!
The Big Bang
This is the look you get when you want to have it all. If you want to rock a side swoop, a high pony, and your hair down then this is the hairstyle for you. To achieve this "Big Bang" look Justin says, " I used a clip-in bang that I cut with a razor to suit her face shape and added Hidden crown Hair extensions to the rest for added length. I also sprayed the roos with Rita Hazan root concealer to match Dorit's hair color."
Pinned to Perfection 
One of Dorit's signature looks is adding bling to her hair and this look is no exception.  "Dorit was wearing a superchic, all-white outfit to a garden party, so I wanted something elevated but fun. We tucked the ends under and added some bling!" the celeb stylist reveals. While Dorit may love to bling out her hair her husband isn't always a fan, Justine explains, "In the ned, this was one of my favorite looks but [her husband] hated it! You win some, you lose some."
Piercing Waves
Clearly, Dorit is always down to play with various hair accessories whether it's rose gold foil or tasseled hair charms. Justine says that during season 8 she and Dorit loved trying out different hair accessories to amplify her looks. Hair charms are an easy way anyone can glam up their hairstyles – no personal hairdresser required!
"We had a lot of fun playing with hair accessories this season and using them dress up an otherwise ordinary style. I used these hair charms with red tassels to pierce a single braid on one side."
Beyonce Braid
For the season 7 premiere of the Real Housewives of Beverly Hills Dorit channeled Queen Bey as made her debut onto the Housewives scene. Justine says the goal was to make a statement and boy they did just that.
"This was for her first season premiere, so I wanted to give her something that would make a statement! We snatched her hair back and I added tons of length to give her a Beyonce-inspired braid that she could whip around all night."
Clearly, Dorit had no problem whipping her hair back and forth all night long.
Sky-High Bun
Dorit loves to push the envelope with her edgy and daring hairstyles but she also enjoys a classic and chic do every once in a while. For her Beverly Beach by Dorit swimwear shoot, Dorit wanted all eyes on the swimwear so she opted for a classic topknot with a little extra oomph. Dorit loved the look so much she re-created it multiple times!
"We had just come back from Mexico, where I gave her a super big topknot for her Beverly Beach by Dorit swimwear shoot. We were so excited about the look that we re-created it for her Watch What Happens Live with Andy Cohen appearance the following week" Justine confesses.
Classic Glamour
Speaking of classic looks, Dorit loves to try out hairstyles inspired by Old Hollywood which is exactly what she and Justine did for one of her season 8 confessional looks.
"For her confessional looks, I have to make sure Dorit's hair won't get caught on her clothing and that it will last through hours of filming. I thought an Old Hollywood set would be the perfect complement to her glam Gucci top."
The '80s, Baby
Bang, bang, bang! Dorit LOVES a good faux bang. Turns out this look of Dorit's came together in a car! Justine explains, "Funny story: We were driving around Miami for a shoot, changing clothes, hair, and makeup in the car, guerrilla-style! For this look, I gave her all-out '80s Miami glam. I added a faux bang and gave her a messy teased ponytail with lots of texture and volume for a super rock & roll finish."
Another one of Justine's favorite looks to create was Dorit's RHOBH season 7 intro look.
"This was before she filmed the opening titles for the show," says Justine. "Carlene Kearns did Dorit's makeup. The three of us always have the best time joking around while we work."
Here are some of Justine's go-to products to use on Dorit!
---