Dorinda Shades Bethenny, "She Gets the Best Edits!"
Is someone jealous?
Genny Glassman June 7, 2018 5:06pm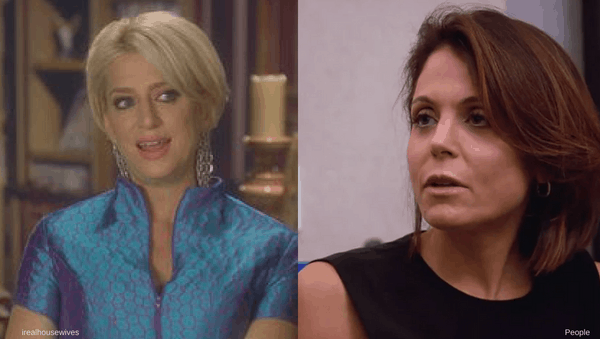 Dorinda is not holding back! The RHONY star was a guest on Heather McDonald's podcast recently, where she dished on how she really feels about fellow castmate, Bethenny Frankel. The answer: Dorinda is not a fan.
On the June 4th episode of Juicy Scoop, Dorinda Medley did not mince words when McDonald asked her who she felt got portrayed the most favorably.
"Do I have to answer that?" she asks McDonald, "It's an obvious question, [Bethenny] gets edited the best."
This season, a point on contention seems to be that Bethenny is not supporting the business endeavors of the other women and that she seemed to put former friend, Carole Radziwill, down for not having a job. Dorinda says that she feels it's unfair that Bethenny markets herself as the only member of the RHONY cast who is working outside of the show.
"Here's the problem," she explains. "We all are valuable women. All of us have been successful, we all have been in love, we've lost love, we've raised children. I don't want the audience to forget that our lives didn't start on reality TV, like some of us, we had big big lives before that."
Furthermore, it seems like Dorinda resents Bethenny and feels like she's too big for her britches. She tells Heather McDonald that, "What about when she walks up to the driveway, she goes 'I put the B in Berkshires?' That's my house, I put everything into the Berkshires, that is my s–t, my home, it is mine."
Pointedly, Dorinda adds, "I think she needs to change her name from #BStrong to #BNice!"
The podcast, which was taped live before an audience got particularly interesting when an audience member asked Dorinda what she thought about the fact that Bethenny has unfollowed the rest of the RHONY cast on social media.
"She unfollowed me, Ramona, Carole, and, I think, Luann, which I found very odd because we're all on a show. But we like to play kindergarten games, right?"
Ooof, Dorinda!
Dorinda even spoke out about #NutcrakerGate, telling McDonald that Bethenny's lack of appreciation was noticed, "She didn't say thank you. She said I'm grateful. I mean, just say thank-you!"
"That was my contact. They called up every division across United States, I'm like you have to find this. Yes, ultimately the guy found it. But here's the thing. It's not even about that. Didn't all of us go to kindergarten? Don't we say please and thank you?"
But perhaps Dorinda's sickest burn came at the end of the interview. When McDonald asked Dorinda if she liked the new Skinnygirl jean line, Dorinda threw some serious shade.
"I don't know what you're talking about. But I did like the bologna. She had cold cuts for five minutes."
Dorinda! Bethenny has yet to respond to Dorinda's inflammatory remarks, but we're sure this won't be the last time that we'll hear about strife between Dorinda and Bethenny…especially given how things have been going on this season of RHONY.
What do you think about the shade that Dorinda threw at Bethenny?
---