Dorinda Medley Reveals Her Style and Beauty Secrets!
She always makes it nice!
Lara Sophia August 8, 2018 9:09am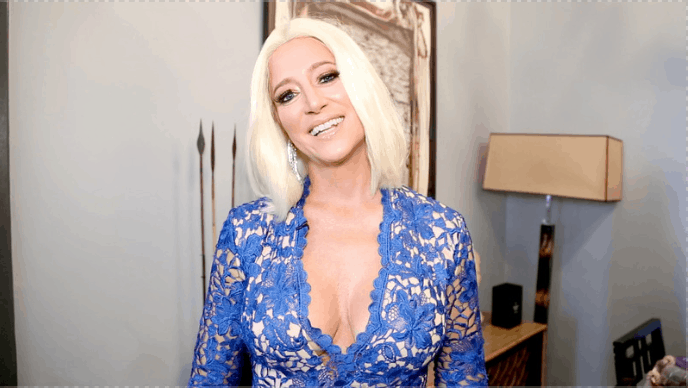 Dorinda Medley is spilling all her secrets…her beauty secrets that is!
The Real Housewives of New York star recently spilled all her beauty and style secrets to OK! Magazine and dished on her must-have items!

So, if you've ever wanted to recreate Dorinda's fabulous lifestyle, here's your chance!
When it comes to Dorinda's signature do, the RHONY star says she wanted a "more dramatic look" so she decided to go shorter and blonder.
"I decided to get my hair cut and lighten it for a more dramatic look. When I lived in London, people kept telling me I looked so similar to Princess Diana (including Di herself!). Now, I go to Spoke & Weal in SoHo. Dhiran Mistry does my cut. He's a genius. And Colleen Flaherty, who does my color, is a visionary," Dorinda explains.
One of Dorinda's favorite pastimes is reading so she was thrilled to get a cameo role in the movie Book Club. As for her own favorite reads, Dorinda says, "I love Carole Radziwill's The Widow's Guide to Sex & Dating: A Novel. She's such a talented writer. I also carry around a little book my brilliant daughter Hannah gave me called We Should All Be Feminists by Chimamanda Ngozi Adichie. The best part: They're both inscribed!"
Dorinda is a busy lady and is always on the go so a fashion or beauty emergency is bound to happen every once in a while. But, apparently, there's one item that always saves the day. In fact, the product is so good that Dorinda never leaves home without it.

"I never leave home without the Madame Paulette Professional Stain Removal Kit. It works on anything!" Dorinda confesses.
As for beauty, Dorinda's can't live without products are from the high-end brand Sisley.
"Sisley skincare – people always comment on my skin," Dorinda says. Dorinda is especially obsessed with Sisley's Black Rose line and loves their Precious Face Oil, Infusion Cream, and Cream Mask.
However, not all of Dorinda's beauty picks get rave reviews. In fact, one of Dorinda's most beloved products is a big no-no for most since it involves laying out in the sun with very little SPF protection!
Dorinda confesses that she loves to catch some rays and use Bain de Soleil Gelee. #sorrynotsorry
"I know people give me grief over this, but I still use Bain de Soleil Gelee (a sunscreen lotion). It smells incredible and feels so good. I buy a case at a time and everyone always steals it by the end of the weekend."

To wrap, Dorinda reveals how she makes houseguests feel at home.
"I always have a new Nest Fragrance candle waiting in their room and, during the summer, flowers from my garden," Dorinda explains. "Nothing says "welcome' better than a burning candle and fresh flowers when you enter a bedroom."
Shop all of Dorinda's favorite beauty favorites below!
For more on how to live like one of the Real Housewives of New York check out

Taste of Reality's RHONY tour

!
---