Dorinda Medley's Guide To Living the Fabulous Life in NYC!
She always makes it NICE!
Lara Sophia November 7, 2018 10:57am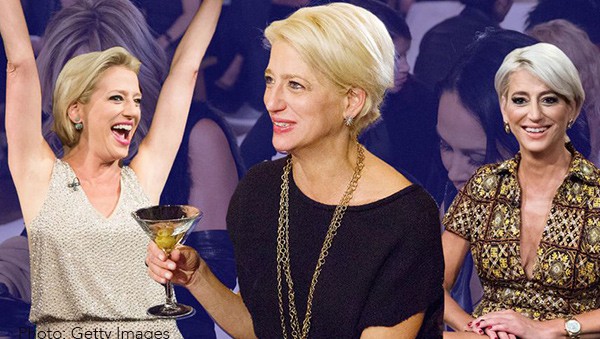 Dorinda Medley lives a fabulous life in New York City. The Real Housewives of New York star has been a Manhattanite for decades and during this time she has perfected NYC living.
Over the years Dorinda has carefully curated a list of her favorite places while learning the ins and outs of the city.
So, with the holiday season steadily approaching I thought it was the perfect time to share Dorinda's guide to living fabulously in NYC! That way, if you're planning on heading into the city for the holiday season you to can live just like Dorinda, even if it's just for a night or two.
Not too long ago, Dorinda opened up about her favorite places in NYC and gave us non-New Yorkers the scoop on how we can get a little slice of NYC living.
Hair Salon 
Dorinda's favorite hair salon is Amour de Hair.
"I don't even own shampoo," Dorinda explains. "I literally go three times a week. Standing order. I can't remember the last time I actually washed my hair. I've been in the Berkshires four days, and I've gone through four cans of dry hair shampoo!" 
Not surprisingly,  the rest of the Real Housewives of New York cast also have their own favorite hair salons. Tinsley Mortimer loves to get her color touched up at the Oscar Blandi Salon. Former RHONY stars Carole Radziwill and Kristen Taekman enjoy getting decked out at the Antonio Prieto Salon. The two infamously got glammed there before the Mermaid Parade during season 6.
Spa
When it comes to pampering Dorinda loves hitting up the Yasmine Djerradine Spa for facials. Dorinda isn't the only RHONY who loves a good spa. The RHONY cast visits the spa more often than any other Real Housewives franchise. One of their favorite spa's is Haven Spa, which has been featured on the RHONY.
Dorinda knows how to shop till she drops. One of Dorinda's favorite stores is Bergdorf Goodman. Dorinda loves Bergdorf's so much she calls it her therapy.
"That's easy, Bergdorf Goodman," Dorinda says of her favorite place to shop. "When I'm depressed … Bergdorf Goodman. That's my therapy. And when I have a little extra money to spend … Bergdorf Goodman. And whenever there's a sale … Bergdorf Goodman. I am not an online shopper. I like the whole experience, trying it on, going for lunch. It's very therapeutic for me to shop. I love it."
Happy Hour 
For the happiest of hours, Dorinda likes to meet at the Mark Hotel bar, especially in the fall, instead of the very popular and infamous Regency.
"I'm not gonna say what you think!" Dorinda jokes."If I dare say the Regency, I want you to hang up the phone. I love to meet, especially in the fall, at the Mark Hotel. The bar there is amazing in the fall."
Restaurants 
Currently, Dorinda has three favorite restaurants in NYC.
"For lunch, my favorite place to go to — I really do go once a week, I have a standing table there — is Bergdorf Goodman on the seventh floor. I love it! I arrange it around the shopping," Dorinda says. "I'll be like, "Hannah, let's go for lunch!" I'm a little different than a lot of New Yorkers, I think because I lived in London for 10 years. You know when you live in London, you go to the same 10 restaurants? I like that familiarity. I like to know the maitre d'. I like to know the owner and my table."
"If I want to go out for a fun night and dress up, I'll go to Avra, the one that just opened up on 60th. It's just great! No matter what night of the week you go, it's just always just such a cast of characters. It's got a lot of energy. The food is incredible. It's like a Milos, but it's got a much more high energy," Dorinda continues.
For a quick dinner, Dorinda likes to stay local.
"If I just want to go out for a neighborhood quick dinner, I always go to Le Bilboquet. As you can see, I stick close to home. I'm not only a creature of habit, but I'm lazy," Dorinda reveals.
As for the restaurants they film at on the RHONY, Dorinda says that all the restaurants they film at are places the castmembers enjoy going to.
Dorinda explains: "People don't realize, but they don't set up our schedule. We set up our schedule. We'll know what days we're working and say, "This day I'm going to the spa," and they'll get it cleared for you. But you're really required and expected to create the whole thing. They don't say, "Oh, you're meeting at this place tonight." I think they do that because what you see on the show is a combination of people that are willing to film with us. Most of it is our life and the people we have relationships with, so it makes it more authentic. Most of the restaurants we go to, the girls have relationships with."
If you're a tourist you most likely want to hit up The Rainbow Room but don't worry it's got Dorinda and RHONY seal of approval. In fact,
The Rainbow Room
has been featured on RHONY and it's one of Dorinda's favorite touristy places.
"The Rainbow Room," Dorinda reveals. "I go there all the time. I love going up there. I always get up there and look out the window and think, 'Ooh, I live here!'"
---