The Ladies of Beverly Hills Spill What They Really Think of New Castmember Denise Richards
The jury has spoken!
Genny Glassman September 18, 2018 10:39am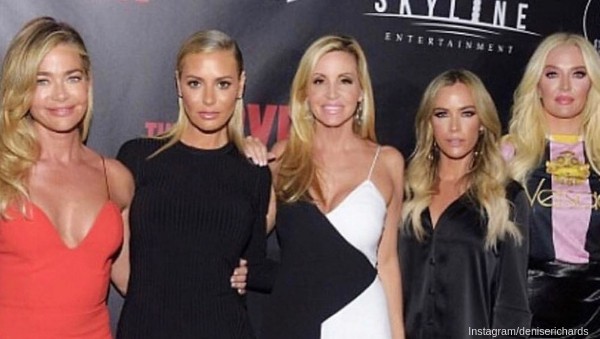 The peanut gallery has spoken and it looks like the ladies of Beverly Hills are ready to spill their real thoughts on the newest cast member Denise Richards.
According to Us Weekly, Denise was joined by fellow RHOBH cast members Teddi Mellencamp, Erika Girardi, Dorit Kemsley, and Camille Grammer at the premiere of the new movie Toy Box.
"The thing about Denise is that she's really chill and down to earth. But she will stand up for herself," Camille told them, adding that Denise "won't start the drama."
"I really like Denise. Denise is very cool," Erika said. "She's been around a very long time. She knows what's important and what isn't."
And Erika explained to reporters that she thought viewers will be surprised by how thoughtful Denise can be. "I think you'll see her as very levelheaded," she explained. "And actually very bright. Because she says some things sometimes that are very unexpected that sum up ideas very quickly. I think you'd be surprised at some of the insights she really has."
Even Dorit, whom reportedly got in a tiff with Denise at her September 8th wedding, had nothing but nice things to say about the actress.
"She's such a cool girl. She's so down to earth. I really connect with her … We have a blossoming friendship. We check in all the time. I've really enjoyed her! I'm really happy she's on the cast," she told reporters. Before emphasizing that Denise is "very easy to get along with" and has "a great heart."
"I'll be honest, I haven't seen anything but beauty in her," Dorit explained.
When asked about the big day in question, Denise told reporters that she wasn't the mastermind behind planning the nuptials. "I didn't put it together. [It was] Mindy Weiss, who is an amazing wedding planner. If it weren't for her, we'd be married probably in our garage or something. She is amazing," Denise said.
And she added that the date — September 8th– was meaningful to both her and her new husband, Aaron Phypers, because it "means infinity" and described that both she and Aaron were easy-going when it came time to put the party together.
"We just said, 'You know what? Let's just do it.' Threw it together and it was fun that we didn't have to make certain decisions and make it about that instead of the hoopla of the wedding," she said.
The new housewife added that her two daughters, Lola, age 13, and Sam, age 14, whom she shares with ex-husband Charlie Sheen, as well as her adopted daughter Eloise, 7, were are thrilled with the marriage. "They were actually very happy," their mom explained.
Do you think these ladies can stay on good terms? Let us know in the comments!
---