Ready To Love's Darin McClary: Biggest Loser Challenge
Darin the Damn Trainer broke down the home workout and meal plan he developed with his OWN network co-star, Brent Nahshon, and Biggest Challenge alumni, Tanya Winfield.
Ashley Hoover Baker May 21, 2020 8:48am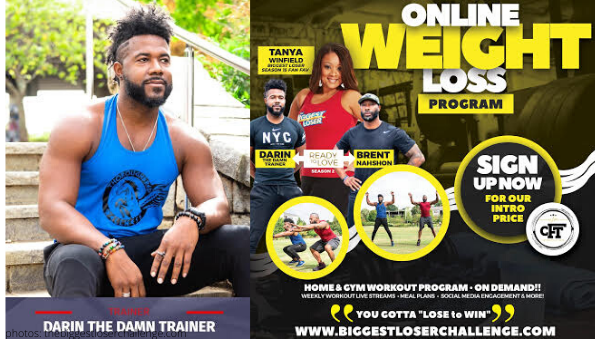 Darin McClary has been busy since his days on season two of Oprah Winfrey Network's dating show, Ready To Love. Not only is Darin a celebrity health and wellness expert, he owns Thoroughbred Wellness LLC, he is the co-owner of Celebrity Fitness Tour, and is an ambassador of Alkaline water.
Darin took some time out of his busy schedule to chat with me on the On This Day Entertainment podcast to discuss the at-home phenomenon he created with his Ready To Love co-star, Brent Nahshon and Biggest Loser alumni, Tanya Winfield.
'Darin the Damn Trainer' brings 10 years of fitness knowledge and personal training to the Biggest Loser Challenge. Serving as a trainer in the Atlanta and Sandy Springs area, Darin focuses not only on weight loss transformations, but lifestyle changes for his clients.
Did you hear that?
LIFESTYLE CHANGES!
This isn't just another at home workout. This is THE at home workout that includes access to the Biggest Loser Contest online support community, access to daily workout videos, BLC meal plans (including vegan options) & nutrition guides, as well as weekly live chat the celebrity trainer with and Brent!
If you're like me and the 'quarantine-15' is waaaaay too real, the Biggest Loser Challenge is for you! Pour yourself a tall glass of Alkaline water and enjoy my conversation with Darin the Damn Trainer. This is YOUR time!
You can learn more about the Biggest Loser Challenge at BiggestLoserChallenge.com and #biggestloserchallenge.
Visit On This Day Entertainment:
www.onthisdayentertainment.com for On This Day Entertainment MERCH, to listen to the podcast, read Ashley's news articles, and for online event information!
Follow On This Day Entertainment on:
Instagram https://www.instagram.com/onthisdayentertainment/
Facebook https://www.facebook.com/onthisdayent 
Twitter https://twitter.com/OnThisDayENT
Join the Fanny Pack Facebook Group! https://www.facebook.com/groups/437968200086333/?ref=bookmarks
New episodes drop every Friday!
---