Crowd Gathers Outside Bravo Offices to Boycott the Booting of Kenya Moore
Team Twirl doesn't play!
Genny Glassman August 1, 2018 6:45pm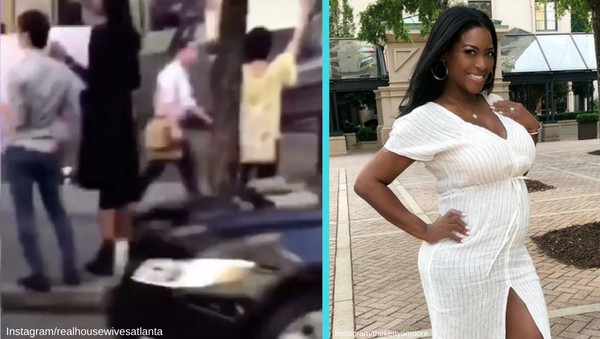 There are fans and then there are stans and Real Housewives of Atlanta's Kenya Moore is lucky to have a group of best stans in the world, backing her up after she was recently let go from her hit reality show.
The protest which happened earlier today outside of the NBC building at 30 Rockefeller Plaza in New York City, had a modest turnout of about five people. Okay, so not an army, but every movement needs its start.
Team Twirl came ready to show Bravo executives that they meant business with homemade signs and shouting chants including, "Boycott Bravo! Boycott Bravo!" and "Kenya Moore, Team Twirl! Kenya Moore, Team Twirl!"
According to a report made by Radar Online, the crowd also shouted, "Who do we want? Kenya! Who do we need? Kenya! Bring back Kenya Moore!"
Kenya, who could not come to an agreement with Bravo over the terms of her new contract, had notoriously been playing hardball with the network. But the two parties eventually parted ways even despite the fact that Bravo had offered to have Kenya come back as a Real Housewive's "friend."
Kenya herself was not in attendance and she has yet to comment on the commotion on her social media.
Do you think that Kenya knew about the protest? Let us know in the comments!
---