Cray Cray for Kate Casey!
An exclusive interview with the comedian, author, and host!
Troy Turner November 3, 2017 1:22pm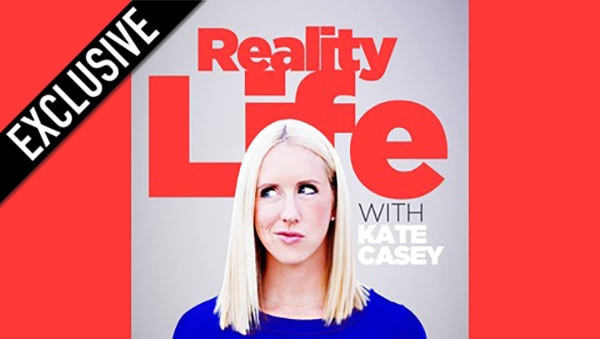 The only thing missing from your entertainment schedule is comedian and author Kate Casey! Between her side-splitting Instagram and gut-busting Love & Knuckles blog , she's the weekly cherry on top of your favorite reality TV shows!
Her podcast, Reality Life with Kate Casey, is as hilarious as it is…dare we say… educational.  You'll get a witty recap on your favorite reality shows and learn a thing or two from celebrity guests like Real World creator Jonathan Murray and stars ranging from Housewives to The Hills' Justin Bobby!
KC took a sec to talk reality TV and tell us what makes her tick – so check out the transcript below and then join her awesome Reality Life Facebook Group to stay in the know!
---
TOR: Hi Kate Casey! It's Troy Turner from Taste of Reality!
KC: Troy Turner/Kate Casey… let's take this show on the road already!
---
TOR: SO ready! — You're a comedian who's performed standup alongside comics like Heather McDonald… an accomplished author of You Know You're Pregnant When – Funny Quotes from Women Who Have Been There… a writer for Babble, Scary Mommy, Hot Moms Club… a featured comic for US Weekly Fashion Police… the creator and host of popular podcast Reality Life with Kate Casey… you also run your popular blog Love and Knuckles… you're a mom, wife… phew! When people ask you what you do? What do you say?!
KC: Comedian/Author/Host…and resident expert on sanitary napkins in CVS.
---
TOR: When you were younger, did you imagine that you'd end up being a professional funny person?
KC: When I was younger, I struggled with whether I wanted to be a  supreme court justice, a professional field hockey player, or appear on Saturday Night Live. I loved news, athletics and comedy. I knew I wanted to do one of those. I feel fortunate because the first chapter of my life, I pursued the news and law part…I played field hockey in college and coached… and now I'm getting to pursue the comedy part… so I've kinda been able to do it all!
---
TOR: And you're still judging!
KC: Haha! True, I am still judging! I knew I could make people laugh. I loved pop culture. The one big life lesson was when I was running this PR firm for many years and really wrapped up with thinking that if I let go of this career… what is my identity? Will I still be a professional person? Will I have people's respect? Then I realized, I could pursue another career and let my former life help me in what I am doing now.
---
TOR: Can you tell us more about that progression? What came first and how did it evolve?
KC: Part of my job as a media consultant was rep'ing law firms. I spent all day long reading the news and pitching stories to reporters and I also spent a lot of time with attorneys and learning about their practice/what keeps them up at night. For example, I would take a white collar crime attorney and pitch them on a story as an expert on something like the Martha Stewart trial.  That translates a lot to my job now. A big part of it is getting them to go backwards in their life and getting to know their life before they were on TV, their story on TV, and what it's like after they've been on television.
I'm proud of the way I do it because I feel like I'm giving a lot of these people some integrity. They look a certain way on television and I like to give them the opportunity to tell their story. You need to get in front of the story and not let someone else tell your story. I'm learning more about them and not just talking about what we saw on television.
---
TOR: So, it's like a web redemption?
KC: Definitely.
---
TOR: How did you come to be a writer?
KC: After the birth of my first child, I felt like I wanted a creative outlet. I had a business and a new baby but I still felt unfulfilled. My husband's best friend and I were talking, and I was saying I really want to write and how I watch so many shows, I love pop culture, I have this savant-ian quality where I can remember details about people. I just wanted to do something with all of it. He said "write what you know" and I said "I know TV". So, around one of the first seasons of Housewives, I started writing TV recaps and got a following. I sent a tweet to Heather McDonald because I knew she loves Housewives and she hit me up to talk on the phone. I called her and we just hit it off! We had a connection and became friends. I started calling in to her show. Then I told her I wanted to start a podcast. She switched to a new network and brought me in for a meeting with the head of that network. I pitched my idea and it took off from there. That was a year ago and since then I've had about 2 million downloads of my show.
---
TOR: That's huge.
KC:  It's been a labor of love. A whole heck of a lot of work. But SO fun.  I get this great opportunity to pick the brains of people who appear on reality TV and create reality TV… but also to connect with people who also love it… or maybe someone who's never seen a reality show. I've made a lot of friends. It's just been so much FUN.
---
TOR: Do you still like reality TV now as much as you did then?
KC: Totally. Love it. Love it. Love it. I love finding something new. Like finding 90 Day Fiance : Before 90 days. I feel like there're great things always popping up. That's whats great about reality TV. It's always changing. There's a new episode, a new character, a new show. If I were writing recaps of Will & Grace it would get repetitive.
---
TOR: 100% agree. I was just telling a Reality TV hater that it's like an anthropological adventure because exposes to you cultures and subcultures you never knew existed. Like… My Big Fat Gypsy Wedding! Perfect example.
KC: Yes, of course! Listen, ALL people are interested in celebrity gossip. If you walk into a room, anywhere in the world, and ask them about Brad Pitt, Angelina Jolie and Jennifer Anniston, every single person in that room will have an opinion. I have had many many friends who would claim to not care about celebrities… and then I would catch them looking at US Weekly at my house! So then for Christmas gifts for couples, I would get them a subscription to US Weekly but I would get it in the husband's name and say "this is because you put this down, but actually read it in the bathroom!".
---
TOR: A lot of people are closeted!
KC: They won't admit they love a show. No-one cares! The funny thing is when there's a surprise… when someone totally unexpected reveals they like a show. I interviewed JD Fortune who won the lead singer role on that show Rock Star: INXS. (My husband loved that show BTW). I thought we were just going to talk about how he won… but it turned out he was a HUGE Real Housewives fan! He was more excited to talk about Vicki Gunvalson than about the show that he won.
---
TOR: What's the reality show that got you hooked?
KC: The Real World!
---
TOR: Same, same.
KC: In high school, my mom went away on a Saturday so I turned on MTV (which I wasn't allowed to watch) and I didn't leave the room for a hours. I saw those characters and wanted to know everything about them.
---
TOR: What was the season?
KC: This was the original Real World New York, the very first season. But I also loved the RW San Francisco with Pedro, the HIV positive character. That was a great example of how reality TV can expose people to different ways of life. I interviewed Jonathan Murray the creator of that show and Rachel Duffy from that season. We talked about how when Pedro died, President Bill Clinton said that Pedro did more for the HIV movement and teaching people about HIV than the federal government could ever do. — I love shows like that. Or like Born This Way also by Jonathan Murray that sheds light on people who have mental disabilities. Or Little People Big World. It totally shaped people's opinions. Or even the Duggars. Reality TV exposed polygamist culture and the parts of it that are criminal. Reality television is an incredible medium.
---
TOR: Reality TV exposes people to the undiscovered, but it's what's familiar that often keeps people's attention.
KC: Exactly. For example – the Kardashians. People put them down like it's garbage. But, strip away the wealth and it's a family unit, a blended family, different cultures, sibling rivalry, and other aspects people can relate to. People can only imagine having so much wealth or fame, but at the same time they can relate. I have a sister like that… or my mom treats me like that… etc…
Another example – Tom Schwartz from Vanderpump Rules said that when he goes out with the guys people sometimes have a visceral reaction to them. Like one time a woman started yelling at Jax "How could you treat a woman like that!". It's because they see them on TV and it reminds them of someone in real life.
TOR: People´s reactions to reality celebs are totally different than movie stars!
KC: People relate to them so much, when they see them in public they feel comfortable enough to approach them. They would never do that to a movie celebrity. OMG the fiance from 90 Day Fiance just walked past me, I'm not even kidding you! Isn't that hilarious and we're doing this interview? Right in the middle of Fashion Island.
---
TOR: What are some of your favorite shows past and present?
KC: The Real World, of course. I love Real Housewives of New York. One of my favs was called My Big Fat Obnoxious Fiance. My husband and I thought that was hilarious. MTVs true life was really well done. Also, a Wedding Story.
---
TOR: What are you watching now that everyone should be?
KC: 90 Day Fiance is REALLY interesting. There's also another show coming out called Undercover High that I can't wait for. The Voice is also really well done. Survivor is one of the few I can watch with my kids. Scientology: The Aftermath is a great example of the great impact of reality TV.
---
TOR: Have you ever been inspired to go somewhere after seeing it on a TV show?
KC: Oh, for sure! I am dying to go to the Regency in New York. I also feel like I need to do a field trip and check out some other places here in California like Villa Blanca. I live in Orange County and am around Housewives places all the time – I live right by the Quiet Woman. My family and I are planning a trip to Charleston where Southern Charm is filmed. I love that show!
---
---
TOR: We have a Southern Charm Tour you gotta check out!
KC: OMG YES. I need that! Speaking of which – when I interviewed Shep Rose, I got to find out that he did the show because he had a business deal go south. The show just kinda fell in his lap and then he realized he was a pretty good TV personality.
---
KC: Where have some of your favorite spots been?
TOR: I also love love love RHONY, so when I lived there I would visit their hot spots as often as possible. We also go and photograph all of the businesses on our site so technically I've probably visited 300-ish just in Manhattan. As for favorites, Gallow Green is this amazing brunch spot. Seraphina for lunch. There are a ton on our free Real Housewives of New York Tour!
---
TOR: I'm really curious about your standup comedy. Are you still performing?
KC: I do! Of course, it's hard to find time between the kids and the show but I'll always do it when someone asks. I love it. It's the easiest out of all the things I do. I have zero fear being in front of people and have endless material.
---
TOR: How did you get started?
KC: I went to an open mic and I got 3 minutes!
---
TOR: I saw that you might be buddies with another comic, Julie Goldman from the People´s Couch?!
KC: YES! She´s hilarious. By the way… a nice person. A Total collaborator. Piss-your-pants funny!
---
TOR: What other comedians do you admire?
KC: I think Kathy Griffin is not only brilliant but an incredible marketer. She is such a hustler and I appreciate her work ethic. Joan Rivers also had a great work ethic. Nikki Glazer. Amy Schumer. There´s also this one woman I found on Instagram named Candy Lawrence. She is so freaking funny! Tina Fey and Amy Polar are absolute heroes of mine.
---
TOR: So you just had Justin Bobby and Spencer Pratt on your podcast… were you an avid watcher of The Hills or Laguna Beach?
KC: Totally! I watched every episode! Justin is one of the nicest people I've ever met… and Spencer Pratt… what a great collaborator. I think he's really smart and talented. I like him a lot.
---
TOR: We listened to both of your podcasts with them. Justin was very… poetic. Spencer was super smart… especially as it pertains to his vision for how reality should BE. Were you surprised that these villains were more likable now?
KC: Yeah – especially because now everyone knows how manufactured the show was. Interesting that Spencer still hates Lauren though! Really can't stand her.
---
TOR: Where were you at when that show aired?
KC: I had just moved to Orange County with my then boyfriend later to-be husband, so it was like a parallel world because Laguna was filmed so close as was The Hills.
---
TOR: Did you connect with the characters?
KC: I found it fascinating because I did not grow up in a wealthy family at all – in fact, I went to a boarding school for kids from financially needy homes in the projects. It was fascinating to watch and learn that they had some of the same problems and were going through some of the same things. When you cut stuff away, they don't have that different of a life than you do. It's just heightened because they're privileged.
---
TOR: Team Heidi, Lauren, or Kristen?
KC: Kristen! She's someone I'd really like to interview.
---
TOR: Most memorable Hills moment?
KC: I always liked the night club scenes because it was so incredibly unrealistic! I could not relate to that – like being in college and having bottle service?
---
TOR: Let's talk Housewives. Which seasons do you watch?
KC: Well, I only don't watch Potomac!
---
TOR: I don't blame you. Did you watch the original DC?
KC: I did and I liked it because the Salahis were absurd. They're driving around town looking at multimillion dollar mansions when you know they can't afford it. They're visiting "their" vineyard and there are no leaves on any of the bushes that they probably don't even own.
---
TOR: What makes a good housewife?
KC: They have to be really open about their life and transparent in all the layers of their life and willing to expose themselves. I don't like when someone is inauthentic… but that can also make great television.
---
TOR: A lot of people are complaining that RHOC is snoozefest. Where did the show go wrong and what does it need?
KC: I think the women don't have any connection. I think the show runner this season focused on their individual stories. Housewives works best when there are a lot of scenes together. Tamra said that she only saw Peggy like 5 times during filming. It's hard for viewers to stay focused when the ladies don't seem to have any connection.
I also think there's too much religion. People get tired of the Jesus stuff. Also, not all of the women have been open about their lives. Lydia? She seems really nice, but I don't know who she is. What keeps her up at night? How did she grow up? I only see that she got a new car and had a party on a boat. It feels like a commercial for a magazine I will probably never read.
---
TOR: What do you think about Shannon Beador this season?
KC: When I spoke to the creators of the show, they said one thing they love about Shannon is that she's willing to expose aspects of her life that other people won't. She's vulnerable and willing to say "my marriage isn't great right now" when other people claim to have the most fantastic husband in the world.
---
TOR: Which housewife would you most like to be stuck on an island with?
KC: Carole Radziwill. She's had such an interesting life so the conversation would last for hours. She's also really funny and wouldn't each much food!
---
TOR: Who would you least like to be stuck with?
KC: People know this about me… I never liked Alexis Bellino. I never believe people who want to make it look like their life is perfect. I also didn't like the dynamic of her marriage. She seemed subservient and I feel like that's a terrible message for women.
---
TOR: Hottest housewife?
KC: Hmmm. That new Dallas housewife D'andra Simmons is gorgeous. I like that she's got a normal body and not anorexic. When you´re over 45 it's not normal to have the body of a toddler.
---
TOR: Funniest housewife?
KC: Bethenny has really clever quips. Lisa Vanderpump can be funny but I wonder if she runs through those lines like she's practiced them. Brandi Glanville has some funny one liners.
---
TOR: Who's the biggest emotional wreck?
KC: Shannon Beador. She probably needs to go off TV for a little bit.
---
TOR: Who do you identify with the most?
KC: Bethenny Frankel, for sure.
---
TOR: Let´s play a little word association – first word that comes to your mind! Ready!?
KC: Ready!
TOR: Danielle Staub
KC: Yoga
TOR: Kelly Bensimon
KC: Gummy bears!
TOR: Phaedra Parks
KC: Church
TOR: Siggy Flicker
KC: Paranoid
TOR: Shannon Beador
KC: Fragile
TOR: Lisa Vanderpump
KC: Calculating
TOR: Jill Zarin
KC: Insecure
TOR: Mayonnaise
KC: Vile.
---
TOR: Tell me about this mayo phobia!
KC: It's the most disgusting food product ever made. It looks disgusting. Smells disgusting. If I see it, I immediately start to dry heave. It's the devil's condiment.
---
TOR: You are hilarious! Thanks for chatting and we'll talk to you next time on your podcast!
KC: Love it! Thanks!
Follow Kate Casey:
---