Christmas in the City: Eat, Drink, and Shop like a RHONY This Holiday Season!
We made it NICE, very NICE in fact!
Lara Sophia November 22, 2018 11:45am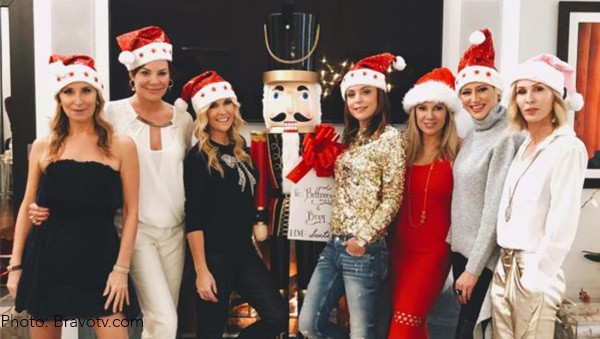 If you're heading into New York City during the holiday season we've got a few ways you can add some Real Housewives of New York fun into your trip!
Everyone knows the hottest holiday spots to hit up when they visit New York City in December. You know what we're talking about Rockefeller Center, Bryant Park Winter Village, Radio City Music Hall, Bergdorf Goodman Holiday Windows, and  Wollman Rink in Central Park.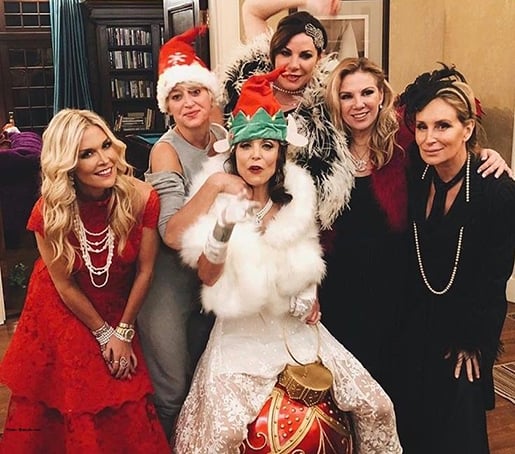 But NOT everyone knows the bars, spas, restaurants, and salons the Real Housewives of New York love! Luckily for you, we do!
So, while you're seeing the Christmas and holiday sights in NYC make sure you eat, drink, shop and pamper like your favorite NY Housewife. And with the hustle and bustle of the holiday season in NYC – you'll need it!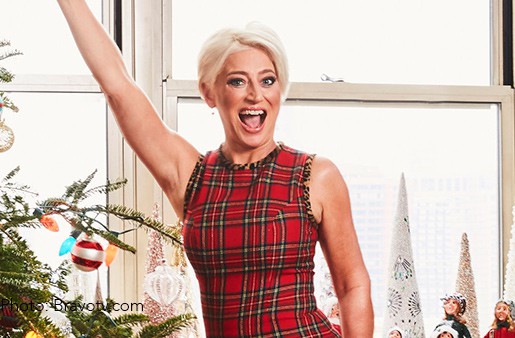 Eat 
Manhattan's most elevated lounge experience offers artfully handcrafted cocktails by top mixologists and playful, seasonal bistro fare, all set in a historic gem framed by endless cityscapes.
As seen on RHONY S9/E7: Bethenny and Carole pitch in for the Dress for Success women's charity. "It's good to be surrounded by strong women. -Bethenny
Dorinda Medley is also a HUGE fan of the Rainbow Room and recently gushed all about it. It's one of her staple NYC restaurants. If you want to live fabulously then make sure you check it out!
Widely recognized as a Meatpacking District staple and NYC institution, the Bagatelle – NYC flagship location continues to thrive after nearly a decade in the neighborhood, reminding guests daily of the unique and magnetic ambiance that made it famous. The esteemed restaurant destination was originally designed to reinvigorate the neighborhood and bring the European flare back to the Meatpacking District and continues to delight diners with unmatched service and outstanding seasonal cuisine.
As seen on RHONY S9/E7: Dorinda hosts an auction for charity. Bethenny and LuAnn's fiance Tom come face-to-face for the first time since she spilled the news that he was cheating on LuAnn. "It's awkward." -Bethenny 
You'll find contemporary American food, a warm atmosphere and the friendly service Sarabeth's is known for at the Central Park South location. A neighborhood staple and easy destination for visitors, Sarabeth's CPS is within walking distance of the historic Plaza Hotel, Carnegie Hall, Museum of Modern Art (MoMA) and just steps from Central Park. They serve breakfast, lunch, and dinner every day of the week, as well as weekend brunch with a full bar and specialty cocktails.
As seen on RHONY S8/E1: Bethenny catches up with newly divorced Ramona. "She's got some new titties. She's got some new clothes. It's hunting season." – Bethenny
Drink 
The James New York's awe-inspiring Soho rooftop is perhaps our most enviable feature. It boasts a sexy social atmosphere, with an enclosed bar and lounge in Soho set against 360-degree views of the Manhattan skyline. Framed by the hotel's architectural "halo," the private Manhattan rooftop pool featuring teak wood decking and outdoor showers, includes both indoor and outdoor seating for warm weather fun and relaxation.
As seen on RHONY S5/E3: On their barhopping brunch day, Aviva's husband Reid joins the NY ladies and unexpectedly becomes the center of attention when they call him out for never wearing his wedding ring. In a sweet twist, it turns out that rather than exchange rings themselves, their children got rings to signify the formation of a new family. Zzzzzz…. oops, we mean…. how sweet!
Located in the heart of SoHo and Tribeca, AOA is the largest American kitchen serving 25 craft beers, over 100 bottled beers on top, and cocktails, as well as a delicious menu filled with fresh food made with ingredients from local sustainable farms. The menu perfectly blends traditional Euro-pub favorites with American must-haves, all cooked on site in our full-size Texas smoker. Our bar is large with optimal seating, including booths and high-top tables, with 20 HD TVs so you won't miss that important game. If you're looking for large portions of superb food, top 40 music, and continuous sports, you've come to the right place! This is an ideal location to come watch a game, grab a drink or some grub. Perfect for a casual and unforgettable Night Out!
As seen on RHONY S7/E10: Ramona throws a party at her new Bar & Grill in Tribeca so the other ladies can see her hard work. Bethenny becomes a target for the other ladies who all seem to have a beef with her. "Anybody else got anything?" – Bethenny
Primp and Pamper 
Bed of Nails – Nail Bar is an experience like no other. This won't be a one night stand, it will be a relationship!
As seen on RHONY S7/E11: While getting mani/pedis, Bethenny tries to help Ramona with her street cred and teaches her the meaning of "bros before hoes" — keyword, TRIES.  "I thought a hoe was a hooker." -Ramona
AIRE Ancient Baths is the newest relaxation hot spot in New York. A hidden gem this is a place where wellness & peace take on new meanings. From 6 different incredible Mineral pools to our imported Spain Stone Marble steam room and our top of the line massage therapists AIRE is a place where the stress of everyday life stays at the door.
As seen on RHONY S6/E16: Ramona and Aviva must be on a permanent R&R mission! They visit a spa to relax before the upcoming ladies' trip to Montana. Typical Aviva starts making up excuses to skip out on the trip. Firs,t it was a fear of flying, now it's allergies. "You're a mess." -Ramona
Shop
Founded by college friends Gerard Maione and Seth Weisser, What Goes Around Comes Around originated as a meticulously edited vintage boutique in SoHo, New York. The company has since opened a retail store in LA, developed a vintage wholesale division, created an appointment-only Vault below the SoHo store as well as an Archive in New Jersey to service the fashion industry. WGACA's creative hubs house one of the most extensive vintage clothing and textile collections in the world. Vintage aficionados from across the globe, editors, stylists and the industry's top design teams utilize WGACA for their vintage clothing and accessory needs.
As seen on RHONY S5/E2: The girls shop and talk about Carole's unconventional relationship with one of the Aerosmith band members. "That kind of a relationship does not work for me. I like to be monogamous. I'm too controlling and possessive for that." -Aviva
With a vision of creating a glamorous world of designer dresses, Jacob Maslavi founded the now world-renown brand Jovani Fashions in 1980. The company now goes beyond evening dresses and it has a variety of collections.
As seen on RHONY S10/E19: Dorinda hooks LuAnn up with one of her favorite fashion designers/brands, JOVANI! LuAnn sports the collection in her cabaret show. "Taking this cabaret on has been real exhausting for me." – Sonja
For Giuseppe Zanotti, art and music are essential feelings to be turned into style.
As seen on RHONY S5/E6: Across the pond, while the other ladies are in the UK, Ramona agrees to go shoe shopping with Aviva in a rainstorm, using the opportunity to quiz her one-legged friend about everything concerning her prosthesis. Sensorless Ramona can barely contain her bewilderment with the anatomical anomaly before her enormous eyes! "You would think I was talking to a 6-year-old." -Aviva 
Ramona stroking that plastic leg is forever etched in our minds.
---