Chrissy Teigen Denies Friendship With Kim Zociak, But Sparks New Mystery Over 'Vanderpump Rules' Cast
It's not quite
Genny Glassman April 24, 2018 5:34pm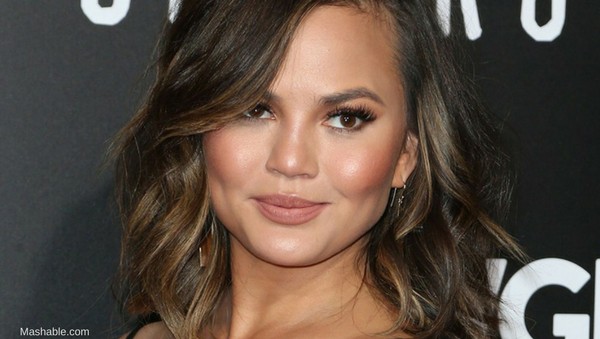 Chrissy Teigen has found herself embroiled in some big-time Bravo drama and it's all NeNe Leakes fault. The pregnant model and social media ace recently took to Twitter to defend herself against claims that NeNe made about her and enemy, Kim Zolciak-Biermann, having a friendship. News alert: the two aren't exactly shopping at Ikea together.
More from Taste of Reality: This is What Dorit Kemsley's Old Accent Actually Sounds Like
It all started when NeNe sent a warning tweet to both Chrissy and Khloé Kardashian.
@chrissyteigen @khloekardashian I hope you girls are watching RHOA Reunion TONIGHT at 8pm. If this is the character of your friends, i wouldn't want 1

— NeNe Leakes (@NeNeLeakes) April 23, 2018
"I hope you girls are watching RHOA Reunion TONIGHT at 8 pm. If this [meaning Kim] is the character of your friends, i wouldn't want 1," NeNe writes.
At first many Twitter users were confused as to why NeNe would be addressing decidedly non-Bravo stars, Chrissy Teigen and Khloé Kardashian.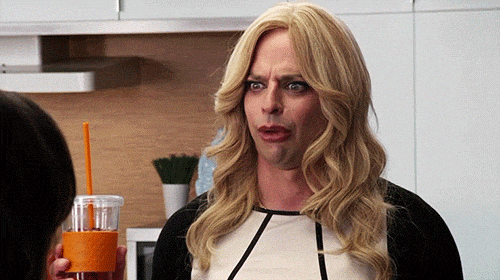 But we have receipts that Kim is at least friend with KUWTK's Khloé. 
In December of last year, Kim posted a video thanking KoKo for a custom gingerbread house that she had received as a holiday gift. At the time People Magazine reported that Kim was gushing to Khloé in the video, saying that, "This seriously has only been in my house maybe for 15 hours from the amazing Khloé and where are all these little candies going? The presents are missing!"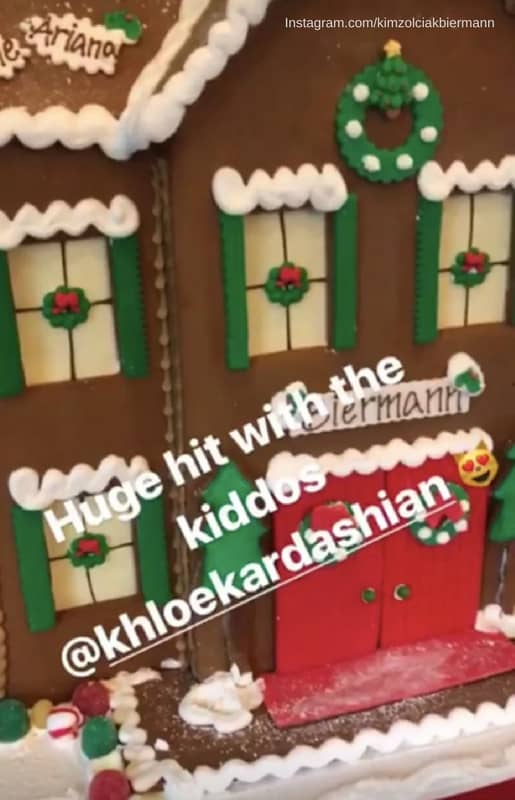 She also flashed the card that was sent with the gift, signed from Khloé herself!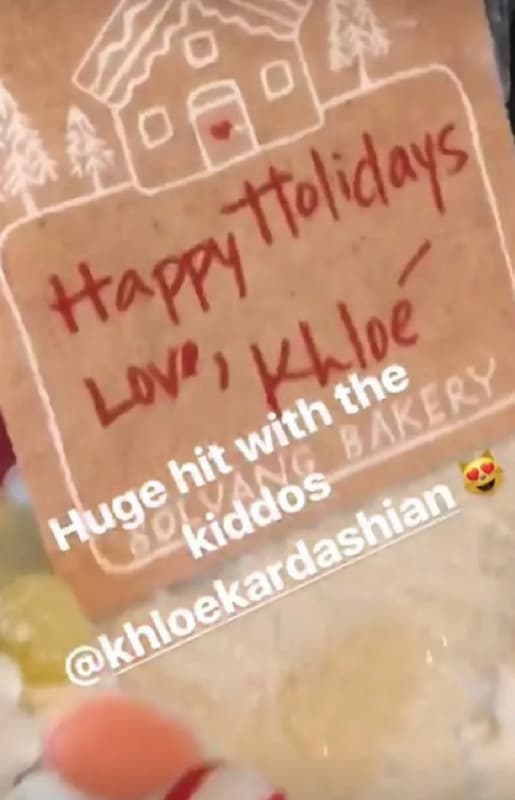 And we have proof that Khloé and Kim have hung out at least a few times in the past, including a trip to Las Vegas in 2016.
More from Taste of Reality: DJ Tracy Young Has Some Strong Words For Former Lover Kim Zolciak
And another time in July of 2015, when the two hung out in Los Angeles with KK's twin bffs Malika and Khadijia Haqq. 
"What a great night!!" Kim gushed.
But of course, the real smoking gun came when Kim accidentally published a private Snapchat between herself and Khloé, accidentally confirming Khloé's then-secret pregnancy.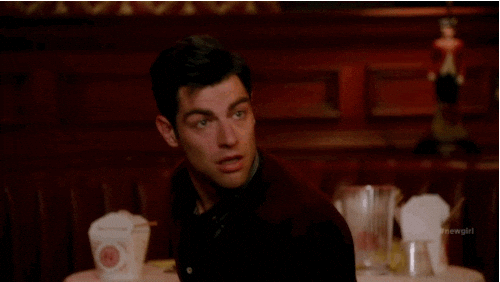 The snap has since been deleted, but the video shows Kim chatting with Khloé about her pregnancy and in a bizarre form of mother-daughter bonding, Kim encourages daughter Brielle to flash Khloé her breasts, "Show Khloé how big her tits are gonna be [when she's pregnant]." Yikes.
Of course, Kim Z. was quick to come up with a story to cover her mistake. She claimed that the video was for another friend named, "Chloe."
IT WAS A PRIVATE SNAP TO MY GIRLFRIEND CHLOE (who fits Brielle and I for swimsuits and Bras) NOT @khloekardashian THAT I ACCIDENTALLY POSTED! So before you assume please check the facts!!! https://t.co/sI3eWDz2Be

— Kim ZolciakBiermann (@Kimzolciak) November 21, 2017
Okie, sure Kim.
Meanwhile, we've almost never heard or seen anything on social media that would suggest that Chrissy and Kim are friends…
Plz don't blow anyone it's not that good of a show. Jk it's good but I'll get you tix without the oral

— christine teigen (@chrissyteigen) May 4, 2017
Unless NeNe is referring to the time that Kim joked that her daughter Brielle would give Chrissy's husband, John Legend, oral sex in exchange for concert tickets.
Ha ha?
According to Kim, she and Chrissy are good pals.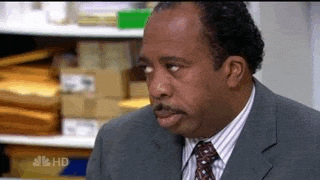 In the finale of the three-part RHOA reunion special, Kim tells NeNe, "Chrissy Teigen's my friend. We already text, sweetie."
But honestly, that could mean anything. That could mean Chrissy reached out about the tickets via text and now Kim thinks they are bffs. It could mean that Kim sends Chrissy "funny" gifs and Chrissy responds  : ) we all know someone who we've had to politely communicate with via text, so Kim is going to have to elaborate.
More from Taste of Reality: The Housewives of Splitsville
Meanwhile, Chrissy is p**sed that NeNe called her out on social media. "Please remove me from this narrative," she writes.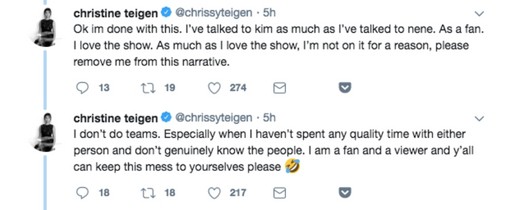 Responding to a tweet Bravo published about NeNe's callout, Chrissy decided that it was time to clear the air, "Ok im done with this," she writes. "I've talked to kim as much as I've talked to nene. As a fan. I love the show. As much as I love the show, I'm not on it for a reason."
She added that she "doesn't do teams" and asserts that she hasn't spent quality time with either person aside from her avid viewing of RHOA. "I'm a fan and a viewer and y'all can keep this mess to yourselves please." You tell 'em, Chrissy.
Although, this wouldn't be much of a story if Chrissy didn't leave us with a cliffhanger.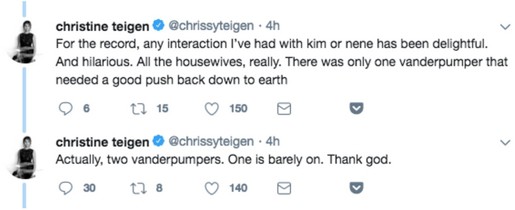 Chrissy adds that anytime she's interacted with the ladies of the RHOA (as a fan) they have been "delightful." Unlike two "vanderpumpers" "who needed a good push back to earth." Ummm, excuse me???
Chrissy never confirms which VR castmembers got under her skin. Way to drop the bomb and then walk away, Chrissy!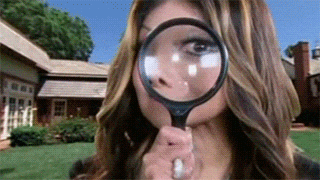 Even if Chrissy never confirms to whom her shade was directed towards, we have a few ideas…..
Tell us who you think Chrissy was talking about in the comments!
---