10 Bravolebs Share Their Holy-Grail Lipsticks, Glosses, and Lip Liners
Pucker Up!
Lara Sophia January 4, 2019 8:42am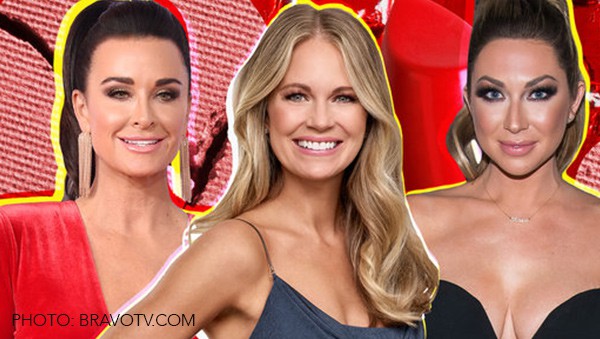 Lipsticks, glosses, lip liners, oh my!
Bravolebrities know a thing or two about beauty especially when it comes to lip products! I mean, how many times have you been watching your favorite show and you're dying to know what lip product your favorite Bravoleb is wearing? For me, it's too many times to count!
And let's be honest when it comes to lip products – you can never have enough! There are so many good lip products out there that we are dying to get our hands on. And let's be real lip products can totally change your overall makeup look so it's all about choosing wisely.
Since it's the start of a whole new year it's the perfect time to clean out your makeup bag and toss any old products. A new year, should bring new lip colors – am I right? So, let's get some lip product inspiration from our favorite Bravolebs and stock up for a fresh, fun, and fabulous new year! Hey, you may even get inspired to step outside of your comfort zone and go bold for 2019!
Pucker up!
Kyle Richards' Buxom Plumping Lip Polish
The RHOBH star calls this lipgloss "the best." With this vitamin-packed gloss "you'll feel a little bit of tingling, which I actually like," Kyle explains.
Kelly Dodd's Hourglass Confession Ultra Slim Lipstick
If you're looking for a super glam lipstick look no further. Kelly Dodd adores this "cute" lipstick because "you can put it in your clutch and it's not all bulky."
Stephanie Hollman's Clé de Peau Beauté Radiant Lip Gloss
Keeping with the theme of luxe lip products, RHOD star Stephanie Hollman loves Clé de Peau Beauté's glosses. "I don't know if you've heard of the Clé de Peau line, but they have the best lip glosses," Stephanie reveals. "I have them in like every color." Her favorites include Rose Pearl, which is "a really pretty pink color," and Rose Quartz, which "just kind of gives you a little bit of shimmer on whatever you're wearing."
Clé de Peau Beauté Radiant Lip Gloss in Rose Pearl and Rose Quartz
Brittany Cartwright's Sephora Collection Liner & Lipstick Duo
On a more affordable note, Vanderpump Rules star Brittany Cartwright is obsessed with this double duty lip product. "It has the contour and color," says Brittany. "I love this thing."
Cameran Eubanks' Stila Stay All Day Lip Liner
If you're looking to enhance your pout without injections take a page out of Cameran Eubanks' book. "When I was pregnant I had the most full, beautiful lips," recalls the Southern Charm star. "I don't have them anymore, so I kind of like exaggerate [my lips]."
Cam's secret weapon comes in the form of Stila's Stay All Day Lip Liner in shade Pink Moscato. "These are the best lip liners ever. They last all day!"
Quad Webb-Lunceford's NYX Soft Matte Lip Cream
If you need a "good nude, honey" then look no further. Quad highly suggests NYX's Soft Matte Lip Cream in Abu Dhabi. If this shade isn't quite for you this gloss comes in 26 other colors so you're bound to find something that's right!
LeeAnne Locken's Kat Von D Everlasting Liquid Lipstick
When it comes to lip products LeeAnne Locken wants something with staying power which is why she turns to Kat Von D's Everlasting Liquid Lipstick. "Literally, this lip stain, you have to chew it off your face," jokes the RHOD star.  "It's a kissable lip stain that will not come off your lips."
Stassi Schroeder's Edward Bess Defining Lip Liner
"If there's one lip liner that you should have, it's Edward Bess," Stassi insists In fact, Stassi loves this liner so much she buys it in bulk. Sign me up if this liner will give me lips like Stassi.
Luann de Lesseps' Wander Beauty Dual Lipstick & Liner
The Countess loves a good duet on and off the stage. Like Brittany Cartwright, Luann de Lesseps loves a double duty lip product.
"I have this new lipstick, which I love," Luann says of Wander Beauty Lipsetter Dual Lipstick & Liner. "On one side it has the lipstick and on the other side it has the liner."
Cary Deuber's Buxom Shiny Liquid Lipstick
This RHOD star may have a thing for bright colored lip colors, but she also has a week spot for neutral lips. When Cary Dueber wants to rock a more natural lip she turns to Buxom much like RHOBH's Kyle Richards.
"I love taupe colors. I'm very into neutral colors," Cary reveals, adding that she loves Buxom's Va-Va-Plump Shiny Liquid Lipstick in the shade Taupe It Off. "This one feels really good and it's kind of pepperminty."
Tell us – What are your favorite lip products?
---