Cary Deuber Shares 3 Easy Ways to Stay Stress Free This Holiday Season!
Have holly jolly holiday season!
Lara Sophia December 13, 2018 10:00am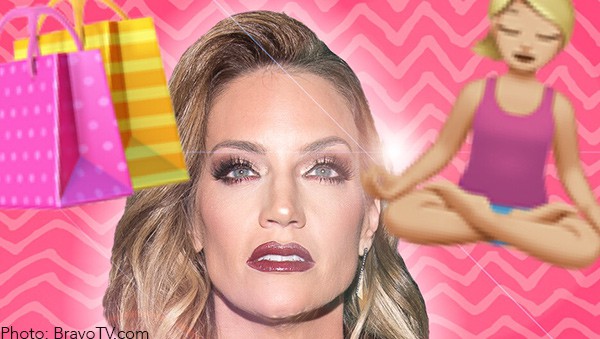 The holiday season is officially upon us which means all of our lives are about to get very hectic. Shopping, wrapping, baking  -oh my!
And while this is the most wonderful time of the year it can also be the most stressful time of year. Unfortunately, all that shopping, preparing, and wrapping won't get done itself.
However, there are a couple of easy ways to stay stress-free this holiday season. And thanks to one Real Housewives of Dallas star we can share them with you! #blessed
Real Housewives of Dallas star Cary Deuber has some sure-fire ways to avoid getting overwhelmed AF this holiday season.
So, let's find out how to stay #blessednotstressed all holiday season long!
"Sometimes, life can come at you fast," Cary explains. "From family challenges to stressful relationships with your friends and co-workers, it's key to find something that keeps you balanced in some way, shape, or form."
Yoga 
For Cary, Yoga is key to staying stress-free. And while she knows it's not for everyone, it does work.
"I experienced this [stress] quite a bit over the past year with my fellow Housewives and family life, and it was typically yoga or an extension of the practice that ended up saving me. Yoga isn't for everyone, though, so here are a few easy ways that I find Zen throughout the day," Cary explains.
If you're interested in yoga but don't know where to start, check out Cary's "10 Tips for Beginner Yogis."
And remember as Elle Woods once said: "Exercise gives you endorphins. Endorphins make you happy. Happy people don't kill their husbands. They just don't."
Masking 
Masking at the end of the day is something that is a HUGE stress reliever for so many including Cary. I love a good sheet mask and it turns out Cary does too!
"You may have noticed this year that I always had some kind of face mask with me on group trips to Tennessee and Mexico. Even though we always plan to have a good time while on vacation, it never fails that a good face mask will come in handy — whether it's to de-stress after a long day or prevent puffiness after crying. I like to keep a little mobile spa treatment with me, and a few of my favorites include charcoal and gold," Cary reveals.
Adding, "This gold collagen mask is also one of my favorites because it comes on in two pieces to fit any face perfectly! This hydrogel mask is formulated with natural ingredients such as gold and collagen to penetrate deep into the skin to give real results in about 20 minutes."
Pour yourself a little champagne or wine, put on a mask, take a bath, and watch some Bravo! Sounds like a stress-free evening to me!
Mediation 
If you need to zen out, even more, take some time to meditate every day. Meditation is a great daily practice to get into, Cary explains, saying, "Meditation gets me through the day as well."
"You can even find amazing meditations online! I typically do them when I have downtime during the day. Breathing exercises are SO good for your body and your mind: Try laying on your back and breathing in for a count of seven and out for a count of seven, eventually reaching a count of 10 in and out. This slows your heart rate as well as your active monkey mind. Yoga, as you may know, is an amazing gift to my day. For a yoga mat, I use Lifeforme which is a must for assistance with alignment. "
And there you have it, some fabulous tips to help keep you stress-free during the holiday season!
How do you stay stress-free during the holiday season? Tell us below!
---