The Challenge's Cara Maria Spills The Tea
Are we finally getting the answers we needed about Cara Maria and Paulie?
Spill it, Sister May 20, 2020 1:35pm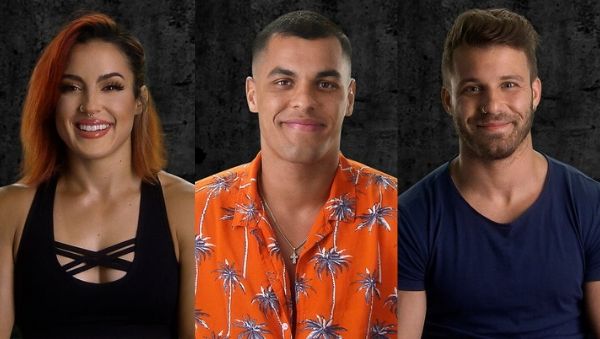 Long time fans of The Challenge have watched Cara Maria through many relationships and rivalries. Cara's relationship with Big Brother Alum and Challenge Vet, Paulie Calafiore, has been the source of many recent Challenge feuds.
We all watched as tensions rose during season 34, War of The Worlds 2, and Cara and Paulie played the perfect villains.
After the season concluded, the cast gathered in the UK to film the reunion. Stephen Bear took to Instagram to showcase a parking lot fight between Josh Martinez and Paulie Calafiore.  In case you forgot, we watched this friendship explode during War of the Worlds 2.
Once casting began for season 35, Total Madness, rumors started to circulate that the dynamic couple would not be returning. Many sources claimed it was due to Paulie's failed psych test while others claimed it was due to the questionable videos he was posting to social media.
Gone For Good?
There was no official statement from the couple until this week when Cara Maria decided to speak out to let us know what took place behind the scenes, this time giving us her perspective.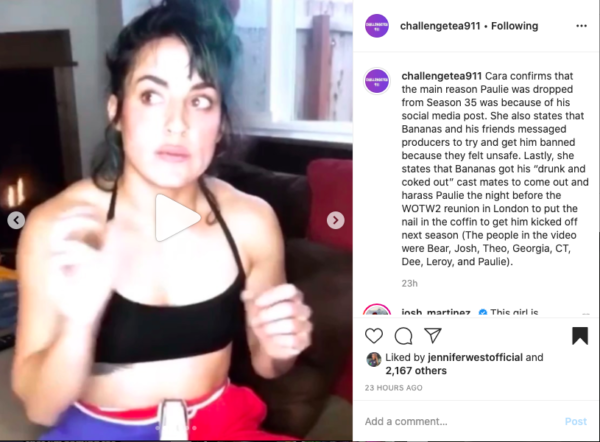 In her Instagram Live Cara Maria explained what wasn't shown in that parking lot fight video as follows:
"That One certain cast-mates got all of his other coked out and extremely drunk cast-mates who follow his every word to come out jump Paulie basically like come harass him like 'Hey Hey Hey!' Meanwhile the other cast-mates had their video cameras ready, so this is all what's going on. I'm watching this like 'please don't take the bait, don't take the bait!' Paulie took the bait and was like 'What the f*** is going on, what are you guys trying to do?' and these cast-mates then proceeded to take the videos and then message the higher-ups and say 'Oh Paulie punched Josh!' and if Paulie punched Josh, Josh wouldn't be talking first of all, but there was a bunch of drama that was ensued.  A bunch of people saying, 'We feel afraid, he's a school shooter, were afraid he's going to come murder us, and we don't feel safe in a challenge house with Paulie.' That's what happened so you get a bunch of drunk coked-out cast-mates led by a leader who went out and did exactly what they were told the night before the reunion that caused him to not be on the season."
Cara Maria continues on and explains this is half the reason she isn't on Season 35 and the other reason was to stay home to take care of her aging horse.  As she went on she refused to identify the cast members who were using drugs that night.
Every Story Has Two Sides
Fellow cast member Josh Martinez seems to disagree on how that night happened. On the Instagram page challengetea911 Josh replied:

" This girl is delusional 🤦🏽‍♂️ everyone that knows me knows I don't do drugs. Kid failed his psych test for the same videos shown and she backed out because she didn't have numbers going into the game. No one started any problems with them he came into the lobby trying to fight us and I defended myself when he tried to swing on me. Though she was taking a break to get in a better head space sad to see nothing has changed."
While we aren't sure who or what to believe, it's very interesting that Cara Maria has finally decided to share her side of the story on this incident.
Tell us your thoughts! Do you miss watching Cara and Paulie this season? Do you believe her story or side with Josh?
For more of our thoughts on The Challenge, including recaps of Total Madness and social media tea, check out Spill it Sister podcast.
---