Fans are Torn Over Brielle Biermann's Racy Instagram Caption
Brielle's asking the important questions...
Genny Glassman May 2, 2018 6:50pm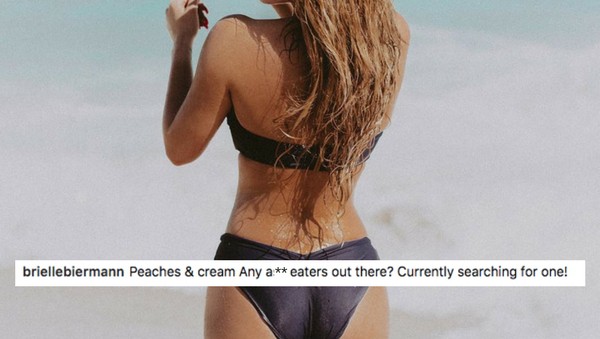 What was Brielle thinking?! The 21-year-old is no slouch when it comes to posting sexy photos of herself. But when it comes to her latest Instagram picture some people thought that the young reality progeny had crossed a line.
Earlier today, Brielle posted a picture of her bikini-clad backside on Instagram. But what really got people talking was the caption Brielle included with her sexy photo.
Prepare yourselves.
"Peaches & Cream," she writes.

"Any a** eaters out there? Currently searching for one!"
Obviously, this post was going to illicit some scandal. As former Real Housewives of Atlanta star Kim Zolciak-Biermann's oldest daughter, fans weren't used to Brielle being so openly sexual.
Apparently, Brielle was joking. But fans landed on both sides of the equation, with some calling Brielle hilarious and other's calling her "not very classy" (and that's putting it lightly).
More from Taste of Reality: OMG – Madison Marie Parks Valetta is on Wikipedia!
Earlier this week, Brielle caused a buzz when she revealed that her mother, Kim, got fillers in her earlobes because the diamond earrings that she wears are so heavy. Kim confirmed the story, even tweeting to Perez Hilton that rather than having surgery, "Dr Ourian put a tad of filler in the lobe and my earring stays straight up instead of facing downward."
You know, relatable.
Just my right ear that I use to talk on the phone (my lobe is pulled down slightly) so rather than have surgery to fix it a couple years ago Dr Ourian put a tad of filler in the lobe and my earring stays straight up instead of facing downward @PerezHilton pic.twitter.com/vyk5bi9m0I

— Kim ZolciakBiermann (@Kimzolciak) May 2, 2018
Neither Brielle nor her mother have addressed the backlash to Brielle's photo. Though it looks like Brielle shares her mother's penchant for stirring up some drama.
Or maybe the girl just knows what she likes  ¯\_(ツ)_/¯
Tell us what you think of Brielle's photo in the comments!
---