Bravo's Other Baby Bump: Gretchen Rossi
Andy isn't the only one to show off his baby this week
Emily Bertha February 7, 2019 8:38am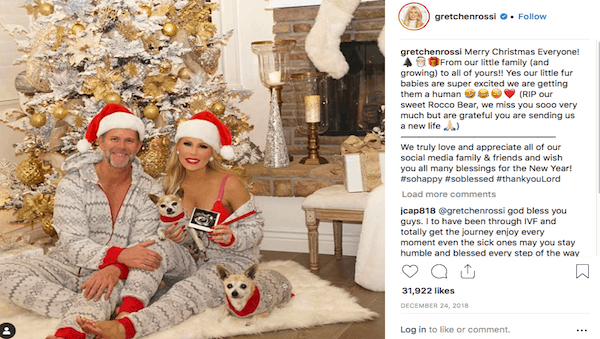 RHOC alum Gretchen Rossi dressed up her baby bump for what I'm sure is one of many fancy photo ops for the bump of joy. Of course, in baby news this week, this really doesn't even deserve attention. I mean, the birth of Andy Cohen's baby boy is one of the happiest moments in my life even though I have no personal connection to them at all. I finally relate to how people feel when "their" team wins the Super Bowl.
However, Gretchen's latest Instagram post is a moment for fashion news. She donned a sparkling, floor length pink dress and presumably heels at a red (well, technically blue, yellow and red) carpet event. The occasion for the gorgeous gown was a high profile charity gala. She posted the same image on her Snapchat, highlighting her barely noticeable baby bump.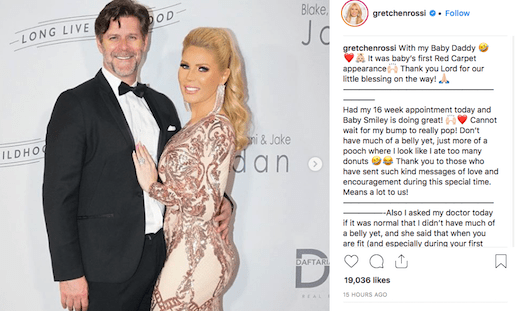 Honestly, I'm impressed with anyone who puts on anything other than sweatpants while pregnant. She announced her pregnancy in December, showing a sonogram picture on Instagram. Gretchen is not that far along (4 months), but clearly this pregnancy won't stop her from flaunting her style and her bump.
I was never the biggest fan of Gretchen during her Real Housewife days, but I'm glad she clearly has pregnancy glow (even if it's with Slade by her side…).
Some fans have commented on the size of Gretchen's belly, claiming she should be bigger this far along. Gretchen was having none of it and told haters to "suck it." She assured fans that her doctor said she was perfectly healthy with the size of her bump. After years of struggling to get pregnant through IVF, I don't blame her for a little sass. Plus, why would you want to immediately blow up like a balloon?
What do you think of Gretchen's pink gown? Comment below!
---