Where to Vacation Like Your Favorite Bravolebs This Winter!
Winter vacations by Bravo!
Lara Sophia January 25, 2019 9:09am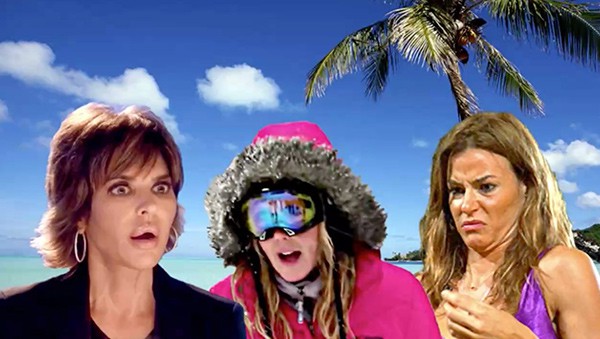 Bravo knows how to do vacations right. Every year our favorite Bravolebrities go on fabulous and fun vacations. And thanks to the Bravo cameras we get to tag along and live vicariously through our favorite Bravolebs.
With winter upon us, I'm sure you're dreaming about taking a winter vacation. I know I am. Hopefully, your dreams can be turned into a reality with the help of this list.
Whether you want to hit the ski slopes or the beach we've got the ultimate guide to winter vacations – Bravo style! We've put together a list of the best vacations from the Bravo universe that are perfect for a winter escape.
So, grab your passport, book your ticket, and in no time you'll be living the life on a beach with white sand, palm trees, and fruity drinks.
Check out our list below!
Iceland
Located in the heart of Iceland, Hotel Ranga is the only 4-star resort in the South. Hotel Ranga, With themed rooms and a natural secluded environment, it offers serenity, luxury, and relaxation all year around.
As Seen on RHOC S12/E16: On their Iceland getaway, the ladies shack up in a hip hotel with different themed rooms. The owner, Fridrik, gets them to try local delicacies, fermented shark and puffins! "This is, by far, the worst thing I've ever put in my mouth." -Kelly — Later, Vicki has a health scare that sends the trip spiraling. "I think I'm having a heart attack." -Vicki
Hotel Skogafoss is a beautiful, charming hotel amidst the splendor of Skogafoss waterfall. Nearby towering glaciers offers cozy, unique rooms and top-class dining experience. The restaurant, which is also open for non-resident guests, offers breakfast, lunch, and dinner as well as light meals throughout the day.
As Seen on RHOC S12/E16: In Iceland, the ladies have a picnic next to one of the island's famous massive waterfalls. Lydia ruins lunch when she throws a fit for being left out of a group text. "We shared Bible verses with each other and now she's ignoring me?!" -Lydia Huge eye roll, honey.
 Bimini
HILTON AT RESORTS WORLD BIMINI 
Beachfront resort offering chic rooms & suites, casino, restaurants, and outdoor pools.
 As Seen on RHONJ S9/E7: The location of Danielle and Marty's destination wedding.
Washington, CT
 Set on 58 acres, this luxury hotel is 4 miles from Route 202 and 3 miles from Steep Rock Preserve.
As Seen on RHONY S10/E12: Following LuAnn's arrest, Dorinda invites the girls for a sobering spa weekend of rest and relaxation. LuAnn seems like she's in better shape following the drama in Palm Beach. "I want to go to rehab. The idea of like 28 days of doctors analyzing you and helping you emotionally. Sounds like heaven." -Carole   


Bali
Located on the majestic coastline of Nusa Dua, The Mulia, Mulia Resort & Villas evoke a relaxed yet polished sensibility. Cutting edge design throughout, the resort comprises three signature experiences; The Mulia is a boutique all-suite resort with 111 suites. Mulia Resort has 526 accommodation including lagoon pool rooms and suites and Mulia Villas are nestled on the hills of Nusa Dua with private gardens and views of the Indian Ocean, offering total privacy and relaxation.
As Seen on RHOC S9/E16: After a 23-hour plane ride to Bali, the ladies finally arrive at their breathtaking palatial resort. Nothing but the best for the princess of the OC! "You definitely feel as if you've arrived somewhere else!" -Heather
Palm Beach
First opened in 1947, this elegant, British colonial-style hotel is a block from upscale shopping on Worth Avenue, 0.5 miles from the Everglades Golf Course and a 3-minute walk to the beach.
As Seen on RHONY S10/E10: The ladies are shocked to find out that LuAnn de Lesseps was arrested in Palm Beach. Where was LuAnn arrested in Palm Beach?! The Colony Hotel, one of her frequent haunts, was the scene of the crime where she stumbled into the wrong room and then threatened a police officer. The scuffle resulted in 4 felony charges but she's expected to make a plea deal. "I thought it was going to be drunk driving or something, but then I realized it was a lot more serious." -Carole
Tucson 
Miraval Resort & Spa in Tucson, Arizona is a luxury wellness resort dedicated to opening eyes, mind and hearts. Miraval's focus on sustainable living, casita-style guest accommodations, and the spectacular new life in balance spa are consistently recognized by Spafinder, Travel+Leisure and Conde Nast Traveler year after year.
 As Seen on RHONJ S5/E13: The Housewives jet off to the zen Arizona desert to celebrate Melissa's birthday. Mounting doubts about the rumors surrounding Teresa's gossiping force Joe to rethink including her on the trip. As Jacqueline faces a major hurdle in mending her relationship with Teresa, Caroline struggles to get her husband, Albert, to relax. "It's like you can breathe in all the way out here, huh? *burbs " -Rich "What is that, a cow?" -Joe Giudice

Costa Rica
Located along Costa Rica's Central Pacific coast, Si Como No is a uniquely special Manuel Antonio Resort Spa and Wildlife Refuge that sits atop one of the most idyllic hillsides in Manuel Antonio.
The resort's lush jungle terraces and brilliantly vivid gardens overlook the sparkling ocean just above world-renown Manuel Antonio National Park.
As Seen on RHOC S7/E16: After a long flight, the housewives make their arrival in Costa Rica at a lush jungle resort in the heart of the rainforest! "This is gorgeous. I can't wait to see the monkeys!" -Heather Alexis shows up with her fake wedding ring and informs the girls she won't be staying long… but nobody seems to care if Debbie Downer doesn't stick around. "Why go to a foreign country that takes 13 hours of travel time to stay for 2 days? Who does that?" -Tamra
Stowe        

Our luxurious accommodations in Stowe, Vermont provide the ultimate holiday experience. Enjoy a location in Stowe with a spa, nearby skiing, tennis & more!
As Seen on RHONJ S7/E12: During their Vermont getaway, Jacqueline and Teresa's friend Robyn get into a brawl forcing Robyn to leave. "I'm glad she's gone." – Dolores  

 Boca Raton
WATERSTONE RESORT & MARINA BOCA RATON  
 The Waterston is the ultimate South Florida retreat. This luxurious Four-Diamond boutique hotel in Boca Raton is situated between the sparkling Intracoastal and the Atlantic Ocean, Waterstone is within walking distance to the South Inlet Beach and nearby to exclusive shopping and Boca's top area attractions. Plus, each guest room offers a private balcony with a water view – providing guests with spectacular scenery in an elegant, easy-going atmosphere. It's a fine time for you to drink, dine, swim, snorkel, and sail away.
As Seen on RHONJ S8/E12: Siggy invites the girls down to Boca Raton, Florida and then treats them poorly all because they threw a little cake around at dinner! "I feel humiliated. I feel disrespected." -Siggy

Hamburg, NJ
Located in central NJ, Crystal Springs Resort is a spectacular NJ vacation destination, acclaimed as the New York Metro area's most unique four-season resort. Located in the rolling farmland of the Garden State's picturesque northwest, our world-class NJ resort is just an hour from New York City, and even closer to most northern and central NJ towns. Crystal Springs Resort offers so much to experience, you may come to think of our 4,000+ acre getaway as a playground for all ages.
As Seen on RHONJ S8/E7: Despite having a recent history of bizarre behavior and outbursts, Siggy hosts a women's weekend retreat and invites the other ladies. What could have been a nice empowerment event seems more like an opportunity to call out some of the ladies and pawn cheap t-shirts and candles!
Miami
With a distinctive boutique ambiance, the Regency is a leading choice amongst Miami hotels. Our personalized service, attention to detail, and independent mind set differentiate us from other Miami Airport Hotels. From the busy corporate executive to the family of four, each Regency Hotel guest expects a pleasant, personalized stay.
As Seen on RHONY S8/E20: In Miami during LuAnn's engagement party weekend, Bethenny breaks the news to LuAnn that Tom was cheating on her a week after they got engaged… and she's got the photos to prove it. "I think I'm going to throw up." -LuAnn Of course, LuAnn's more concerned with how it looks than the act itself. "I'd be worried about the betrayal?!" -Bethenny
The Betsy – South Beach is a refined, beach-side haven located in the heart of South Beach, committed to timeless luxury and service, while offering incredible ocean views, exquisite amenities, world-class cuisine, and a unique commitment to the arts.
As Seen on RHOA S11/E2: Porsha assigns everyone rooms for their Miami vacation. Marlo doesn't quite like her assignment.
Located on the oceanfront in trendy South Beach, this luxury hotel was designed by Philippe Starck, who collaborated with rocker Lenny Kravitz.
As Seen on RHONY S10/E6: Bethenny and Dorinda stopover in Miami before they head to Puerto Rico to aid in the recovery following the hurricane. Dorinda almost doesn't make it after getting wasted and causing a scene. "She just smiled and brushed it off like it didn't happen." -Bethenny
With a decidedly European jet-set vibe and a splashy beach club where you can get poolside manicures and pedicures, the Catalina Hotel + Beach Club also offers two restaurants, two pools, four bars, a media library, a rooftop terrace, a Japanese Koi fishpond, and a Zen garden. In addition, the hotel boasts a dedicated library, which can serve as a meeting space for small groups. And that's just the common area.
As Seen on RHONY S5/E9: Sonja isn't a prude but Aviva father George may be too much for her. Their last night in Miami, the group goes to the club and dirty daddy is laying it down hard… literally. "I'm in the cabana for 2 seconds and I feel something poking my backside. I turn around and it's George… with an erection." -Sonja Clearly, the man must have medication to help out because he's well over 70! "Gross. But at least we know it works." -Sonja
Jamaica
MOON PALACE JAMAICA GRANDE HOTEL
Welcome to paradise. Our fun, larger-than-life brand has landed in Ocho Rios, Jamaica. Appointed with more than 700 luxurious suites, Moon Palace Jamaica Grande offers many of the signature amenities you've come to love from Palace Resorts.
As Seen on RHOA S8/E13: The ladies head to Jamaica where Cynthia will be filming her eyewear commercial. Kim and Kenya were supposed to work on producing/directing it together but Kenya's attitude gets in the way and Cynthia gives her the boot. "If she's gonna be acting like that I'm a need her to twirl off this island real fast." -Cynthia
 JEWEL GRANDE MONTEGO BAY RESORT AND SPA
Jewel Grande Montego Bay Resort and Spa is a tropical island paradise. Enjoy a personal butler service, a world-class full-service spa, two sparkling swimming pools, a state-of-the-art fitness facility, and private beachside cabanas.
As Seen on RHOC S13/E13: The ladies arrive at their resort to discover that the A/C in their penthouses are broken!
Puerto Rico
Las Casitas is an enclave of private villas that enjoy sweeping ocean views, fully equipped kitchens, and personalized butler service. Among many pleasures, enjoy an expansive waterpark, scuba dive, ride horseback, golf or choose from a renowned menu of soothing treatments at Waldorf Astoria Spa.
 As Seen on RHOBH S4/E17: The ladies ditch the 90210 for island life but their smooth sailing trip quickly hits rocky water. "I'm scared of her." -Brandi
Inspired by the 'art de vivre,' O:live Boutique Hotel presents a unique style of relaxed luxury and intimacy. Its prime location and artistique atmosphere makes this charming boutique hotel part of the Small Luxury Hotels of the World.
As Seen on RHOA S7/E10: In Puerto Rico, NayNay gets read by the new girl Claudia for being an overall shady lady and killing the vibe of the trip. NeNe doesn't have much to say, but… "You've slept with everybody. Your c*** has left your body." -NeNe Oh no, honey… no.
Hawaii
KOHANAIKI GOLF & OCEAN CLUB –  Kailua-Kona 
Kohanaiki is an invitation-only private club community in Hawaii, carefully crafted on 450 oceanfront acres of the Big Island of Hawaii. Once the playground of Hawaii's greatest king, Kamehameha I, its shores are steeped in history, with sacred artifacts, cultural landmarks, and petroglyphs: a rustic mixture of rolling golf greens, sacred ponds, lava flows, palm trees, and a 1½ mile stretch of stunning Kona coastline.
As Seen on RHOC S12/E5: Lydia and the fam head to Hawaii for a break from the OC drama! "Alohaaaaa!" -Lydia She uses the trip as an opportunity to talk to her hubby about getting a snip-snip since they're done having kids. "It's time we talk about cutting your balls off." -Lydia
Four Seasons Resort Hawaii, Lanai at Manele Bay is a luxury getaway in an exclusive island location with service that will exceed your every expectation.
As Seen on RHOBH S2/E17: After arriving at the Four Seasons Lanai, the group learns that Kim missed her flight… of course. Oh well – they shimmy into bikinis and make their way to the beach. Just when things are getting boring, it's Taylor to the rescue!! She calls to let everyone know that her marriage is over. The girls hope it's for good. We all know how this story ends, so we'll just say their wishes come true.
Hideaway in Hawaii and disappear to rediscover yourself at the new Four Seasons Resort Maui at Wailea.
As Seen On RHOA S9/E17: On what was supposed to be a relaxing Hawaiian getaway, Kandi explodes on Porsha for spreading rumors about her being a lesbian, her husband having an affair, and the both of them trying to drug her! "Porsha is full of so many lies. Can we get Maury in here with a lie detector?" -Kenya

THE MODERN HONOLULU – HONOLULU 
THE MODERN HONOLULU introduces cosmopolitan chic for leisure and business pursuits in Hawaii. We deftly combine sexy and sophisticated in everything we do. Overlooking the marina, sweeping vistas of the Pacific Ocean and city skyline surround this Honolulu hotel's guest rooms and suites. Gourmet pleasures, vibrant nightlife, intimate pool settings, exhilarating spa treatments and all that Oahu has to offer – luxury shopping, beaches, nature – blend to create a feeling of progressive luxury, a Waikiki resort hotel as refined as it is relaxed.
As Seen on RHOC S9/E1: In Hawaii, Tamra and Vicki plan to corrupt Little Miss Perfect Heather. "Heather needs to take off her fancy pants and put a g-string on." -Vicki, They give up trying to bring out her fun side when she kills the mood with her know-it-all antics. "Why does she always feel the need to make everyone else feel stupid?" -Tamra
Cartagena
Casa Mattos is a splendid 119th-century house, located in the heart of the Cartagena's old city walls, near the most delightful restaurants, museums, parks, plazas, and bars.
As Seen on RHONY S10/E15: Tinsley hooks the ladies up with a few nights at her go-to vacation home in Cartagena, Colombia. Bethenny, being in her bubble, demands a 5-star hotel even though the property is as lux as it gets in South America! "If she's not the center of attention, she's going to make it hell for the rest of us." -Carole Later in the trip, she has a complete meltdown when Carole is giving her the cold shoulder. "We've all been in situations with her where she hasn't been so kind, so we're less tolerant. You get what you give." -Dorinda
Located within the walls of Cartagena, this luxury hotel is steps from the Caribbean Naval Museum, sights, nightlife and more.
As Seen on RHONY S10/E16: The dinner party from hell (the Colombia version) starts when Bethenny and Carole are catfighting over their failing friendship. "I don't think you really like me." -Bethenny In the background, Dorinda and LuAnn are having their own little spat because LuAnn accuses Dorinda of having a drinking problem. "Why don't you go get arrested again?" -Dorinda
Whistler
FOUR SEASONS RESORT – WHISTLER 
Nestled at the foot of the Blackcomb side of Whistler's twin giants, our luxury hotel and resort deftly marries rustic mountain charm with modern European elegance. Under peaked roofs, find impeccable Four Seasons comfort and intuitive care. Savour a singular setting, recently awarded the Number 2 spot among the Top 20 Resorts in Canada and rated among the Top 100 Hotels & Resorts in the World by Condé Nast Traveler's 2012 Readers' Choice Awards.
As Seen on RHOC S8/E15: Posh digs for the OC housewives in Whistler! Lydia and her fam are originally from Canada, so she invites her sexy single uncle to join the ladies at the hotel for a little homecoming party! Girl-genius, Gretchen, asks "so do you know a lot about Canada?" This to the man who has lived in Canada his ENTIRE LIFE. Awkward.
Playa del Carmen
ANDAZ MAYAKOBA RESORT RIVIERA MAYA-A CONCEPT BY HYATT
Located in beautiful Playa del Carmen, Mexico, the Andaz Mayakoba Resort Riviera Maya is a vacation destination featuring refreshing pools and a sun-drenched beachfront, as well as a Mayan oasis spa. The resort offers a variety of exciting outdoor activities amid the native mangroves and waterways of the complex, plus access to El Camaleón Golf Club designed by Greg Norman and the Mayakoba Tennis Centre. Venture out to explore the Mayan ruins of the Yucatan Peninsula or the scenic island of Cozumel, or unwind with a cocktail at the resort's beachfront restaurants.
 As Seen On Vanderpump Rules S6/E15: On the group trip to Mexico, the SUR cast stays at a lux oceanside hotel in Playa del Carmen. Jax is targeted by some of the girls who think his girlfriend Brittany is too good for him. "I will talk to you damn well however I please!" -LaLa
Voted one of Conde Nast traveler's Top 100 Hotels in the world, El Dorado Royale, a Spa Resort, by Karisma is Mexico´s premier adults-only, beachfront resort where couples, wedding parties, and honeymooners savor a Karisma Gourmet Inclusive Experience, a vacation that fosters togetherness. Luxuriously romantic, stretching along a secluded beach, the resort provides indulgences from gourmet cuisine to swim-up suites, to a lavish spa and concierge service. Located in the heart of the Riviera Maya, facing the beautiful Mexican Caribbean. 25 minutes south of Cancun International Airport, 15 minutes north of Playa del Carmen, just 10 minutes away from "Mayakoba championship" golf course, 25 minutes away from the "Playacar Golf Club" and numerous wonderful sinkholes (Cenotes), 5 minutes south from Puerto Morelos and 35 minutes south of downtown Cancun.
As Seen On RHOA S6/E17: Kenya thinks the ladies and their partners could use some rest and relaxation and organizes a trip to Cancun, Mexico. "I put my big girl panties on and pulled this trip together because I realize you need to keep your friends close and your enemies… ahem… NeNe, closer." -Kenya
Riviera Maya
Escape to acres of white sand beach, mangroves and the Mayan jungle of the Caribbean Coast. Grand Velas Riviera Maya is a true luxury all-inclusive resort and the Yucatan's most spectacular vacation destination among all the other Rivera Maya resorts.
As Seen on RHOD S2/E6: The Dallas ladies score the presidential suite at their lux resort in Mexico.
Cabo San Lucas
Summer has arrived in Los Cabos. With the new season, you can expect even more sunshine and ways to enjoy Cabo San Lucas and, more specifically, the Bahia Hotel and Beach Club.
The full-service boutique hotel in Cabo San Lucas's Medano Beach district is the ideal destination for visitors who want to explore the region's best activities, shopping, nightlife, and dining from its location steps from the lovely Sea of Cortez and the most swimmable beach in the city.
As Seen on Vanderpump Rules S2/E10: "My birthday is a BIG deal." -Stassi The Sur crew arrives in Cabo to celebrate and heads to the hotel where they have a unique sleeping arrangement. Girls, boys, and Scheana/her man Shay. "It's weird that none of the girls want to stay with their boyfriends. It's probably because they don't have sex." -Scheana  She's probably not wrong, but it's probably more that there all so broke they had no choice but to cram in 2 rooms. If you've seen any of their apartments, you know they're not the types to be preoccupied with things like comfort…. or cleanliness. Regardless, the suite is pretty sweet… for two people. "Finally, my birthday is living up to what it should be!" – Stassi Not for long. Jax is obsessively looking for a hairdryer so he goes to the girls' suite to borrow one. On his way out he tells them that Scheana said she'd "rather be gangbanged by all the guys than hang with the girls." The girls LOOOOVE that they finally have something to bitch about and make a plan to destroy her at the club that night. "It's my birthday! Why is she even here?" -Stassi — Later, the crew ends up back at the hotel after getting thrown out of a club. "Every year for my birthday, someone gets a drink thrown on them, and then we go skinny dipping. So that's what we should be doing." -Stassi The girls end up naked in the waves in a sort of ritual that's just one penis too few for us to pay any attention. "It's my 25th birthday!" -Stassi Oh yeah… this trip was for Stassi's 25th birthday in case you didn't catch one of the 9823409 times she reminded everyone.
Punta de Mita
Located in the romantic area of Punta de Mita, Mexico, this lux villa is inspired by dramatic, natural tropical elements and beautiful landscapes. It offers guests dramatic views of the Pacific Ocean from all points on the property. The classic Hacienda benefits from warm off-shore breezes and lots of sunshine. The exceptional design of the zero-edge infinity pool creates an outstanding centerpiece for the beachside of the property. World-class accommodations and service provides guests with a spectacular vacation experience.
As Seen on RHONY S9/E16: Bethenny rents a baller pad for the ladies' trip to Punta Mita, Mexico! As usual, Ramona and Sonja are up to their usual shenanigans trying to score the best room but Bethenny isn't having any of it! "They're not only room whores, they're room bullies." -Bethenny            

Puerto Vallarta
 Spectacularly flanked by the vibrant blue waters of the Pacific Ocean and the verdanant tropical forests of the Sierra Madre mountains, Garza Blanca Preserve Resort & Spa nestles gracefully just minutes south of historic Puerto Vallarta, one of Mexico's most dynamic and sophisticated vacation destinations.
As Seen on RHOC S9/E11: Vicki and Brooks invite Shannon and David to Mexico in hopes of helping them rekindle their flame after talking almost divorcing. Shannon's a hot mess and can barely keep herself together over tequila tasting on the beach. "David's priority is not Shannon. He's checked out!" -Vicki
Riviera Nayarit
VILLA LA ESTANCIA RIVIERA NAYARIT 
A new definition of luxury awaits those visiting Villa La Estancia Beach Resort & Spa in Riviera Nayarit, a secret hideaway that boasts personalized service all the way. The chic Hacienda-style ambiance is one of the many reasons why AAA gave Villa La Estancia the coveted Four-Diamond Award. So what other reasons won us the title? We like to think it was the masterful view from every room of the jewel-like Banderas Bay, the soul-cleansing massages of the European style Tatewari Spa, and the multitude of delicious dining options. Or maybe it was as simple as our indulgent service, in-Suite amenities and a strong commitment to making your stay as memorable as possible. Put it this way: The seclusion factor is high, the charm off-the-charts and the sweeping vistas so transformative, you might want to book a few more extra days.
As Seen on RHOC S8/E10: "Bring on the penises!" -Tamra Nuff said! The girls arrive in Mexico for Tamra's bachelorette party!
London
True to its original glamorous spirit, Café Royal has reopened as a luxury 5-star hotel in central London. With elegant Mayfair to the west and creative Soho to the east, Hotel Café Royal is perfectly positioned within walking distance of London's finest shopping streets, tourist attractions and theatreland.
 As Seen on RHONY S7/E17: Carole and Dorinda arrive at a swanky hotel in London to pick up the ashes of Carole's late husband. "I don't think it's big enough." -Carole
There are 5-star luxury hotels, and then there is The May Fair: an icon of expressive contemporary design, bringing together boutique attention to detail with grand hotel service. A legendary luxury hotel with a glamorous past, The May Fair was first opened by King George V in 1927 and offers over 400 luxury hotel bedrooms, including 12 of the capital's most memorable hotel suites, a discreet spa, a fine-dining restaurant, and the quintessential London Casino. The spirit of surrounding Mayfair is captured beautifully, especially in our destination May Fair Bar, breathtaking Crystal Room and opulent Danziger Suite, which between them have played host to some of London's most extravagant society events.
As Seen on RHONY S5/E7: In Londontown, the ladies have a bit too much fun boozing it up. To cure her hangover the next morning, Sonja shoves her face into an ice-filled toilet bowl while the others look on in disgust.
Turks and Caicos
The Somerset on Grace Bay is an intimate, five-star Turks and Caicos resort. Graciously appointed villas and suites. Staff who are genuinely happy to be at your service. Culinary delights with a fresh, Caribbean flare. A pristine location on one of the world's best beaches. There's much to treasure at The Somerset on Grace Bay, which has earned reviews and recognition among the Top Resorts in the Caribbean in the Travel + Leisure World's Best Awards. But what you'll treasure most are the times together.
As Seen on Don't Be Tardy S2/E11: The Biermann bunch head to Turks and Caicos for a family vacay. Kim's hoping to have quality time with her daughters since she's been soooo preoccupied with the baby boys. The girls have had a hard time with all the change, especially their looming adoptions by Kroy. But nothing brings blended families together like frolicking in the Caribbean blue. "Jesus don't splash my wig." -Kim
 No detail has been spared in the design and creation of this beachfront palace by Antonio Tadrissi B.Sc MArch of Prototype Design Lab. Upon entering the villa you will immediately notice the many rich, exotic design elements including the original hand-carved wooden doors imported from India as well as a custom lace-patterned grand staircase. These luxurious finishes are carried throughout the villa and can be enjoyed in every room of the property.
 As Seen on RHONY S7/E12: The ladies leave the city behind and head to St. Martins where they stay in a massive oceanfront house. "We have about 50,000 square feet of personality in a 10,000 square foot house!" -Dorinda As usual, Ramona and Sonja steamroll the rooms to find the best one. "What are you? Lord of the manor?" -Bethenny
Ideal situated on the beach, Triton is located towards the southern end of Long Bay's 3-mile beach. A walk along this warm turquoise ocean on the white powder sand beach will bring you in front of only a handful of Caribbean cottages and a few luxury villas. There are no hotels or commercial development within 2 miles of the villa. This leads you to have your own private beach.
Triton is designed to capture what has been lost on most high- end Caribbean beach destinations; a sense of peace and calm with all the amenities you would come to expect at one of the Turks and Caicos most elegant properties.
As Seen on Don't Be Tardy S6/E11: Kim, Kroy, and the kids arrive at their new favorite swanky private resort villa in Turks and Caicos. Apparently, it's the same one Kylie Jenner and Nicki Minaj stays at!  "This house was made for us." -Brielle It makes for a stunning backdrop when they renew their vows. "I just want a peaceful place for our vows because our first wedding wasn't!" -Kim
St. Barths
Our rooms, with simple and elegant decoration, are done with natural materials. The floated wood for the lamps realized exclusively for Tom Beach Hotel.
As Seen on RHONY S5/E13: The NY ladies strip down to their teenie bikinis for some fun in the sun on their St. Barths getaway. "Oh my god. Look at the ass on Carole." – Sonja
St. Barth Properties has been orchestrating dream vacations, exclusively, on the beautiful island of St. Barth since 1989. Founded by President Peg Walsh whose passion and commitment to service the Caribbean vacationer has annually earned her Condé Nast Traveler's Villa Specialist Award, from its 2006 inception, and the distinction of being named the Best for St. Barth. The company and its team of St. Barth Specialists have also been recognized by Travel + Leisure as one of the best villa rental agencies – worldwide. This beautiful island formally known as Saint-Barthélemy and nicknamed St. Barts, is the jewel of the French West Indies.
As Seen on RHONY S5/E14: Sonja and Ramona are ticked off that Aviva decided to show up in St. Barths with her husband Reid on what was supposed to be a girl's trip. Should they get a new house? Should they move to a hotel? Nah, they'd rather kick Reid to the curb. Aviva is disgusted to hear they are planning on asking him to leave. "You're both white trash, quite frankly." -Aviva The ditzy duo act confused by the term and decide to Google it. "Ok fine. We're white trash. But I'm feeling fabulous." -Sonja

 St. John
MCLAUGHLIN ANDERSON LUXURY VILLAS 
Presidio del Mar Villa from RHONY Season 3 is perched high on the cliffs of St. John in the Virgin Islands.
As Seen on RHONY S3/E12: Kelly Bensimon goes totally wacko on the NY ladies' island vacation. "Bethenny is trying to kill me!" -Kelly
Moorea, Tahiti 
SOFITEL MOOREA IA ORA BEACH RESORT 
With views over the island of Tahiti, Sofitel Moorea la Ora Beach Resort is settled on the edge of a magnificent lagoon. The resort features 114 luxurious bungalows built over the water, on the beachfront or surrounded by gardens. Facilities include two restaurants, a bar, a fabulous outdoor swimming pool and day spa.
As Seen On RHOC S10/E8: The ladies get a fabulous greeting by traditional dancers at the resort in Moorea. "Are those his balls? Is it traditional to have your wiener flopping in the wind? I think I like this tradition!" -Tamra
Puna'auia, Tahiti
The Manava Suite Resort is ideally positioned on the western coast of Tahiti Island, in the charming city of Punaauia. This stunning resort is within minutes of the popular diving and snorkeling site known as the Lagoonarium and is approximately 10 minutes from historic Papeete – the administrative capital of Tahiti.
As Seen on RHOC S10/E8: The OC ladies whoop it up at a fab resort in Tahiti! It's all fun in the sun until the ladies start question Meghan's seemingly hateful attitude toward Shannon. "They're judging me… a lot." -Meghan
TELL US- Where would you like to go on winter vacay?
---