Brandi Glanville Describes Her Return To RHOBH
"There's some stuff going down."
Ashley Hoover Baker November 20, 2019 9:20am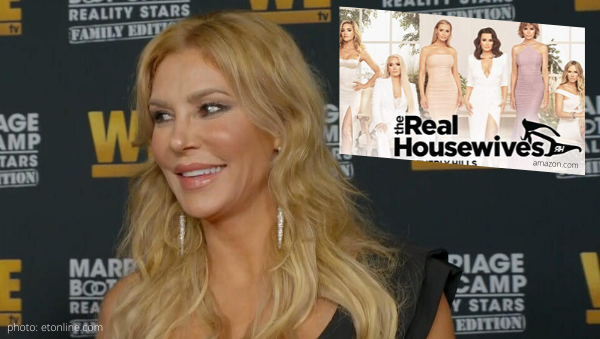 The outspoken Brandi Glanville describes her return to Real Housewives of Beverly Hills and her relationship with controversial cast members, including Camille Grammer and Faye Resnick. "There's some stuff going down."
Brandi spilled the tea on her podcast, Unfiltered, regarding her appearance on the hit show's upcoming 10th season. "There's some stuff going down. It's not gonna be PC, I'll tell you that. Everyone's like, 'Oh, everyone loves each other.' Not true. S**t's going down right now and we'll all figure it out soon enough."
While Brandi was able to remained tight-lipped about most of the current housewives, she couldn't help call out the returning housewife, Camille, and former 'friend of,' the morally corrupt Faye Resnick.
Let's start with Camille…
Brandi threw subtle shade at the child star- and in true Brandi fashion- called out former RHOBH star, Lisa Vanderpump, while doing so. Only Brandi… "Camille was there and Camille had previously come after me on Twitter. I have to say this, Camille and I — we're always friends — so for her to come after me on Twitter was just weird and odd to me, but I felt like maybe it came from a British woman we won't talk about, that was telling her what to say," regarding the Twitter scandal.
She continued, "We kind of had it out on Twitter, which was fine. She was at the party and a couple producers were like — I go, 'I honestly need to talk to Camille' — and they were like, 'She's afraid of you."' Brandi then clarified that Camille avoided her, claiming she saw Camille walk in, and didn't see her again the rest of the night.
Camille has a different recollection of the night, which is commonplace for the former MTV dancer. "I didn't tell anyone that I was afraid of you at the party? I'm perplexed."
In case you missed it, Camille's memory of events in her marriage to actor Kelsey Grammer seem to be inconsistent with his memories. Click here for a recent example.
Now, on to Faye.
Never forget this insult heard 'round the world from a decade ago from Faye about Brandi…
"No matter how many Chanel bags you borrow, you will never be a lady," later admitting, it was a "mean thing to say." Does this make anyone else think of this brutal insult:
That was way harsh!
Regarding her current relationship status with the former friend of Mrs. OJ Simpson, Nicole Simpson Brown, "I got wasted. I made up with Faye."  She continued, "People hated on her. We buried the hatchet, I'm over it. I hope people give her a break because she's just not getting one. We danced, I danced with everyone, we got along."
Way to keep it classy, Brandi.
Are you excited for Brandi to return to RHOBH? Drop your opinion off in the comments!
---