The Most Iconic Vanderpump Rules Fights Part 2
SURving up the drama!
Lara Sophia May 28, 2019 9:00am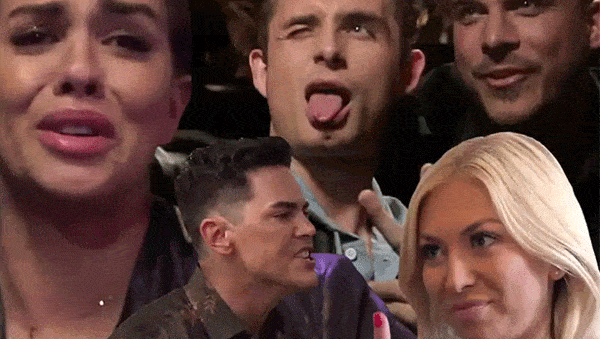 For the last seven seasons, it's been non-stop drama for the  Vanderpump Rules cast – we're talking slaps, shirtless fights, tossed drinks, and more outrageous outbursts.
With that said, grab a PUMPtini and join us as we take a look back at some of the best drama ever SURved up on Vanderpump Rules. Trust us you'll be begging for more!
Check out Part 1 of the Most Iconic Vanderpump Rules Fights – HERE! 
Lisa Tells Stassi She's "Not Important Enough To Hate" – Season 4, Episode 14
Lisa Vanderpump usually steers clear of the drama on Vanderpump Rules but she couldn't help but get involved when she heard her former SURver Stassi Schroeder was bad-mouthing her and her employees around town.
Summer Bodies – Season 5, Episode 1
Lala Kent and James Kennedy have quite vicious tounges on their own but when they team up things get extra nasty. In this instance, the two approached Stassi, the Toms, Jax, Katie, and tore apart their bodies and looks. Lala started things by proclaiming that none of them had been "working on their summer bodies." James then chimed in and asked Katie if she was pregnant, which led to drinks flying and fighting.
Schwartz & Katie's Bachelor and Bachelorette Parties – Season 5, Episode 17
Tom Sandoval was drunk, dressed in drag, and pissed off at Katie Maloney when he kicked open the bathroom door to reveal an equally drunk Tom Schwartz sitting on the toilet in a wig cap and tearfully yelped "he's like a battered wife!"
Jax Admits To Sleeping With Faith – Season 6, Episode 2
Brittany has always seen the best in Jax Taylor no matter what other people have told her about him. However, that all changed when Jax finally admitted to sleeping with their friend Faith. Brittany's "rot in hell" response to Jax resulted in one of her most memorable moments in VPR history.
Brittany Accuses Jax Of Cheating More Than Once – Season 6, Episode 3
Jax keeps digging himself into a bigger hole when he tells Brittany that it doesn't matter that if he slept with Faith more than once. Brittany reacts by telling Jax to shut up!
"It's Not About The Pasta!" – Season 6, Episode 6
James and Lala get into the most confusing fight ever after Lala jokes that she ate Raquel's pasta. Pasta isn't just a delicious Italian food it's also a nickname for cocaine. James freaks out and quickly insults Lala's man Randall Emmett and fighting ensues. James infamously says "it's not about the pasta" but we still wonder if it was.
The Unending Pillowgate – Season 6, Episode 17
Jax once again turns into a huge gossip when he sees a stack of pillows by the hot tub and assumes that James and Kristen must have used them during sex. Both James and Kristen deny Jax's claim but nonetheless, the gossip causes quite a bit of drama in the group.
Kristen Throws A Drink On James – Season 6, Episode 17
In the aftermath of Jax's gossip, Kristen throws a drink at James for telling the guys they slept together. However, James actually NEVER told the guys that at all. Everyone mistook James saying he "hung out" with Kristen as he "hooked up" with her.
Jax Freaks ~All The Way Out~ At SUR – Season 6, Episode 18
Jax has caused a scene at SUR on more than one occasion but this freakout took the cake as it went down right in front of Ken and Lisa. Jax started flipping the bird and yelling at everyone in sight forcing LVP to kick him out. However, that didn't stop Jax, who continued his tantrum as he walked down the street.
Katie Gets James Fired – Season 7, Episode 4
Or better put James gets himself fired yet again. James is the one to blame for getting himself fired this last time. It's no secret that James has a lot going on in his family life but that doesn't give him a free pass to freak out and attack people. This is James' first time attacking and body-shaming Katie. After James went after Katie's body at Pride, Katie gave Lisa an ultimatum – it's her or James. Ultimately, Lisa chose Katie and gave James the boot from his DJ'ing gig at SUR. Guess we won't see you next Tuesday, James.
Billie Is Left Out Of Girls' Night – Season 7, Episode 7
Billie was hurt that she wasn't included in Girls Night at SUR. However, Katie and the other girls insisted it was an oversight but Billie wasn't buying it and accused the girls of excluding her because she's transgendered.
Lala vs. Raquel – Season 7, Episode 15
Lala has been having a rough year since losing her dad and she's been lashing out on her friends as a result. So, when Lala heard that Raquel said she was "play the dad card" it was game over for the doe-eyed beauty queen.
---