Below Deck Med: Colin Macy-O'Toole's Rap Recaps
June, June, Hannah
Emily Bertha August 13, 2019 4:58pm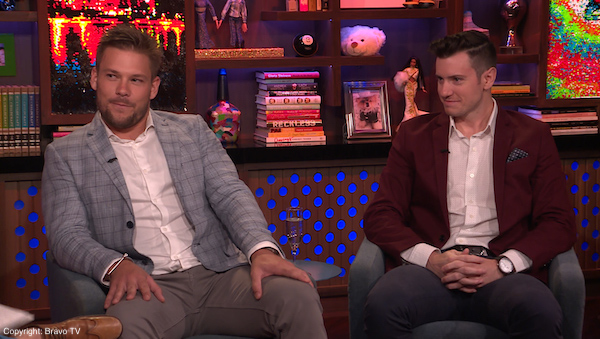 We're well into the fourth season of Below Deck Mediterranean, and so far each charter has been more entertaining than the last. If you need to catch up on missed episodes or just want to distract yourself from the abysmal state of the world today, check out crew member Colin Macy-O'Toole's recap raps.
Every Wednesday, the seasoned (and highly dateable) deckhand shows off his rapping skills while recapping the week's Below Deck Med episode. Colin is the quintessential "good guy" on the show, but he doesn't shy away from throwing some well-deserved shade at his cast members in his short music videos. His recent recap of episode ten, in which he raps about the newest crew member, June Foster, may be the best one yet.
Due to high demand, here is my #belowdeckmed rap recap for episode 10, 'June, June, Hannah'. Enjoy! @hannahferrier_ #belowdeck #belowdeckmediterranean #rap #music #recap #bravo #bravotv @BravoTV pic.twitter.com/iz0F6T7WvY

— Colin Macy-O'Toole (@ColinMacyOToole) August 7, 2019
It's been over a week since I first heard chief stew, Hannah Ferrier, radio the unresponsive third stew, and I still can't get "June, June, Hannah" out of my head. Of course, this rap doesn't help, but it's so good that I can't stop listening.
In case you missed it, June either doesn't know how to work the on/off switch on her radio or just completely ignores Hannah. Hannah is her boss giving her orders, not some creepy dude catcalling her on the street; June needs to respond.  I mean, by the time June learns how to use her radio, it's going to be January (I am absolutely not sorry for that pun).
In his rap recap, Colin perfectly captures Hannah's annoyance at her third stew.  However, Colin does more than just write and perform rap recaps. This yachty also occasionally covers hit songs such as "I Like Me Better" by Lauv.
Happy Friday everyone! Check out my cover of 'I Like Me Better' by @lauvsongs. Full song in bio! Enjoy your weekend! #lauv #acoustic #piano #friyay #radio #musician #music #singersongwriter pic.twitter.com/cCf3HMc6yG

— Colin Macy-O'Toole (@ColinMacyOToole) August 2, 2019
Besides the Sirocco crew, Colin has other Bravoleb fans as well. Shahs of Sunset's  Mercedes Javid tweeted her support of his rapping and song-writing skills. Who knows, maybe Colin will become Below Deck Med's Countess Luann (except with actual vocal talent…).
Thank you @MercedesJavid! https://t.co/lOrxSi7Eje

— Colin Macy-O'Toole (@ColinMacyOToole) July 30, 2019
Want to listen to more rap recaps? Follow Colin on Instagram!
---