Below Deck: Was Ashton Pienaar's Near Death Experience Staged?
Conspiracy thories are floating around this accident.
Ashley Hoover Baker December 15, 2018 10:31am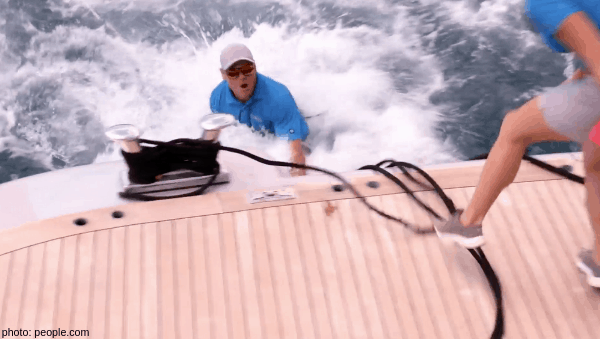 After watching Below Deck this week, Ashton Pienaar seemed lucky to be alive. I went on an emotional rollercoaster simply watching the accident that forced him overboard. I can't even imagine how scared he must have been. Thank goodness he is safe and is beginning his healing process.
I'm not crying, you're crying… 😭 #BelowDeck pic.twitter.com/IF0b67PxHj

— Bravotv (@Bravotv) December 12, 2018
Captain Lee Rosbach was emotional as he explained, "We were within 30 seconds of him dying. I'd have to call his parents and tell them their son is dead and I'm responsible. I don't know how to deal with that. I have kids. And I don't know how I'd make that call."
in all seriousness, Ashton survived the accident on tonight's #BelowDeck thanks to not one, but multiple, separate miracles.

— Kate Chastain (@Kate_Chastain) December 12, 2018
Because the internet is the internet, people started forming conspiracy theories…
First start w/the set up in the blind spot from the cameras. Rylee is ready, Ashton is ready Bravo is ready. Why didn't Rylee, Ross, Tyler or Deck Crew tie off the cleat, it takes a second? Are they all actors? Why did a Bravo film crew guy have to do it? pic.twitter.com/sj7MGjswIH

— Jarvanka (@Jarvanka1) December 14, 2018
#BelowDeck #WWHL #AndyCohen #Bravo

None of the Deck Hands or Capt. Lee helped him. A camera man for the show stopped filming to help Ashton?? Rylee was right there so was the other Bosun?. Wtf? Miss Boat Capt.??? can't help Ashton or the Bosun? It didn't seem like a priority.

— Jarvanka (@Jarvanka1) December 12, 2018
I appreciate good ole Captain Lee coming out with a statement about the incident.
3 Things Saved Ashton Pienaar's Life During the Below Deck Overboard Accident https://t.co/ERcK2hfWlU

— Captain Lee (@capthlr) December 14, 2018
Camera Man Brent= A fine example that not all heroes wear capes. I hope Brent gets all good karma in his future.
Thanks Brent ….. #BelowDeck pic.twitter.com/FttNZpgGyO

— Josiah Carter (@josiahcarter_) December 12, 2018
Kudos to that brave cameraman #BelowDeck

— Shabana (@shabana_can) December 12, 2018
Actual footage of #BrentTheCameraGuy opening his Tinder app after tonight's #BelowDeck pic.twitter.com/WdTFGUwyBJ

— Kate Chastain (@Kate_Chastain) December 12, 2018
What swam through your mind as you watched Ashton plunge into the water? Did you think it looked staged? Was I the only emotional wreck while watching? Please tell me your thoughts down under.
---