The Must-Have Beauty Gadgets Reality TV Stars Can't Get Enough Of!
Beauty By Bravo
Lara Sophia October 26, 2018 8:56am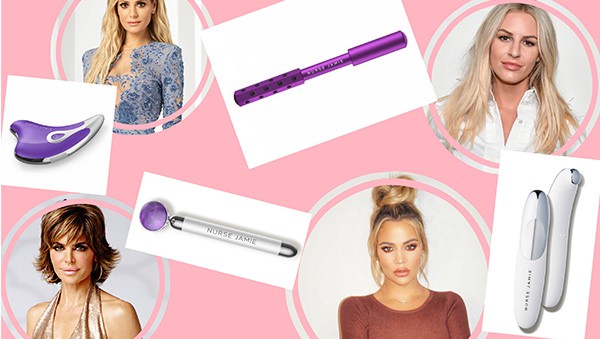 If you follow your favorite reality TV stars on Instagram you've probably seen them using some pretty odd looking contraptions in the name of beauty.
And I can guarantee you've often wondered what these little gadgets are all about and if they actually work.
Reality TV stars rave about these home beauty devices and how they keep them looking youthful and fresh.
The beauty gadgets you see all over Instagram are by Nurse Jamie, who treats celebrities and reality TV stars alike.
Nurse Jamie makes three beauty tools in particular that your favorite reality TV stars can't get enough of.
The Nurse Jamie UpLift™ Massaging Beauty Roller
The UpLift beauty roller was the first product of Nurse Jamie's that reality TV stars brought to the forefront and is probably her most infamous product. This device is said to uplift, revive, and enhance your skin. Reality TV stars from Khloe Kardashian to Lisa Rinna and Olivia Culpo can't get enough of this tool.
Eyeonix Eye Massaging Beauty Tool
Former Rich Kids of Beverly Hills star Morgan Stewart refers to the Eyeonix Eye Massaging tool as "magic" for getting rid of puffy under eyes. This vibrating eye tool helps you say goodbye to dark circles and puffy eyes by gently massaging the eye area.
NuVibe RX Amethyst Massaging Beauty Tool
This is Nurse Jamie's latest beauty device and Real Housewives of Beverly Hills star Dorit Kemsley is already hooked. Dorit gushed about the tool calling it "unbelievable" and saying it was firming and lifting her skin. The NuVibe RX Amethyst Massaging Beauty Tool "utilizes sonic vibration massage" to give the skin a more youthful appearance. This tool vibrates 6,000 pulses per minute and helps to temporarily soften lines and wrinkles.
I haven't personally tried any of Nurse Jamie's products but I have a sneaky suspicion they do work. And I'm always to up to receiving some free products to test out. Wink, wink. But in all reality, these devices all help promote lymphatic drainage which will release any excess fluid from your face. If you use these products often you'll look more sculpted and less puffy day to day.
It's important to remember our favorite Reality TV stars are also using lasers and injectables to keep their youthful glow.
Shop Reality TV star's favorite Nurse Jamie products below!
---