11 'Real Housewives' Bars Where You Can Guzzle Chardonnay Like You're on Bravo!
Whoop it up!
Lara Sophia May 30, 2019 9:30am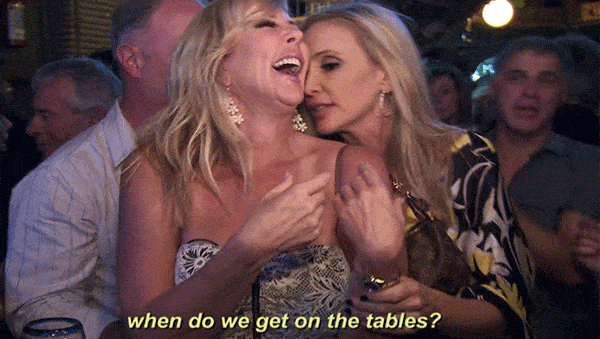 Booze and the Real Housewives go together like peanut butter and jelly. Think about it – would the Housewives be all that fun and dramatic without booze? Probably not.
Season after season the Real Housewives keep the drama flowing with a heavy stream Margaritas, Rosé, or Ramona Pinot Grigio at their favorite haunts.
More often than not the Housewives hit up one of their signature spots to sip on their favorite cocktails and shit-talk their friends and co-stars.
Over time these signature spots become almost as infamous as the Housewives themselves. Fans flock to these hotspots in hopes of seeing their favorite Housewife. We know you've done it and if you haven't here's your chance.
With that said, let's breakdown the most popular bars, clubs, and restaurants from the Real Housewives that every stan needs to know.
If you're looking for some real Mexican fun in Puerto Vallarta then Andale is the place to be! Andale's is the place to go for lively music, delicious food, and ice cold Margaritas. It also has an electric party atmosphere that makes you feel like you're at the biggest fiesta in town!
As Seen on RHOC S8/E11: Vicki drags Tamra and Lydia to a local hotspot to whoop it up at this with tequila and bartop dancing. The girls "forget" Heather and Gretchen at the boring bachelorette dinner.
The Quiet Woman is known for its fabulous food, worldly wine, inviting ambiance and seamless service which combined create an exceptional dining experience.
As Seen on RHOC S12/E3: Lydia introduces Peggy to Shannon and Tamra over dinner. Things take a turn for the worst when Shannon's arch nemesis Kelly shows up and confronts her in the bathroom. Shannon has a meltdown and starts throwing plates when Kelly makes a comment about her recent weight gain.
Beautique is a modern American restaurant located just steps from the iconic Plaza Hotel and Paris Theater. Beautique's menu showcases market-fresh ingredients and classic French technique, alongside cocktails from James Beard-nominated mixologist Charlotte Voisey. Beautique's sleek yet romantic décor channels the spirit of Coco Chanel's house in Paris.
As Seen on RHONY S9/E7: Tinsley, Ramona, and Sonja bust out their inner cougars while out on the town. Tinsley makes out with a 23-year-old!
The Regency has a distinctive boutique ambiance with its personalized service, attention to detail and independent mindset. Regency Hotel guest expects a pleasant, personalized stay.
As Seen on RHONY S8/E20: In Miami during LuAnn's engagement party weekend, Bethenny breaks the news to LuAnn that Tom was cheating on her at the Regency a week after they got engaged… and she's got the photos to prove it.
Oz Restaurant & Bar is the perfect escape to a modern and vibrant dining destination. The first and only restaurant of its kind in the greater Washington area. Chef Brad transports each guest with his take on Aussie cuisine. There are daring dishes for the more traveled Aussie diner and comfortable classics for those looking to just enjoy a great and thoughtful dish.
As seen on RHOP S2/E2: Charrisse and Robyn stop by Ashley's restaurant to show their support for her business venture but they are less than enthused about eating camel and emu.
The Mitchell, in its simplicity, is a friendly neighborhood bar. The difference is in the details. An elegant, lavishly decorated space that incorporates much of the old building, built in the 1920s. An enclosed patio with swank custom sofas and hanging lanterns remove the noise and bustle from Main Street. A long dark blue alligator sofa allows the guest to relax and sample small, chef-driven menu, house cocktails or sip on a variety of champagnes.
As Seen on RHOD S1/E8: Stephanie throws her hubby an over-the-top Gatsby-themed birthday party and the ladies finally seem to be getting along!
Blue India combines all the incredible flavors from across the Atlantic to your table!
As Seen on RHOA S11/E5: The ladies discuss Porsha's relationship with Dennis.
Rails Steakhouse puts diners at ease with it's keen attention to detail and its focus on the art of seasonal cooking. Rails' offers an engaging ambiance and lively environment by combining great food and a broad selection of wine. The ambiance is further complemented by approachable, attentive and knowledgeable service.
As Seen On RHONJ S7/E10: Siggy tries to fix Teresa's broken relationship with her cousins Rosie and Kathy but things don't go as planned.
If there's one club on Miami Beach synonymous with exclusivity, it is Mynt Lounge. During its seven-year reign, the definitive Über lounge on the 2100 block of Collins has earned a reputation for the tightest door policy and most fabulous crowd in the Magic City.
As Seen on RHOM S2/E3: At the 10th anniversary of Mynt, Adriana flirts with the club owner and Joanna's fiancé, Romain! Meanwhile, Joanna flies off the handle, unable to hide her disgust with sister Marta's ex and ruins Romain's night. To make matters worse, Marta gets pissed at Joanna for making a scene, screams at her and makes an even bigger scene.
SUR features eclectic cuisine and brings a taste of the exotic to the trendy corner of Melrose and Robertson. SUR offers guests friendly attentive service and sumptuous international cuisine for a truly unique dining experience. Low lighting, candles, crisp white linen, and fresh cut flowers give SUR an intimate touch. SUR also has comfy indoor dining, a romantic patio, and a chic private room that's perfect for any party.
As Seen on RHOBH S3/E8: The spinoff Vanderpump Rules is launched when Lisa asks Brandi to meet with her Sur staff member Scheana (the girl who Eddie cheated on Brandi with) to put the issue behind them. After some tears and reliving the drama no one cares about, they decide they can be cordial.
PUMP is located in the heart of West Hollywood and is Real Housewives of Beverly Hills star Lisa Vanderpump's sexy garden restaurant and bar. At PUMP it feels like you've been transported to a magical garden, perhaps in Tuscany or Provence as you enter the majestic gates. The garden boasts a 100-year-old olive tree with twinkle lights, candles, and lanterns.
As Seen on RHOBH S5/E3: Lisa Rinna celebrates her birthday at the Vanderpump's sexy new lounge, PUMP.
For more hotspots seen on the Real Housewives check out the

TOURS

section of TOR!
---
Category: Bravo TV Shows, Real Housewives Gossip Tags: Andales, Andales Puerto VallartaRHOC, Andales RHOC, bars featured on Real Housewives, Bars from real housewives, Beautique, Beautique NY, Beautique Southampton, Bravo, chic and sequined, chic and sequined blog, lara sophia, lara sophia chic and sequined, lara sophia real housewives, Lisa Vanderpump's restaurants, Mynt Lounge, Oz Restaurant & Bar, Pump Restaurant, Rails Steakhouse, Real Housewives, Real Housewives bars, Real Housewives locations, Real Housewives of Atlanta, Real Housewives of Beverly Hills, Real Housewives of Dallas, Real Housewives of Miami, Real Housewives of New Jersey, Real Housewives of New York, Real Housewives of Orange County, Real Housewives of Potomac, restaurants from real housewives, RHOA, RHOBH, RHOC, RHOD, RHOM, RHONJ, RHONY, RHOP, sur, Taste of Reality, The Mitchell Dallas, The Mitchell RHOD, The Quiet Woman, The Quiet Woman RHOC, The Regency, The Regency RHONY, TOR