The Bachelorette Recap: We Need to Talk About Chicken David
The chicken has laid an egg.
Genny Glassman June 12, 2018 1:09pm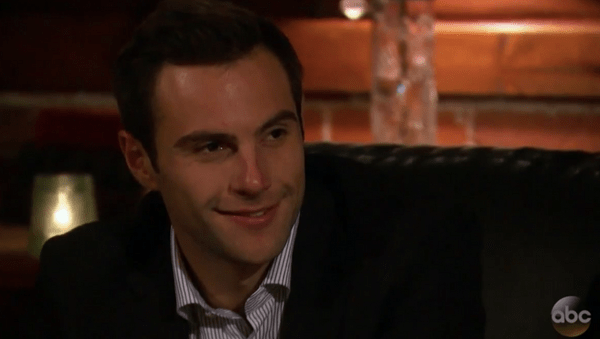 If last week's episode of The Bachelorette was like a breezy fun first date, then this week was like jumping ahead to date five. Gone is the first blush of silly group dates (though there is still a group date that results in most of the guys getting their nails polished) and here Becca finds herself at a crossroad, namely, how much is she willing to put up with from Colton before she can get him into a fantasy suite.
Chicken David, we need to have a talk. On episode one you seemed like a solid guy. You showed up clad in yellow feathers and a beak, and I respected that because I respect the player and the game. So please explain why you've decided to take it upon yourself to take Jordan (who is clearly NOT going to win) to task? Could it be…..are you….terrible?
While David tells us that he can't stand Jordan because is not that intellectual, hilariously Jordan tells us that all David does is stand around and make scrambled eggs all day. (The chicken making scrambled eggs all day, I die!)
The first group date of the week is a spa trip with Colton, Jason, Jordan, Jean Blanc, Wills, and David. But don't think that this date will be so relaxing. Becca is joined at the spa by some of her Bachelor buddies, including yung Bekah from last season, Seinne, Caroline, and most importantly TIA.
Becca forgets Jason's name when she is introducing the guys to her girlfriends, which is not a good sign, dude!
The guys all start pampering the ladies and then the ladies turn the tables on the guys and paint their nails in return. Things are very awkward between Colton and Tia and Becca asks Tia to talk with her alone.
Tia confides to Becca that she and Colton did date before their season started and that "all they did was kiss." However, she did sort of confirm Becca's worst fears, that Colton had only stopped dating Tia when he found out that she wasn't going to be the Bachelorette.
Back at the mansion, Jean Blanc steals Becca away from the rest of the guys and guys, tbh I really only get a friend vibe there. Becca pulls Jason aside (to perhaps make-up for the fact that she forgot his name) and tells him that she "has a little crush on you." Jason gets a kiss, so all well that ends well there.
What is so surprising about this whole Tinder beef that David and Jordan get into, is the fact that Jordan is allowed to have his phone? I thought all of the phones were confiscated before production, but ya' live, ya' learn. Jordan reveals to the guys that he got a notification that he reached 4,000 Tinder matches in 2017. He also tells them that he has a 100% match-rate.
God, this fight is so stupid and boring. David is taking this very personally and runs to tattle to Becca. Becca, who DNGAF, she has bigger Coltons to fry, plays the news off like a champ and asks Jordan for a high-five. We then get the line of the night from Jordan, "Cheers to you being a b**ch!" Jordan, never change.
Colton gets the group-date rose, because of course he does. Then Becca goes on her one-on-one with Chris R. to Capitol Records where the two are challenge by Richard Marx to write lyrics about each other. Chris has a hard time opening up via his song lyrics and Becca comes over to give him a hug and comfort him. Chris reveals that his parents divorced when he was young and that this challenge struck a nerve with him. He tells Becca that he once wrote a letter to his father asking him to come visit and his father shot him down. He says that putting his feelings on paper, "is scary."
The second group-date is another physical challenge. Clay, Leo, Christon, Banjo Ryan (who deserves more screen time!), Venmo John, Terrible Garret, Mike, Lincoln, Connor, and Blake are all asked to play each other in a good ol' fashioned game of American football.
Remember at the beginning of the season, when they showed us the footage of a Bach contestant being rolled out of the house, covered in blood? Yeah, David fell out of his bunkbed.
Can an EMT quickly tell me if it is protocol to have the patient cross their arms over their chest like they are DEAD as you are taking them away on the gurney ? Why is he giving me the mummy of King Tut when I'm pretty sure he can just keep his arms by his sides?
Lincoln makes it seem like David is possibly going to die, but how much do you want to bet that David drank too much and fell from the top bunk? He's going to be fine everyone.
Now we get to the football game. Before the guys hit the turf, they first have to do training drills with two female coaches from the Legends Football League. Clay, who is a pro football player is obviously in his element. Lincoln, on the other hand, is blatantly cheating once again on a group date.
The guys then play an actual game of football in front of a live audience and Clay, that sweet, teddy bear of a football man, breaks his wrist trying to play at his full 100. That's really all you need to know because football is boring. Clay goes to the hospital where he has to get emergency surgery on his wrist and ultimately tells Becca that he needs to leave the show so that he can recuperate.
Clay gets the group-date rose, which is a nice token of affection, but I'm sure the other guys were p**sed that it was wasted someone who has left the show!
Do you think Becca should forgive Colton? Let us know in the comments!
---