Attorney of Joe Giudice Denies Reports of Deportation
There have been several conflicting reports that say the reality husband might be heading back to Italy.
Genny Glassman June 22, 2018 1:07pm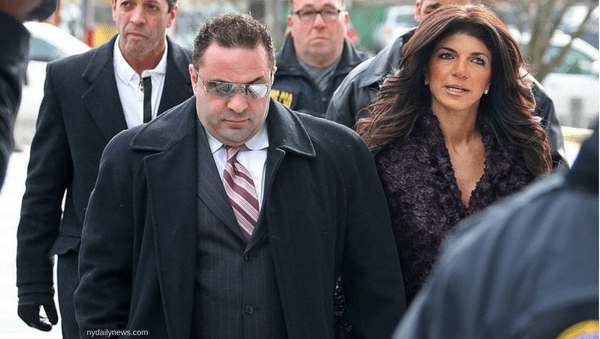 Could it be true? A legal representative of Joe Giudice, husband of Real Housewives of New Jersey's Teresa Giudice, is denying reports that his client is being deported back to Italy before his prison sentence expires in 2019. The original report, which was made by Radar Online, claimed that an ICE representative divulged that Joe was in the process of being of being deported, but now we aren't sure what to believe!
According to the original report by Radar, an ICE (Immigration and Customs Enforcement) agent spoke with the site directly. Telling them that Joe is, "in deportation proceedings while he's in custody. ICE has lodged a detainer, and he is in removal proceedings."
The agent also adds that though Joe is due to be released in March of 2019, "if [Joe] is ordered deported while in custody, he will be removed from the U.S. [before his release date]"
People Magazine reports that Joe is currently serving a 41-month prison sentence, "for mail, wire, and bankruptcy fraud that began in March of 2016."
Giudice's legal representation, James J. Leonard Jr., spoke with People, denying the report made by Radar and attempting to set the record straight. "I can state with absolute certainty that no decision has been made regarding the immigration status of Joe Giudice," he says.
"The same immigration detainer that was lodged against him in March of 2016 remains in place today, but I want to be absolutely clear about this, no judicial authority has made any decision regarding what will happen with that detainer."
"Mr. Giudice has immigration counsel who are and have been working aggressively on his behalf so that he can return home to his wife and four young daughters and we remain optimistic that that is how this will end."
People magazine was unable to get a representative of ICE to comment on the allegations.
Joe, whose birth name is Giuseppe Giudice, was born in Italy, but moved to the U.S. when he was an infant. The realty star is a legal permanent resident of the United States, however, there has always been the possibility of deportation.
Fans were not only shocked to learn of Joe's illegal behavior during his initial arrest, but we're besides themselves when it was revealed that Teresa Giudice was under investigation as well. Teresa was later convicted of the same crimes as her husband and served an 11-month prison sentence throughout 2015.
If Joe were to be deported it would place a serious rupture on his family, including his four daughters, Gia, 17, Gabriella, 14, Milania, 12, and Audriana, 9. Though Teresa has spoken out before that if Joe were to go back to Italy, she wouldn't mind going with him. Telling Andy Cohen during a RHONJ reunion that,
"I mean, Italy's a beautiful place to live. I wouldn't mind, you know, I'm just saying. Listen, whatever God has planned for me, that's what's going to happen. I will embrace it the best I can."
While Joe's deportation seems to be the least of this country's immigration worries, it would be dark and sad to see his children further surfer from their father's actions. Though it seems like no matter what, the couple will do their best to get through this difficult situation.
Do you think Teresa should follow Joe to Italy? Let us know in the comments!
---