Ashley Jacobs Speaks Openly About Southern Charm Co Stars
Thomas Ravenel's ex said the cast plays it safe and are not authentic.
Ashley Hoover Baker August 21, 2019 4:23pm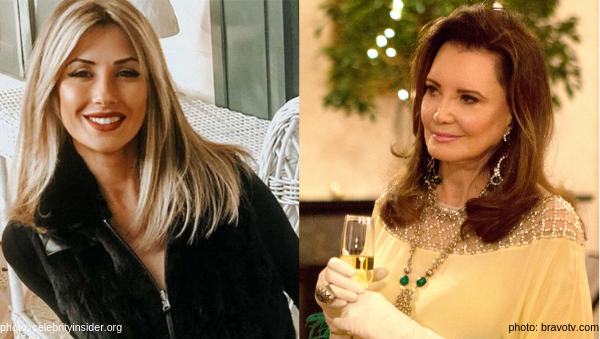 Ashley Jacobs spoke openly about her Southern Charm co-stars, and it wasn't pretty.
Thomas Ravenel's ex did an interview with People.com and shared some choice words for the cast of Bravo's hit show. The controversial star who finished her second season on Southern Charm made sure to clarify what she meant when she called her co-stars "losers."
In People's exclusive interview, Ashley was asked how it felt watching Southern Charm and seeing what the others said about her. "To me, they all play it safe. They're not authentic. They're not real. If they had said it to my face, that would have been one thing, where I say it to people's faces. To me, and I don't care if this might be name-calling, but they're not people that live in their own truth."

According to reports from CheatSheet.com, Ashley's co-star, Craig Conover, said you "need to be medicated" on a podcast. Her response? "They're fine to go say it on podcast and behind my back. Never to my face."
Ashley continued, "I never did anything wrong to these people. The only thing, when I had called them losers, that was a wrong word. I just thought that they were mean. And I called them losers because I just never felt that they have ever reached out to me to check on me when I went through so much, and I didn't have a lot of support. I only had Thomas. And so I was hurt by them. I was hurt, and I used the wrong choice of words. But I never did anything to those people."

"I have a career, I have my own life. I'm actually happy in my own life, and I almost pity them. So, I really don't care what they have to say. … I mean, they've got their own issues, and me, they all hated me because I spoke the truth and maybe they're just threatened by it. That's what it is. They're threatened by it because they can't say … they don't have the courage," boasted Ashley.
Southern Charm's villain finished with, "So I'm glad I'm not them. That's all."
Click here to read Ashley's full interview with People.com, including what she wanted to tell Patricia Altschul at her party.
Leave Team Ashley or Team Everyone Else in the comments!
---