Ashley Jacobs Explains Her Decision to Leave 'Southern Charm,' Gets Shaded To Filth By Patrica Altschul
And this is why Pat is Queen.
Genny Glassman November 7, 2018 3:05pm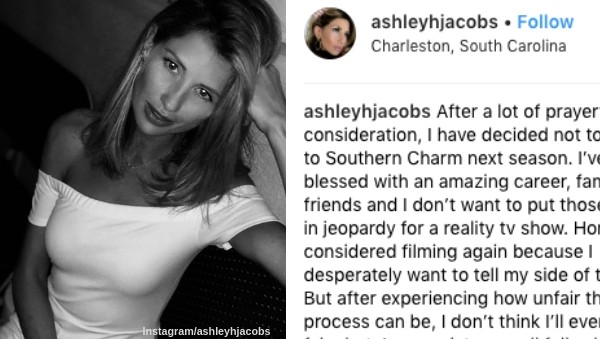 Well, it looks our long national crises is over. Ashley Jacobs will NOT be returning to Southern Charm next season.
The *ahem* former reality villain took to Instagram to deliver the news that she will not be joining the cast on season six of the hit Bravo franchise. But as some have pointed out under her announcement post, the reasons Ashley have given for the break have been conflicting.
In a post on written on November 6th, Ashley said that she decided to leave the show, "after a lot of prayerful consideration."
"I've been blessed with an amazing career, family, & friends and I don't want to put those things in jeopardy for a reality tv show," she continued. The hospice nurse added that she had originally considered filming again because "I desperately want to tell my side of the story."
"But after experiencing how unfair the editing process can be, I don't think I'll ever have a fair shot."
But of course, she wrote this on the internet and one observant fan was not going to let this answer fly without pointing out that Ashley had completely changed her story.
"Wait, in a comment on your last post you said it was because they weren't offering you enough $$. Which is it?" wrote user Ksouthern321.
In a post written on October 13th, Ashley had addressed a fan in the comments who said she would be sad to see Ashley go if she didn't get asked back to Southern Charm.
To which Ashley responded:
"I was asked back but eventually declined because what Bravo wanted to compensate me with was only a tiny fraction of what everyone else is making. Especially in light of all the hate I have incurred this past year… it was an easy decision for me to walk away. I find my job as a nurse more rewarding. All that drama that comes with reality tv I find unhealthy. I'm just not cut out for reality TV. With that said, I wish everyone on the show well!!"
But to be honest, both of Ashley's answers have us feeling a little 🤔🤔🤔.
Luckily, fellow SC star Patricia Altschul was on Twitter and destroyed Ashley's life with some hilarious shade thrown at Thomas' former girlfriend.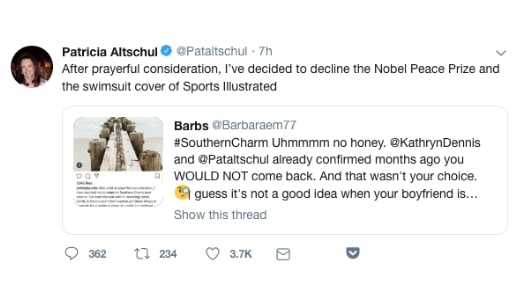 Maybe we'll never know the real reason why Ashley won't be returning, but most likely we all probably do.
Who will be the next drama Queen/King on Southern Charm?
---