LHH Round-Up: No Apologies and No Regrets
We can't all be winners.
Lisa Evans June 26, 2019 9:43am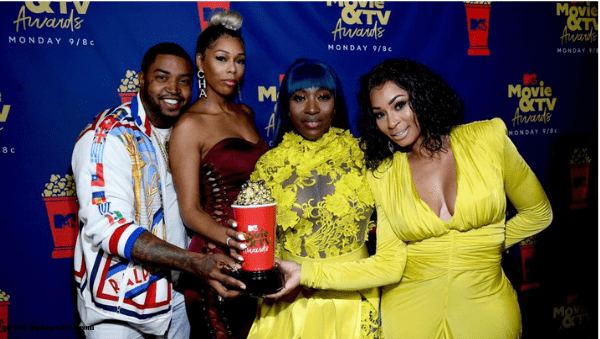 A Sip Too Many
There is a little confusion on whether Teairra Mari is a current or former cast member of the Love & Hip Hop franchise.  Personally, at this point I can't say that I even care.  What I will say is that Teairra Mari is a hot mess.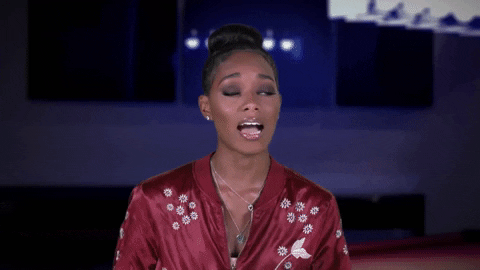 photo: giphy.com
Over the weekend, Teairra Mari was pulled over and detained by NYC cops after being busted for drunk driving.  She is now facing multiple charges for yet another lapse in judgement.
What is going on, sis?  What is it that you're seeking?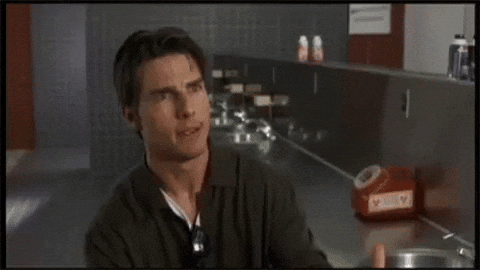 photo: giphy.com
On LHHH, Teairra has documented her struggles with alcohol and while I commend her for her honesty I also do not hesitate to mention that it is a choice to drink in excess and then get behind the wheel. Do better, girl!
Reports state that Teairra was driving a 2014 Dodge Charger with only three wheels.
photo: giphy.com
She was driving at 3 AM in NYC when the right front tire dislodged and according to reports, she continued to drive for another mile through the Queens-Midtown Tunnel.
The NYPD followed her through the tunnel into Long Island City as the car was sparking and grinding on the pavement.
Teairra Mari blew a BAC of 0.304 which is of course three times the legal limit.  And if that wasn't enough, police reportedly found both an opened can of Four Loko and a bottle of Vodka right on the passenger side of the car.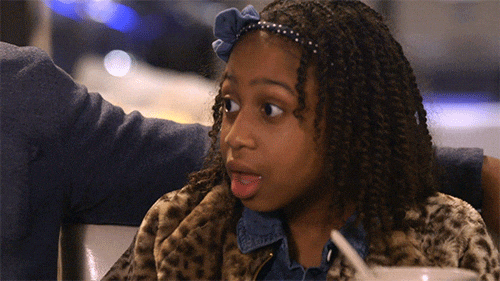 photo: giphy.com
To cap off the early morning arrest, Teairra was driving without a license and had violated a previous DWI arrest as the Charger was not fixed with a court-ordered ignition interlock, which prevents the car from starting if the driver's BAC is higher than a certain level.
Teairra was hit with multiple charges including DWI, violation of court-ordered ignition interlock, illegal tinted windows, illegal operation of a vehicle, and unlicensed operator of a motor vehicle.
Sources say that while being booked, she was reportedly bragging to the police that she was a celebrity.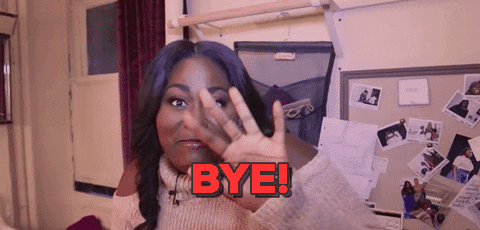 photo: giphy.com
Not a good look boo.  Not a good look at all.
Protect Us From You.
A little update on young Brittney Taylor.
Following her alleged assault on a potential witness in her case against Remy Ma, a temporary restraining order has been issued against Brittney.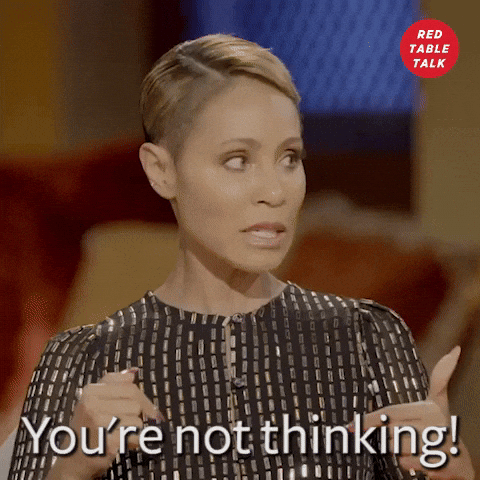 photo: giphy.com
The order of protection which is in place until December 14 states that should the reality star be in possession of any firearms she must turn those over immediately.
So, to recap.  Brittney accused Remy Ma of punching her in the face at a benefit concert back in April.  No witnesses have come forward in order to confirm or contradict her account and Remy is taking her case to trial.   Brittney was then arrested a little over a week ago for attacking a possible witness for her own behalf.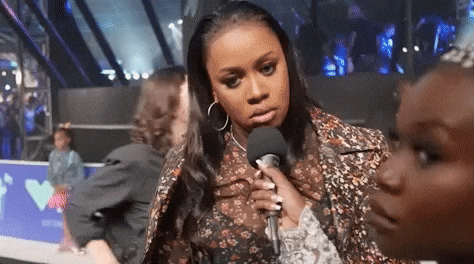 photo: giphy.com
Stay tuned as I'm sure that story will continue to twist and turn.
Anything for the Cameras.
If I told you once then I told you twice, Joe Budden is on a whole different level.
Safaree Samuels said it best at last year's reunion when he told LHHNY fans that Joe likes to do things for the camera.
While Joe was on IG Live a few days ago he slipped up and told his followers that Mona Scott Young is a genius and the "break-up" between him and Cyn Santana is for TV ratings.
Instagram Handle: @hollywoodunlocked
Don't try to act like I didn't warn you a few weeks ago.  You're not new to this game.
And last week after Papoose threw a little shade at Budden about the wedding plans and he had no comment in response.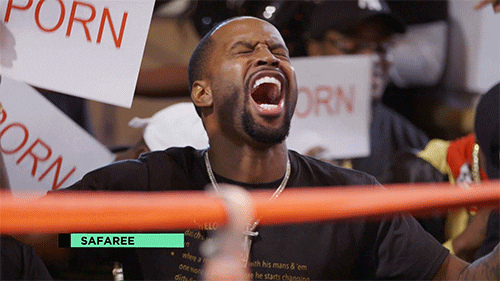 photo: giphy.com
This could mean that he was trying to keep the peace as Remy Ma and Joe work together on the State of the Culture television show or filming of LHHNY is already in progress.
You take your pick, but I'm sure we'll all guess correctly.
Sore Losers are no Fun.
You may have missed this, but the cast of Jersey Shore are a bunch of haters and apparently extremely sore losers.
Love & Hip Hop Atlanta took home the big prize at the MTV Movie & TV Awards for being 'Reality Royalty!'
When LHHATL's name was called several TV franchises forgot that little rule about losing gracefully and some reality stars lost their collective minds.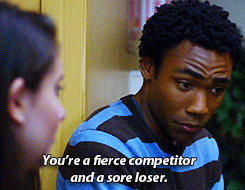 photo: giphy.com
Spice, Karlie Redd, Bambi, and Scrappy took to the stage after being announced as winners and were completely shocked as they were up against some stiff competition.  The reality TV shows; The Bachelor, Jersey Shore, Vanderpump Rules and The Challenge did not win the coveted prize
And love them or hate them their fans supported them and voted.  So, if you want to be angry then you might want to have a talk with your fans.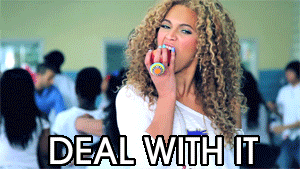 photo: giphy.com
Scrappy was absolutely adorable and admitted to the crowd, "I was just telling them over there, I think we too ratchet to win the award. But ratchet pay off sometimes."
When the cast took to the stage to accept their golden popcorn Angelina Pivarnick of the Jersey Show let off a few expletives and later took to her social media to call out MTV, fans and was just her typical ridiculous self.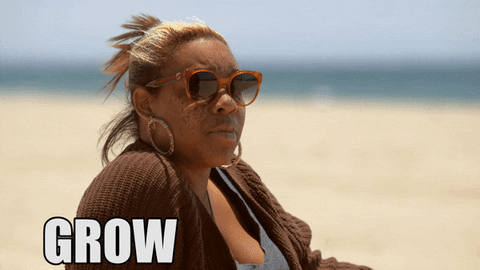 photo: giphy.com
Let me tell you my two issues with this.  Firstly, Viacom also produces LHH as well as several other shows.  Your show doesn't need to be broadcast on that network for Viacom to produce your show.  Secondly, I know you like to call yourself family but you're only there because Sammi isn't.  So calm yourself down and thank the lucky stars that you caught that break. Yes, I'm talking to you Angelina.
Take a look at each slide to not only see the ATL cast members responses but the responses of the losers as well:
Even fellow reality star Tami Roman used her platform "The Bonnet Chronicles" to speak out about the proper behavior when losing out on an award.
And can I just say that as much trash as people talk about the Vanderpump Rules cast they were completely gracious and smiled and clapped for every cast member as they spoke.  Take notes all of you MTV shows.  That's how you handle a loss with class and dignity.  Try it sometimes.
Congratulations to the Love & Hip Hop Atlanta franchise.  You earned it!
Were the other shows especially Jersey Shore warranted in their reactions?  And is Joe Budden an attention seeker?  Let me know in the comments below.
---