Kardashian Jenner Round-Up: Another Big Week For Kim K
Kim's Photo Shoot With North Is TOO CUTE
Stephanie Downs December 20, 2018 12:13pm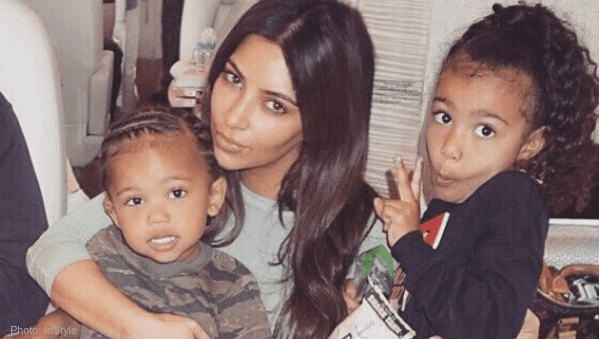 Whether it was a fun photo shoot with her daughter or some classic drama, it was a bit week for Kim Kardashian. That isn't to say that her sisters didn't also share some of the spotlight, of course. But, what exactly went down with Kim and the K sisters this week?
Kim & North's Photoshoot
North West proved, once again, that she's her mom's mini-me. Kim recently posted about an impromptu photo shoot that she and her daughter did. In a series of photos that she posted on Instagram, Kim and North made identical poses for the camera.
She captioned the photo with, in part, "Me & my bff! North came to visit me on set & said momma can we do a photo shoot together just me & you!" What the snaps really showcase is that North already has this whole celebrity thing down pat. Considering who her mom is, is that really a surprise?
A Farewell To Apps
It's the end of an era, guys. In news that will affect their collective five subscribers, it was announced that Kim, Khloe Kardashian, Kourtney Kardashian, and Kylie Jenner would be shutting down their apps come 2019, per E! News. Kendall Jenner previously shut down her app in 2017. In a statement they posted to their apps, they wrote, "We truly hope you've enjoyed this journey as much as we have, and we look forward to what's ahead." The only shocking part of this news to me was that they even still had these apps in the first place.
Kylie's Year Review
Kylie also had an adorable mother-daughter moment on Instagram. The two posed in matching, chic black ensembles. Like North and Kim, it's clear that Kylie's passing on her sense of fashion and star power to her daughter.
Not only did she post the cutest photo of the pair, but she also captioned her snap with the sweetest statement to boot. She wrote, "thank you for all the love and support this year. 2018 has been unforgettable thanks to you.. and having Stormi of course has made it the best." It's almost too much adorableness to handle, tbh.
Khloe Defends Kim
One thing you need to realize when it comes to the Kardashian family is that they will always, always defend each other. Why is it that trolls don't understand that by now? The most recent situation involving a majorly passionate defense involved Khloe, who defended Kim, according to People.
Kim posted a throwback photo of herself which caused many users to mention that her pic is so reminiscent of both Saint and Chicago (seriously, the photo proves that Saint is basically her twin). One user, in particular, made an ignorant comment about Chicago's "true" parentage, claiming that the youngest of the West children looks like Kanye West and the surrogate. It's an obviously ignorant claim, with no sound basis behind it whatsoever. But, Khloe couldn't let it go unchecked. She responded back with, "If you don't know about someone's situation then maybe you shouldn't comment. Try informing yourself first before you make such silly statements."
To sum this all up, you don't want to mess with the Kardashian family on social media (how many times must I warn you about that, trolls?!).
Kim, Kanye & The Drake Drama
The drama segment of the week features Kim, Drake, and, big surprise, Kanye. Honestly, I don't know where exactly Kanye and Drake's newly resurfaced beef came from. Kanye was just bored, I guess?
After originally feuding back in May, Kanye brought up their drama once again, per E! News. He tweeted to Drake and expressed that he was mad about a particular track that Drake was trying to have cleared with him (a sample they both worked on in 2009). He claimed that Drake did not call him personally to address any drama and later claimed that Drake was threatening his family. Yes, really.
Always one to defend her senseless husband, Kim tweeted, "@drake Never threaten my husband or our family. He paved the way for there to be a Drake." Sitting here, reading all of these tweets, and going over all of the drama again still hasn't helped me to understand what's going on in all of this. Maybe it's all just to hype up another album? You really never know when it comes to Kanye.
Do you think Kim did the right thing by defending her husband? Or should she let him fight his own ridiculous battles? Let us know what you think in the comments below!
---